Highest Peaks 8000nders: Nature has created these difficult to live and to surpass awfully high super structures with definite purpose. Let us ponder. Billions of years ago the lonely SUN started spitting molten mass around, that cooled to form the planets in our Solar System. One such fireball ultimately became our Earth.
The surface cooling was probably irregular and in stages, creating layers and causing cracks in the outer skin. This divided the crust into huge plate like masses. These floating masses collided with further cooling and often overlapped, forming big heaps and pitches. The earth's rotation around its axis could not stay uniform because of these moving crusts and started to wobble.
The wobbling shook the surface harder particularly along the equatorial circumference, pressing these plates and pushing the remaining softer sections to RISE, BEND and TWIST as necessitated by the in motion forces. Thus, forming the deeps (Oceans) plateaus and mountains.
The mountains rose higher at places where the Earth needed extra weight and shrank deeper to shed weight in order to balance its wobble for a very very smooth jerk-free rotation, which we feel today. It took billions of years to become today's cool and livable Earth. The atmosphere developed at later stages.
The above transformation can be easily demonstrated by two simple examples.
Take a big kettle and put in some liquid and some solid items randomly and rotate it. The uneven weight at some points will make it wobble. Soon the motion will adjust the solids by shifting and sliding, resulting in smooth even rotation.
More than 50% car drivers know that the old and often new tires wobble at certain speeds and have to be balance by adding extra weights at one or two points on the wheel for a smooth drive.
What is The Highest Peak in the World
As you may already know the highest peak in the world is Mount Everest, Peak Height: 8848m (29029 ft.)
Keen observation of the Earth's circumference (40'000km long) would show that there is only one long mountainous chain (Himalaya / Karakoram) in the world that has all the highest 8000 meter peaks grouped within a few 100 kilometers. These ranges could be the extra massive counter weight that our "Creator" added in this spot to smooth Earth's rotation.
Geographic analysis has proved that mountains are not just heaps of mud, but have very deep rocky roots in the Earth's crust in proportion to height. They literally represent WEDGES pressed in to act as motion stabilizers.
Mankind appreciates with awe and feels the Excitement in climbing them. A man has devised techniques to utilize these barren masses for mining, cultivation, wild life hunting, tourism, sports and loves to explore its landscapes, snow-clad peaks, deep valleys and serene views.
We all must thank the ultimate Almighty for stabilizing Earth, otherwise, we would all be longing for a jerk-free sleep today.
List of 14 Highest Peaks in the World: 8000nders
Mount Everest, Nepal Highest Peak in the World
1st Highest peak among 8000ers Location: On Nepal and Tibet border in Himalayan Range, Asia. Peak Height: 8848m (29029 ft.)
Mountain Detail
Peak name: Mount Everest, Survey Mark XV, Sagarmatha (Nepali), Chomolungma (Tibetian), Zhumulangma (Chinese)
Mount Everest attracts high altitude climbers worldwide. The novices are more enthusiastic to experience the thrill of the first climb. The more experienced ones improve their feats and guide the new comers. A greater number come to Everest as it is far safer to climb as compared to K2 or Nanga Parbat. Still there are risky zones and allied dangers posed by climatic conditions, winds, altitude sickness above 8000m. The climbing season starts before the monsoons. The wind speeds are less so reduce resultant risks.
Mountaineering on the highest peak is very costly. The experienced guides charge heavy fees for a turnaround climb. The Nepal government has fixed permit fee of $US 25'000 per person. It is a good revenue source. The Everest has been summited by about 3'000 individuals. Although less difficult still about 200 persons died, mostly while descending. Retrieving bodies from death zone is simply impossible. They stay there where they fall and are often visible from climbing routes.
Climbing
K-2, The second Highest Mountain in the World
2nd Highest peak among 8000ers Location: One of the many peaks of the Karakoram Range, on the border of China and Pakistan. Peak Height: 8611m (28'251 ft.)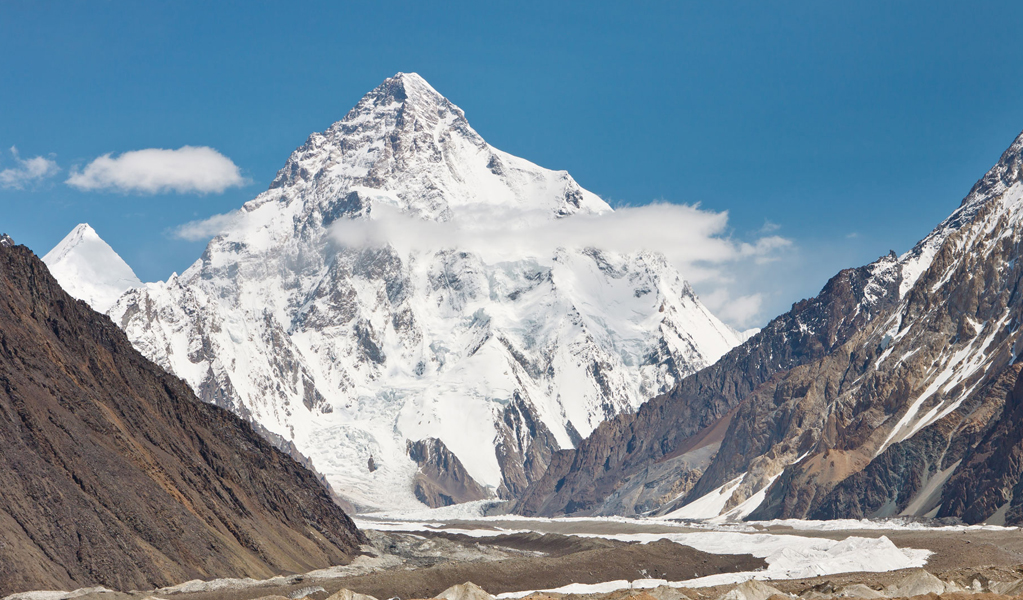 Mountain Detail
Height: Peak elevation from sea level 28'251 ft. (8611 m.)
Location: One of the many peaks of the Karakoram Range, on the border of China and Pakistan, (Taxkorgan Tajik county China and liberated Kashmir, Pakistan.
Topography: K-2 is ranked 22nd by Topography Province.
K-2, Highest in Pakistan and 2nd highest peaks in the World.
K2 offers a beautiful serene sight to look at. This extremely picturesque peak rises single over 3000 m above the valley bottom at its base. The relief in comparison to height is unique. K2 is placed for away from travel routes and inhabited areas. It gained attention of climbers only in early 20th century. K2 is consistently steep pyramid on almost all sides, offering very difficult access. This truth is unwelcome by climbers, who call it the "Savage Mountain", forgetting totally the artistic scenery and visual appeal of the ranges. What else could they expect at an elevation of 8611 m. besides rock, ice and glaciers. The savagery is highlighted as the fatality rate is 2nd highest peaks among 8000 m peaks after Annapurna being first. One of four climbers dies from those who reach K2 Summits. So far all attempts to climb this mammoth peak in winter have failed.
Climbing
Kangchenjunga, Nepal – 8586m
3rd Highest peaks mountain among 8000ers Location: between North Sikkim district, India and Taplejung of Nepal. Peak Height: 8586m (28169 ft)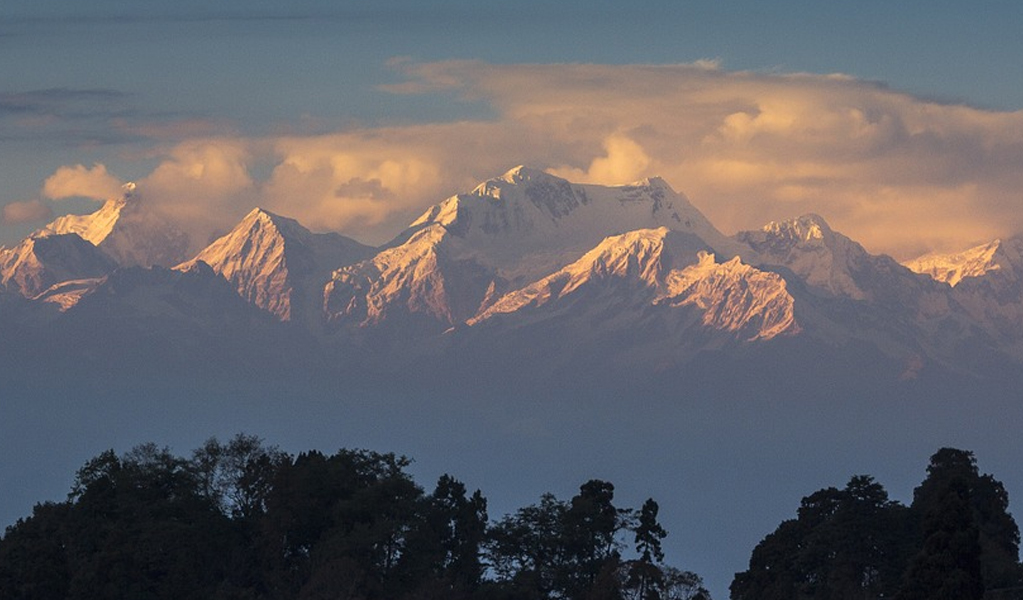 Mountain Detail
Height: 8586m (28169 ft) above sea level.
Location: between North Sikkim district, India and Taplejung of Nepal.
Features: Kangchenjunga means "5 treasures of Snows" because it has 5 peaks, 4 over 8450m. Also representing 5 repositories of God, i.e. Gold, Silver, Gems, Grain and Holy Books.
The three peaks (Main, Central and South) are in Sikkim, India while the other two are totally in Nepal. The World Wild Life fund has protected sanctuaries in both districts to protect wild life particularly red panda and snow animals etc.
Kangchenjunga was considered the highest mountain until 1952. The British Trigonometric Survey in 1849 concluded that peak XV-later named Mount Everest is the highest while Kangchenjunga came at third position after Mount K2.
Joe Brown and George Band of British expedition first summited on 25th May 1955. Sikkim's hold the summit Sacred, so almost all successful summiteers stop a few feet short of highest point to honor their sacred beliefs.
Many great ridges originate from the massive Kangchenjunga running in all directions representing a giant "X". Many lower peaks abound in surrounding area like Siniolchu (6888m / 22,600 ft), Jannu (7710m / 25294ft), Kabru North (7338m / 24075ft), Kabru South (7316m / 24002ft), Rathong Peak (6678m / 21910ft), Kangchenjunga North (7741m / 25397ft), Twins, Tent Peak and Jongsungla (6120m / 20080ft).
Climbing
Kangchenjunga is famous for beautiful scenery created by various peak and valleys and picturesque views with "White Wall" background. Situated in remote area and difficult trekking, it is still little explored. India permits very few trekkers each year. The Goecha La Pass is located in front of the South East Face. The tourists appreciate this area along with Green Lake Basin and Zemu Glacier on the North East side.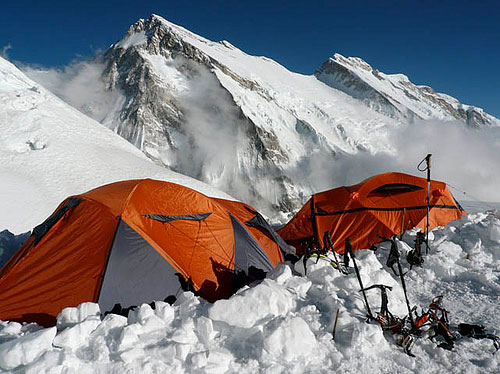 Lhotse, Nepal – 8516m
4th Highest peak among 8000ers Location: at border between Tibet, China and Khumbu, Nepal. Peak Height: 8516m (27940 ft)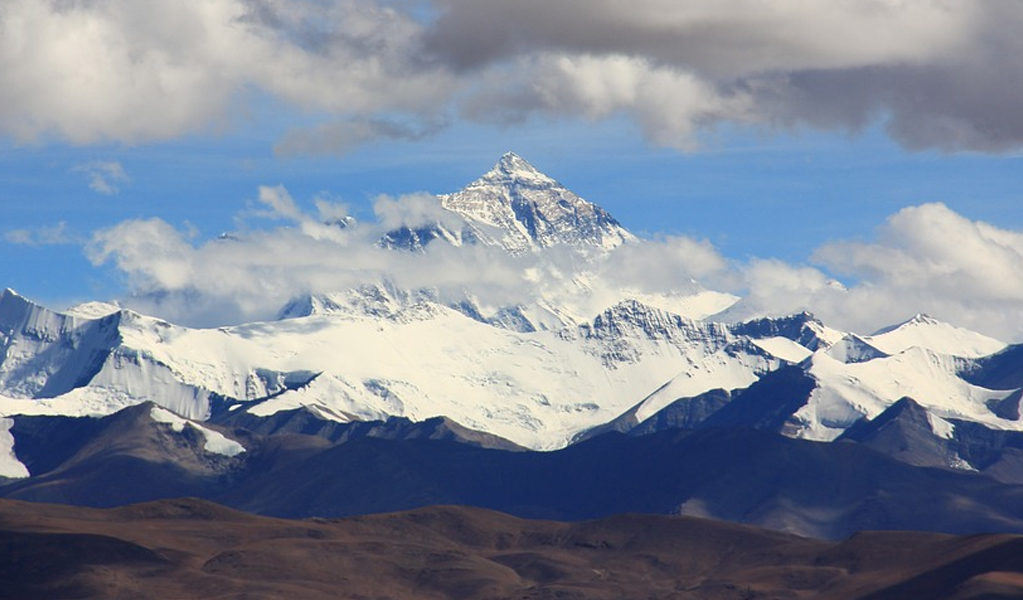 Mountain Detail
Height Lhotse Main Peak: 8516m
Height Lhotse Middle (East) Peak: 8414m
Height Lhotse Shar: 8383m
Location: at border between Tibet, China and Khumbu, Nepal.
Lhotse is known for its resemblance to Mount Everest. It has the smallest topographic prominence among eight-thousanders; rising only 610m (2000ft) above South Col. The South face has the steepest rise of 3.5 km in only 2.25 km of horizontal distance. This very difficult South face is noted for fatalities and only a few ascents. Climbers favor North West face.
Climbing
The International Himalayan Expedition, led by Norman Dyhrenfurth made an early attempt in 1955, accompanied by 200 local porters. Failing on Lhotse Shar they attempted Lhotse from North West face. At 8100m altitude they were beaten by severe storms and low temperatures. However, they mapped Everest area and made first ascents on smaller peaks in Khumbu region.
Lhotse was first climbed on 19th May 1956 by Swiss team of Ernest Reiss and Fritz Luchsihnger.
Lhotse Shar was first ascended on 12th May 1979 by Sepp Mayerl and Rolf Walter of Austria.
Lhotse Middle (East) remained unclimbed till 23th May 2001, when Eugeny Vinogradsky from Russian expedition summited along with team members.
Makalu, Nepal – 8485m
5th Highest peaks amongst eight-thousanders Location: Border of Nepal and China – 22 km from Mount Everest Peak Height: 8485m (27838 ft)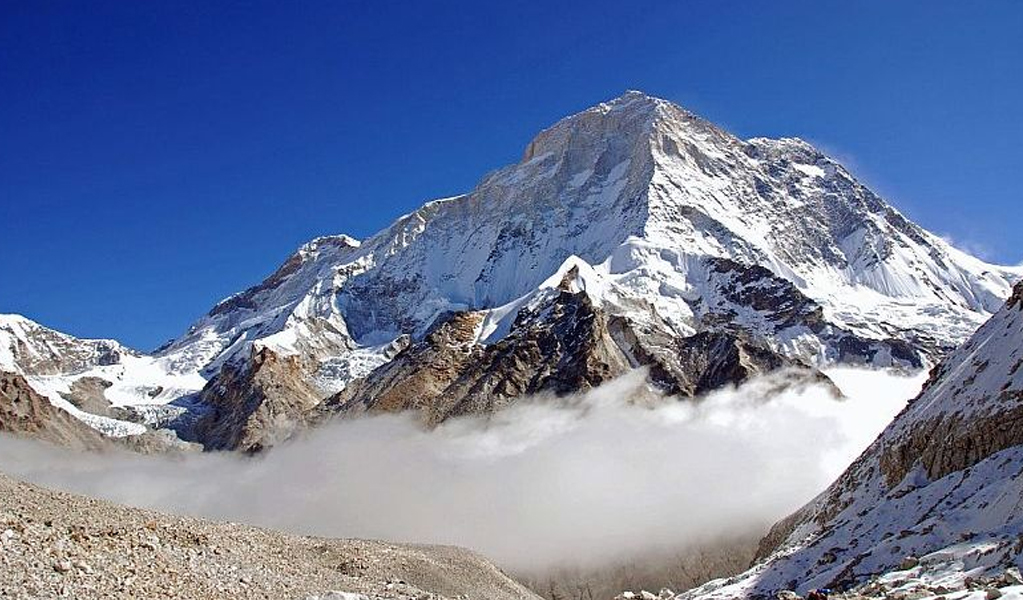 Mountain Detail
Location: Border of Nepal and China – 22 km from Mount Everest
Main Features: Makalu (Nepali), Makaru (Chinese) four sided pyramid shaped isolated peak.
Its two subsidiary peaks Kangchungtse or Makalu II (7678m / 25190 ft) is 3 km from main summit. A narrow saddle plateau (7200m) connects it with Chomo Lonzo (7804m / 25604 ft).
Makalu is one of the harder, most difficult to climb mountains in the world. Its steep valley and knife-edged ridges are dangerous to trek. Technical rock / ice climbing is involved at final peak stages.
Climbing
An American team of Sierra Club, led by William Siri, attempted in 1954 from South West Ridge but, were turned back at 7100m (23300 ft) by a long chain of storms. The subsidiary peaks Makalu II and Chomo Lonzo were ascended in 1954. A French expedition climbed to Makalu on 15th May 1955 by Lionel Terray and Jean Couzy by the North Face and the North West Ridge.
Successful Ascends
1970 – Japanese expedition led by Y. Ozaki and A. Tanaka succeeded.
1971 – The technical West Pillar Route was climbed by French men B. Mellet and Y. Seigneur.
1980 – Second ascend of West Pillar achieved by team led by John Roskelley without sherpa support or bottled oxygen.
1981 – Polish climber Jersey Kukuczka successfully climbed solo, without bottled oxygen from a new route North West Side.
1988 – A French man Marc Batard climbed in one day (after setting camps) via West Buttress.
2006 – French Jean Christophe Lafaille disappeared in a first winter attempt.
2009 – First successful winter climb was made by Italian Simons Moro and Kazakh Denis Urubko.
Cho Oyu, Nepal – 8201m
6th Highest among eight-thousanders Location: On border between China and Nepal – 20 km west from Mount Everest. Peak Height: 8201m (26906 ft)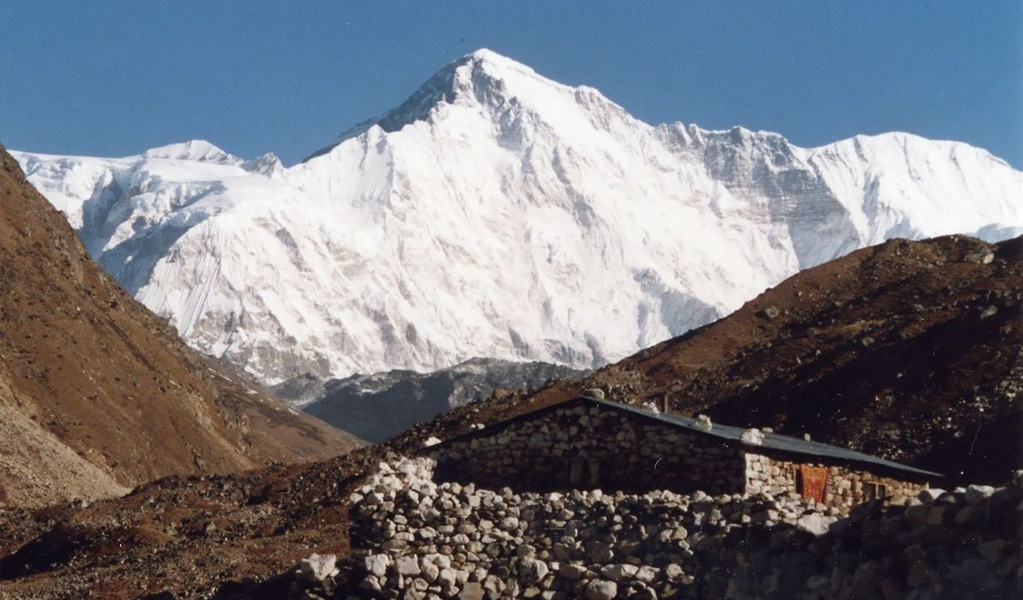 Mountain Detail
Location: On border between China and Nepal – 20 km west from Mount Everest.
Cho Oyu / Qowowuyag (Nepali) and Zhuo Aoyou Shan (Chinese).
First attempted by British Joint Himalayan Committee team and failed at an ice cliff at 6650m / 21820 ft. Finally successfully climbed on 19th October 1954 from North West Ridge by Herbert Tichy of Austrian expedition.
Cho Oyu lies next to a glaciated pass, the main trading route of Tibetans and Khumbu Sherpas. This easy route and moderate slopes attract the immature climbers. The guides consider it easiest eight-thousand meter peak.
Climbing
Dhaulagiri, Nepal – 8167m
7th Highest among eight-thousanders Location: North Central Nepal in Dhawalagiri Zone. Peak Height: 8167m (26795 ft)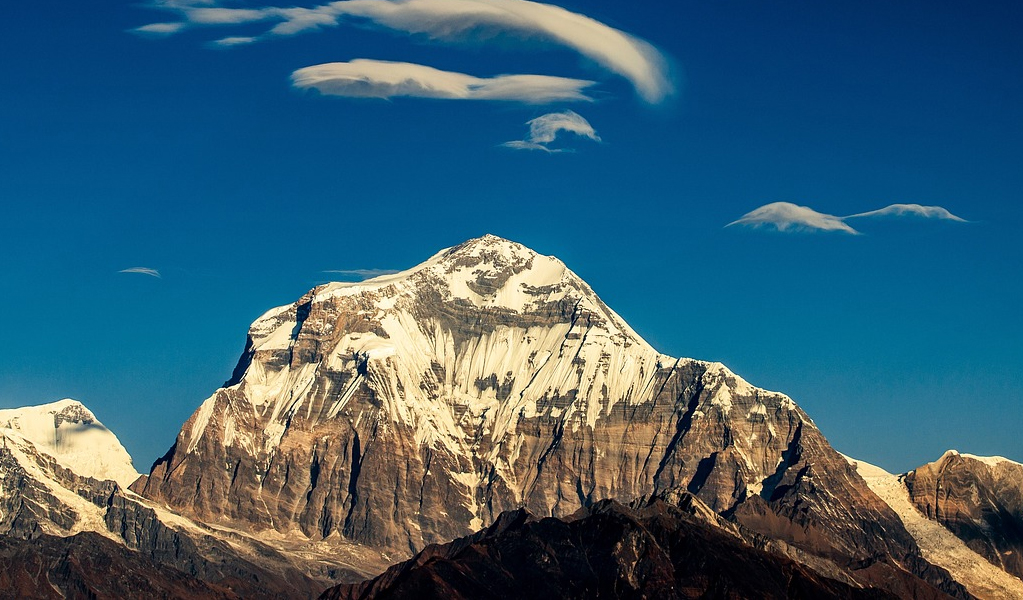 Mountain Detail
Location: North Central Nepal in Dhawalagiri Zone.
Dhaulagiri or "White Mountain" is easily accessible from Pokhara, an important town and tourist resort adjacent to the deep Kali Gandaki Gorge. For thirty years it was considered to be the highest peak before shifting this title to Kanchenjunga. It lies next to Annapurna on Kali Gandaki River, facing each other. The South and West faces rise steeply four thousand meters from base with equally dangerous drops causing fetal accidents to climbers.
Climbing
The first successful climb was achieved on 13th May 1960 by Kurt Diemberger from North East Ridge route. This route was discovered by an Austrian expedition with "Air Surveillance". Unfortunately the fixed-wing air craft crashed and was abandoned in "Hidden Valley" in the North. Since then numerous successful ascends have been made from all sides.
Manaslu, Nepal – 8163m
8th Highest among eight-thousanders Location: Mansiri Himal or Nepalese Himalayas Peak Height: 8163m (26782 ft)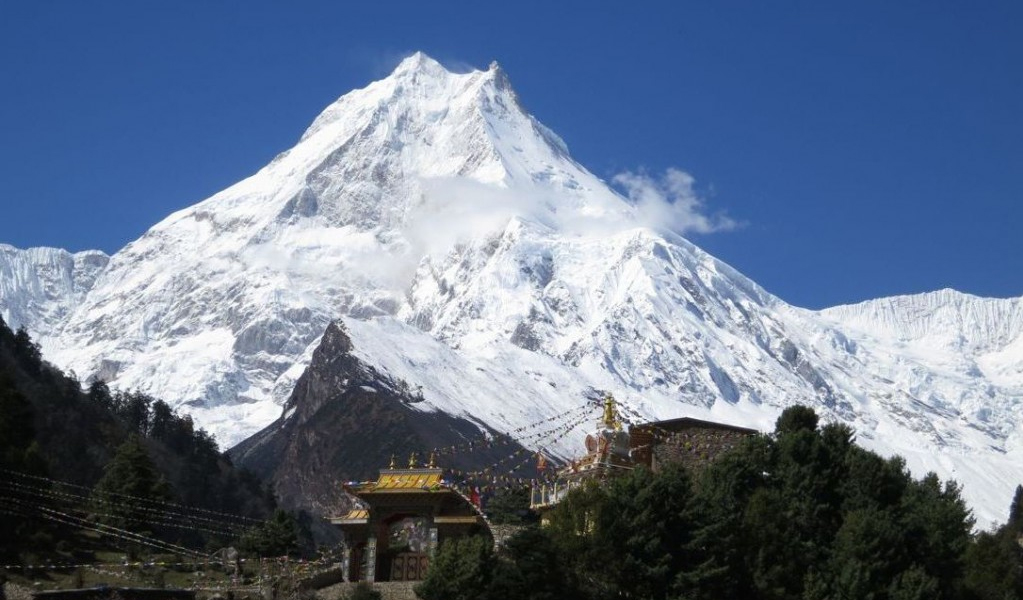 Mountain Detail
Location: Mansiri Himal or Nepalese Himalayas
Manaslu or Kutang means "Mountain of Spirit". 60 Km away from Annapurna, the long ridges and valley glaciers offer easy access from various directions ending in a peak that suddenly towers steeply above its surroundings. A serenic feature when observed from a distance. Manaslu was first climbed on 9th May 1956 by a Japanese expedition led by Toshio
Imanishi and Gyalzen Norbu.
Manaslu Region:
The trekking route crosses the Manaslu pass following the ancient salt trading route along Budhi Gandaki river and side trekking the huge peaks above 6500m.
Manaslu region still retains most of its ethnic traites with ancient culture still very visible. Nubri and Tsum tribes are maintaining their independent habitats and religious Buddhist lifestyle. The tourists are attracted to the region to see the mountainous landscaping and for acclimatization for trekking highest peaks. This sub-tropical region has diversified wild life, including many endangered species of animals. Snow leopards and Pandas are preserved here. Twenty different types of forests, including the blue pines, are found here.
Nanga Parbat, Pakistan – 8126m
9th Highest among eight-thousanders Location: South of Indus River, Gilgit – Baltistan in Pakistan. Peak Height: 8126m (26660 ft)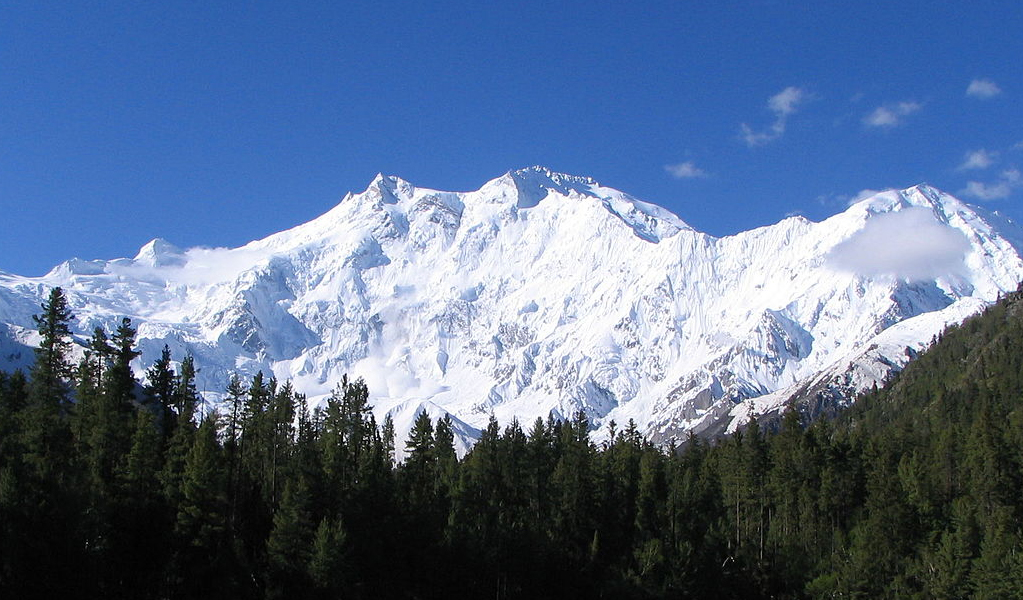 Mountain Detail
Location: South of Indus River, Gilgit – Baltistan in Pakistan.
Nanga Parbat or the "Naked Mountain" was known to be one of the deadliest or "Killer "Mountain" of the eight-thousanders but now has since been tamed, using better climbing techniques.
Main Features: Nanga Parbat offers one of the most picturesque views to observers. Its steep rises and contoured valleys are an appealing contrast. The comparatively gentle slopped Rakhiot face rises 7000m (22966 ft) from Indus river valley to summit in only 27 km of horizontal distance, a prominent elevation gain. Nanga Parbat has the highest face in the world, the Rupal face, rising 4600m (15000 ft) above its base.
The main ridge or core is all Ice and Rock. Nanga Parbat has many subsidiary peaks above 7000m on its three main faces, Diamir face, Rakhiot and Rupal. The prominent being the north peak 7816m. A glacier lake called Latbo is found at 4100m near Rupal Face and a shepard's village.
Climbing
During early attempts over 30 climbers had died. Nanga Parbat was first climbed successfully on 3rd July 1953 by an Austrian climber Hermann Buhl of German-Austrian expedition. This feat of Buhl is very dramatic. His companions had turned back while he continued determined and summited at 7 pm, a very hard and time consuming effort. On descend darkness caught him and he had to bivouac standing upright on a narrow ledge. Though completely exhausted, but managed his balance in a fortunate calm night and reached high camp at 7 pm the next day. A forty hour return trip, without oxygen. He is the only man in mountaineering history, to first ascend an 8000m peak alone.
Annapurna I, Nepal – 8091m
10th Highest among eight-thousanders Location: Himalayan Ranges – Nepal Peak Height: 8091m (26545 ft)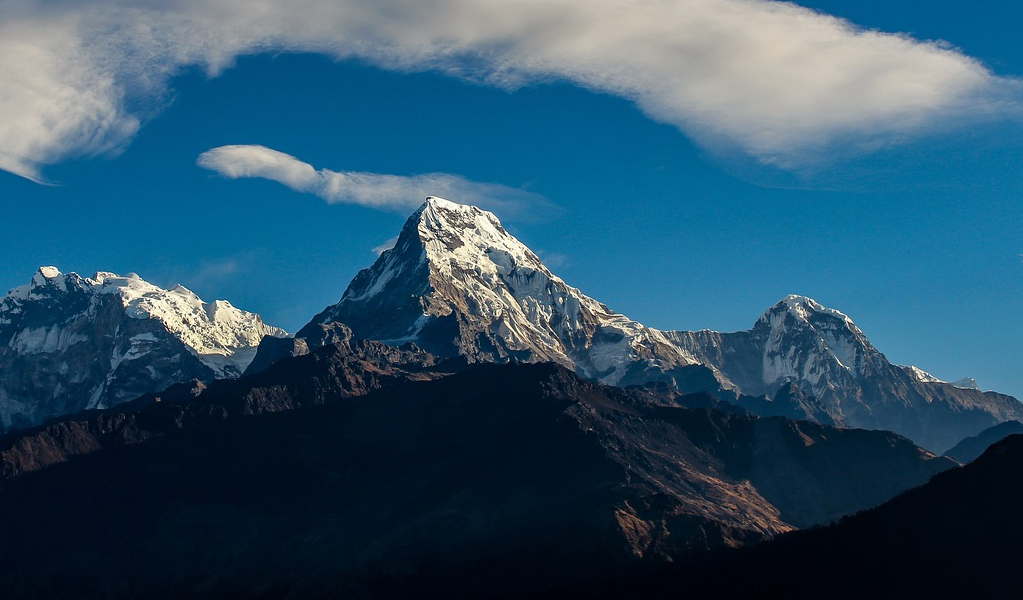 Mountain Detail
Location: Himalayan Ranges – Nepal
Annapurna peak is situated in Himalayan Range east of a valley cut by Kali Gandaki River, separating it from Dhaulagiri massif. In local languages it remains Goddess of Harvest or of Fertility.
The surrounding low trek, easily accessible area is fairly populated. This makes it a popular trekking field where all facilities of guest houses, diverse scenery, high mounts and low lying villages exist. The King Mahendra Trust for nature conservation protects an area of about 7700 sq. km. to conserve natural wild life and safe trekking. However, Annapurna peaks are world's most dangerous mountains to climb. It still claims fatality rate of 40%.
Trekking Routes
There are 3 major routes.
The Johnson and Muktinath
The Annapurna Sanctuary Route
Annapurna Circuit
The Pokhara Town is usually the starting point for short treks also.
Expeditions
Annapurna I was first climbed on 3rd June 1950 by a French expedition headed by Maurice Herzog and others. This highest climb record was broken three years later when Mount Everest was surpassed.
A British expedition climbed from the South Face of Annapurna in 1970 led by Don Whillans. While descending, one team member Ian Clough was killed by falling ice pillar.
The American women's Himalayan expedition led by Arlene Blum was the first all women team's successful attempt on 15th October 1978.
On 3rd February 1987 Annapurna I was first summited in winter by Polish team by Jersy KuKuczka and Artur Hajzer.
The first solo climb by Slovenian, Tomaz Humar was made in October 2007.
The successful attempts since 2005 total 103 while 56 lives were lost by Avalanches and otherwise, killing some renowned climbers also.
Gasherbrum I (KV), Pakistan – 8080m
11th Highest among eight-thousanders Location: Karakoram Range of Himalayas – Border of Pakistan and China Peak Height: 8080m (26509 ft)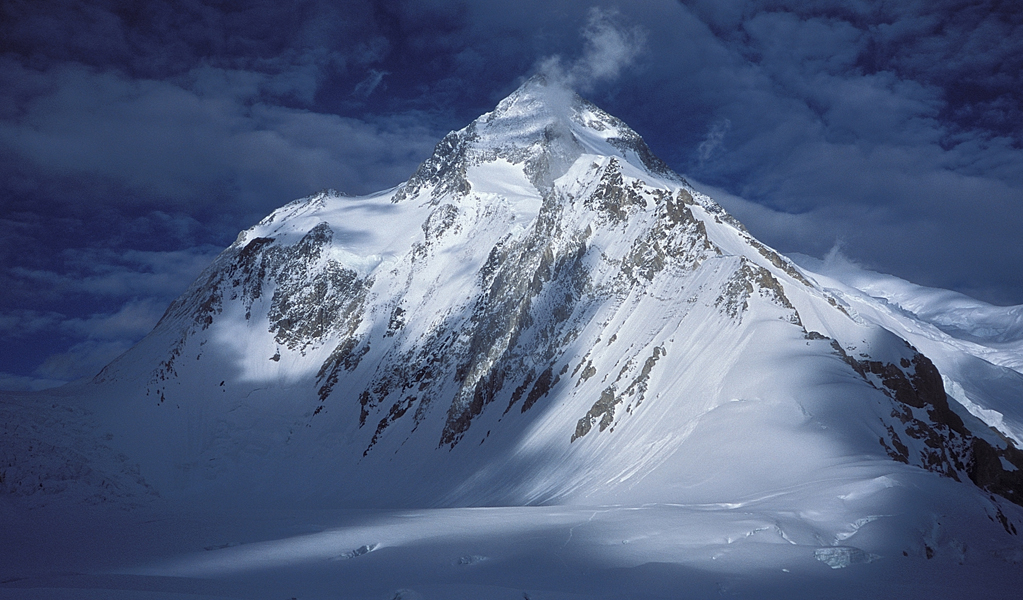 Mountain Detail
Location: Karakoram Range of Himalayas – Border of Pakistan and China
Gasherbrum I or "Beautiful Mountain" is also known to be the "Hidden Peak", being very remotely placed.
It was summited by an American expedition on 5th July 1958 by Pete Schoening and Andy Kauffman.
Various Ascends
1936: A French expedition reaches only 6900m (22630 ft.)
1958: An American team succeeds to summit.
1975: Reinhold Messner and Peter Habeler reach summit from North West Route.
1977-1982: Successful attempts made by various teams from different routes.
1982: First woman reaches summit. French Marie Jose Valencot. Her husband Sylvain Saudan performs first sky descent from 8000m peak to base camp.
1985: Benoit Chamoux made a solo summiting.
Broad Peak (KIII), Pakistan – 8051m
12th Highest among eight-thousanders Location: Border of Pakistan and China – 8km from K2 Peak Height: 8051m (26414 ft)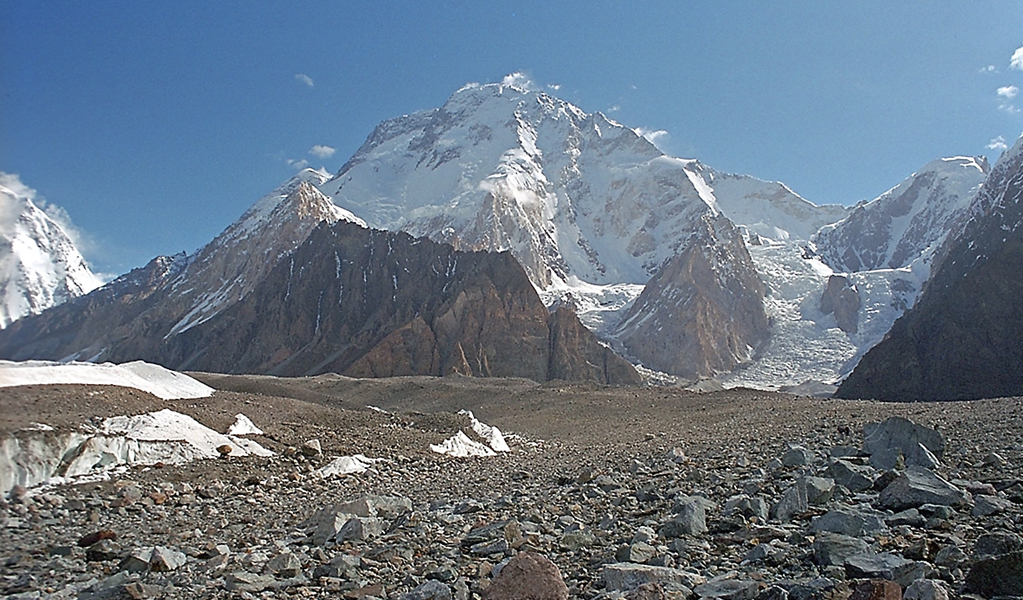 Mountain Detail
Location: Border of Pakistan and China – 8km from K2
The Broad Peak is part of Gasherbrum massif. Originally termed K3, but closer look measured the peak about one and a half kilometer long. Thus the name Broad Peak originated.
Climbing
Fritz Wintersteller and Kurt Diemberger reach the fore peak (8051m) without supplemental oxygen and porters on 9th June 1957.
In July 2007, an Austrian team climbed Broad Peak to bring the corpse, of Markus Kronthaler who died a year earlier, from eight thousand meters.
Simone Moro made two winter attempts on Broad Peak but failed.
All five eight thousand meter peaks in Pakistan still remain unsurpassed in winter.
In 1983 Krystyna Palmowska from Poland was the first woman summiter.
Gasherbrum II (KIV), Pakistan – 8034m
13th Highest among eight-thousanders Location: Border of Pakistan and China in Karakoram Range Peak Height: 8034m (26358 ft)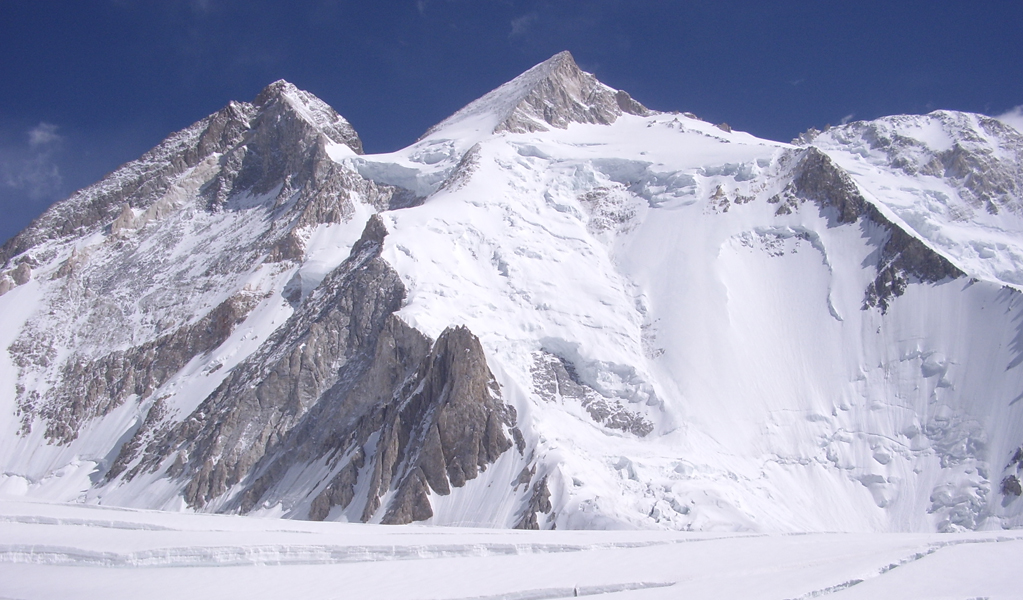 Mountain Detail
Location: Border of Pakistan and China in Karakoram Range
The Gasherbrum II relatively offers smoother ascent which has less hazards like ice falls and Avalanches. The climbers prefer it as initial starter. A permit is required for climbing costing around US$ 2000 per person.
Climbing
First climbed on 8th July 1956 by Fritz Moravee from Austria.
1975: French group made second summit with death of one member.
1975: Polish women's team ascended lead by Wanda Rutkiewicz.
1979: Sixth and seventh ascends by Chilean and German expeditions.
1982: Reinhold Messner tops with two Pakistani's Nazir Sabir and Sher Khan.
1983: Jerzy Kukuczka climbed from East Ridge without oxygen.
1984: Messner and Hans Kammerlander traverse Gasherbrum I and II without returning to base camp.
1984: First ski descent by French team led by Daniel Croisot from 7800m.
2005: Turkish team with two women scaled Gasherbrum II on 22nd July.
2007: three Italians led by Karl Unterkircher, topped from new way on North face.
Shisha Pangma, Tibet – 8027m
14th Highest among eight-thousanders Location: Nyalam County, Tibet, China Peak Height: 8027m (26335 ft)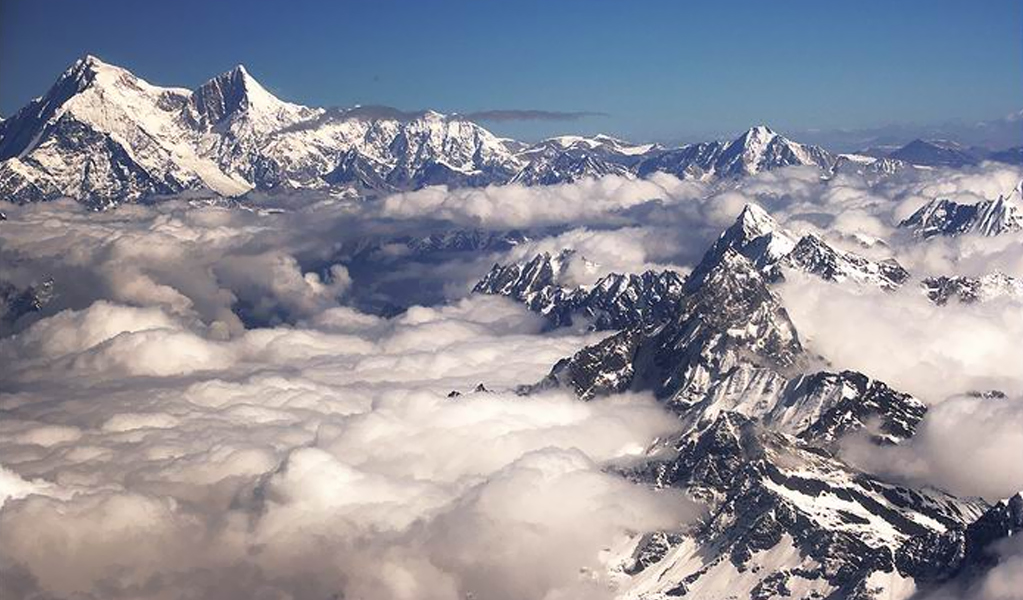 Mountain Detail
Location: Tibet
Shisha Pangma means either "Place of Saint" or "Sherpa Women" in different languages. It is entirely in Tibet near the Nepali border. The Jugal Himal and Langtang Himal run along the Tibet / Nepal border. This peak has less dramatic relief as compared to major Himalayan peaks. This is probably the easiest of all 8000m peaks. Vehicle travel is possible up to Base Camp at 5000m (16400 ft). The steeper South West face is difficult to climb as a long span of ascent is on a 50o slope. The Chinese and Tibetan authorities have restrictions on foreign visitors resulting in less trekking opportunities.
Climbing
Shisha Pangma was summited from North face on 2nd May 1964 by a Chinese expedition led by Xu Jing.
1982: From British route on South West Face a British team led by Doug Scott reached top.
2004: Jean Christophe Lafaille (France) climbed solo from South West Face on 11th December, claiming it to be a winter acsent.
2005: first clear winter ascent by Piotr Morawski (Poland) and Simone Moro (Italy).