Climbing Mount Everest attracts climbers worldwide. The novices are more enthusiastic to experience the thrill of the first climb. The more experienced ones improve their feats. And they help to guide the newcomers. Moreover, a greater number come to climbing Mount Everest. As it is far safer to climb as compared to K2 or Nanga Parbat. Still. So, there are risky zones and allied dangers posed by climatic conditions, winds, altitude sickness above 8000m. Climbing Mount Everest also listed in dangerous sports. And the climbing mount Everest season starts before the monsoons when the wind speeds are less so reduce resultant risks.
---
Where is Mount Everest Located?
Peak name: Mount Everest, Survey Mark XV, Sagarmatha (Nepali), Chomolungma (Tibetian), Zhumulangma (Chinese)
Height: 8848m (29029 ft.)
Location: On Nepal and Tibet border in Himalayan Range, Asia.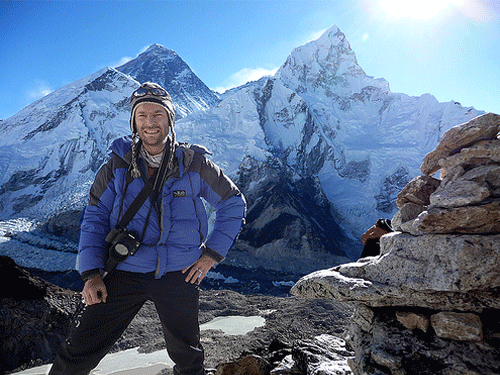 ---
How Much Does it Cost to Climb Mount Everest?
Mountaineering on the highest peak is very costly. Therefore, the experienced guides charge heavy fees for a turnaround climbing Mount Everest. And the government of Nepal has fixed permit fee of US$ 25'000 per person. It is a good revenue source.
---
How many people have Climbed Mount Everest
Moreover, the climbing Mount Everest has been summited by about 3'000 individuals so far Although less difficult still about 200 persons died, mostly while descending. Retrieving bodies from death zone is simply impossible. However, they stay there where they fall and are often visible from climbing Mount Everest routes.
Mount Everest Height by (GTS)
The Great Trigonometric Survey (GTS)
Height Determination:
A survey of India was also conducted to establish the highest mountain. And they also determined in 1856 the height of Mount Everest as 29'002 ft. (8840m.). Moreover, another accurate survey also fixed the rock top level at 29'017 ft in 2005. The ice and snow topping was 3.5m and the final height totaled 29'029 ft. (8848m). And the GTS started in 1808 from Southern India. That team was equipped with 500 kg theodolites, carried by 12 men each. They reached the Himalayas by 1830. Nepal refused entry for political reasons and did not budge.
British Role:
Moreover, the British resumed survey in 1847 from border locations 240 km away. Till then Mount Kangchenjunga was considered the highest. The British Surveyor General noted a higher peak 230km away. He marked it peak XV. This find started a series of detailed observations, months-long calculations, and verifications. In 1852, an Indian mathematician Radhanath Sikdar was first to declare peak XV highest in the World. After more study, the British also confirmed in 1856 that peak XV was highest.
For comparative analysis, MOUNT MAUNA KEA in Hawaii and MOUNT McKINLEY in Alaska are taller than Everest when measured from the sea bed. Mount Mauna Kea totals 10200m, but it is only 4205m above sea level.
---
Naming the Peak XV
The British surveyors became prejudiced too. As they were not allowed to enter Nepal. So they ignored Nepali and Tibetan local names. Although against the rules of GTS. After much debating, it was proposed to name the peak XV after Colonel Sir George Everest, like Mount Everest. Besides this, the Royal Geographic Society officially adopted this name in 1865.
---
Climbing Mount Everest Routes – Mainly Two
•    The Southeast Ridge from Nepal, technically easy and most preferred.
•    Northern Ridge from Tibet, China, seldom used.
Southeast Ridge
This route was also discovered by Edmund Hillary and Tenzing in 1953. Moreover, a Base Camp was set up at 5380m (17700 ft) on Southside. Air travelers fly to Lukla (2860m) from Kathmandu and trek to Base Camp in 6 / 8 days. The equipment is also carried by Yaks or porters. And the climbers acclimatize for a few days while Sherpas set ropes across dangerous Khumbu Icefalls. Seracs, Crevices and shifting ice blocks have killed many Sherpas. Climbers move before dawn to reach Lhotse face Advance Base Camp (ABC) at 6500m. Therefore, they cross near Nuptse Base via the narrow passage or "Nuptse Corner" or "Valley of Silence". From ABC, fixed ropes are used to reach Camp III (7470m.) A quick trot of 500m to Camp IV, crossing "Geneva Spur" and "Yellow Band", (inter-layered marble e.t.c). On the South Col at 7920m (26000ft.) or "Death Zone".
Precautions:
Now the climbers have just a few days to attempt summit bid. As soon the weather is favorable or descend to Base Camp. From Camp IV, climbers move at midnight so as to reach the summit by midday. On the way, they pass "Balcony (8400m)" for brief rest and to see the serene view of peaks and valleys around. Furthermore, they cross rock steps with waist deep snow and serious avalanche hazards. At 8750m South Summit is indicated by a Dome of Ice. Then "Cornice Traverse" where snow clings between rocks. One wrong step on this dangerous portion, to the right, means a fall of 3000m on Kangshung face while one step to left means 2400m down the Southwest face. The final obstacle is the 12-meter rock wall or Hillary step at 8760m. Climbers have about half an hour stay to enjoy success before commencing a tough descent.
Northeast Ridge
The Northeast Ridge route starts on Northside Tibet. Rongbuk Glacier is traversed to reach Base Camp at 5180m. Climbers ascend Glacier up to the base of Changtse for Camp II at 6100m. Camp III (ABC) is at North Col 6500m. Camp IV at 7010m is reached by fixed ropes. Onwards ascends the rocky ridge to Camp V at 7775m. The route crosses the North Face to the base of "Yellow Band" and reaches Camp VI at 8230m (27000 ft.). And the next difficult traverses are First Step 27890-28000 ft, Second Step 28140-28300 ft (includes climbing Mount Everest by metal "Chinese Ladder" left in 1975) and Third Step 28510-28870 ft. From here 50-degree snow slope takes to the final Summit top.
---
Early Climbing Mount Everest History
In 1921, George Mallory explored Everest base, discovered northern approach making a non-serious attempt climbed up to 7000m.
George Finch (1922) reached 8320m using bottled oxygen.
Mallory (1922) and Bruce attempted but failed by weather.
In 1924, again Norton and Somervell climbed 8558m in good weather.
On 8th June 1924, George Mallory and Andrew Irvine went via North Col. – and Never Returned.
In 1952, Swiss expedition led by Edouard Wyss – Dunant reached Khumbu Icefall and ascended South Col. To 7986m.
British Expedition led by John Hunt. Tom Bourbon and Charles Evans were just 100m short of Summit but returned exhausted on 26th May 1953. Two days later Edmund Hillary and Tenzing Norgay (Sherpa) reached Summit at 11:30 am on 29th May 1953. British Queen Elizabeth II immediately made him Knight in the Order of the British Empire (KBE) and Tenzing was awarded George Medal by the UK.
First attempt without Oxygen
On 8th May 1978, Reinhold Messner (Italy) and Peter Habeler (Austria) Summited successfully, without oxygen. Messner went solo, without help and oxygen for the first time via the more difficult Northwest route successfully on 20th August 1980.
https://www.youtube.com/watch?v=0QI45GRIUuQ
Climbing Mount Everest without (bottled) oxygen. Sometime between 1 and 2 in the afternoon on May 8, 1978, Messner and Peter Habeler achieved what was believed to be impossible — the first ascent of Mt. Everest
First Winter Ascend
In 1980, the Polish team led by Andrzej Zawada, Leszek Cichy, and Krzysztof Wielicki became the first to reach Summit during the winter season.
---
Disaster 1996
In 1996 season 15 climbers died while climbing Mount Everest descending. Eight of them died on 11th May alone and reportedly oxygen level in the air fell suddenly by 14% on that day. Therefore, this disaster was given worldwide coverage by all media.
---
Rescue Controversy
In 2006, a climber got stranded 450m below Summit, under an overhung rock. No one attempted his rescue. When descending, people are tired low on oxygen and lack strength for a pull-up. And any rescue attempting physically unfit could end in more deaths. Lincoln Hall (Australian Climber) was rescued by ascending four climbers. But they had to give up their Summit attempt. Therefore, fully equipped Sherpa Rescue teams are essential, for retrieving the injured and disabled.
---
2008 Summer Olympic Torch Mount Everest Summit
China has recently constructed an l30 km long road from its Tingri County to Base Camp on Northeast route. And China also routed the 2008 Olympic Torch Relay over the Everest, on way to Beijing.
---
Mount Everest Death Zone
The term death zone applies to altitudes higher than 8000m (26246 ft) and the potential risks are increased. Oxygen level in the air is reduced by 30%. Because storms are stronger exposing climbers to death by slipping and falling. The temperatures can fall suddenly resulting in frostbites. Moreover, the high winds could last days causing survival problems and make retreat difficult. An injured person cannot walk, impossible to be carried by climbers or by helicopter and left behind 150 dead bodies so far, cannot be retrieved and can be seen lying frozen below along the climbing mount Everest routes.
---
Using Bottled Oxygen
Above 8000m use of Oxygen is considered a standard. Climbers need mental alertness in low oxygen air, low temperatures, and tough weathers. The critics claim that oxygen encourages immature climbers to take chances of risking their own and others lives and on the day of the disaster, of 11th May 1996, there were 34 climbers jammed at Hillary Step (8760m) that delayed all.
---
Thefts and other Crimes
Reports of theft of supplies during climbing mount Everest are repeating and could be life-threatening. Moreover, Michael Kolas in his book, High Crimes, such as gambling and prostitution by unethical guides and Sherpa are taking place en route to Summit, including frauds in the sale of oxygen bottles.
---
Records of Successful Ultimate Climbers
The youngest Summiter-15-year-old Nepali Sherpa girl, Ming Kipa.
Non-Nepali 17-year-old Malibu resident Johnny Strange (2009, The youngest).
Apa Sherpa has climbed maximum, 19 times till May 2009
Climber 76 years old Min Bahadur Sherchan (25th May 2009, The oldest)
Austrian Christian Stangl, from Camp III to Summit, 10 km distance in 16 hours and 42 minutes (The fastest ascend in 2007).
The fastest ascend over Southeast Ridge, 17 km by a French Marc Batard in 22 hours and 30 minutes (in 1988).
Also, the fastest ascend over Southeast Ridge, 17 km by a Nepali Pemba Dorjie Sherpa in 8 hours and 10 minutes, using oxygen (2004).
---
Moreover, climbers have spotted while climbing Mount Everest a black jumping Spider at about 7000m in Crevices feeding on probably stray insects pushed up by high winds. Birds seen include Chough and Bar-headed, Goose probably living on food and even corpses left behind.