Have you ever traveled to a mountainous area, went for skiing, mountain climbing, or hiking and felt sick? No, the mountains are not haunted, it's the altitude sickness which is also called mountain sickness. Altitude illness is experienced when the air pressure and oxygen level drop into the surrounding air.
You must be thinking that if mountain high altitude pressures are causing the sickness, then how about people living in the mountains?
Well, people living on higher levels in the mountains comfortably live as their body is used to the air pressure. Travelers, Climbers, and skiers are at more risk to experience altitude illness as their body needs time to adjust to the surrounding air pressure. Furthermore, ascending to a higher level of 8000 ft above sea level rapidly without allowing your body to rest is also a significant cause to endure mountain sickness.
Altitude Sickness
Altitude sickness is a personal thing that varies from person to person. Some people start feeling sick at lower altitudes around 2300 m, while others do not even get high elevation sickness at around 8000 ft. Your chance of getting an altitude sickness depends on how quickly you ascend to higher altitudes, how high you elevate and in what elevations you sleep. However, there are different levels of altitude sickness, starting from least dangerous Acute mountain illnesses to the most intimidating high-altitude illnesses such as high-altitude sickness pulmonary edema (HAPE) and high altitude cerebral edema (HACE).
Altitude sickness, also known as acute mountain sickness (AMS), is a condition that can occur when you travel to high altitudes, typically above 8,000 feet (2,400 meters) above sea level. The symptoms of altitude sickness can range from mild to severe and can be potentially life-threatening in rare cases.
What are Altitude Sickness Symptoms and Types?
There are three kinds of altitude sickness.
| | | | |
| --- | --- | --- | --- |
| High altitude sicknesses | Time after ascent | Location | Symptoms |
| AMS (Acute mountain sickness) | 1-2 days | >8,000 ft | headache & Nausea |
| HAPE (High Altitude Pulmonary Edema) | 3-4 days | >10,000 ft | Cough & Shortness of breath |
| HACE (High Altitude Cerebral Edema) | 4-7 days | >12,000 ft | Confusion & Hallucination |
1. Acute Mountain Sickness
Acute Mountain Sickness is the least dangerous form of high altitude sickness, which usually occurs at high altitudes above 8000 ft above the sea level. At higher heights, the air is thinner, and altitude illnesses happens typically when there is diminished oxygen pressure at mountain elevations.
Causes of high altitude sickness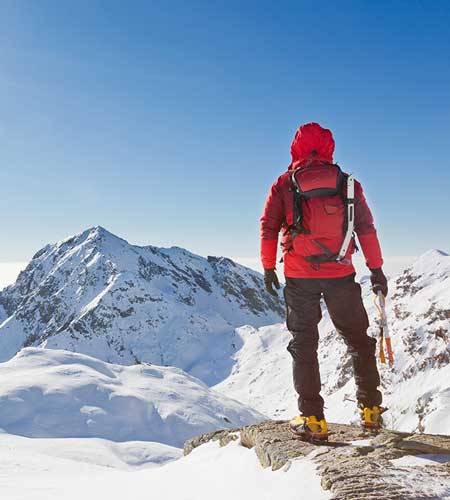 When you reach a higher altitude too fast, the oxygen level drops and make it difficult to breathe. Lack of oxygen in the air and thus in blood also causes fast breathing and result in altitude sickness symptoms such as:
Symptoms:
Nausea and vomiting
Heavy head (dizziness)
Blocked ears
A headache
Fatigue
Lack of appetite
A sleeping problem (insomnia)
Discomfort
Rapid heartbeat
These symptoms usually start happening within an hour or between 6 to 12 hours of ascending into higher altitudes and last for few days.
2. High Altitude Pulmonary Edema
High Altitude Pulmonary Edema is a more severe form of high elevation illness and is a buildup of fluid in the lungs, which is life-threatening. According to Scott A Gallagher, MD, HAPE involves an abnormal accumulation of fluid in the lungs and is one of the most common deadly manifestations of high altitude illnesses.
Apart from the shortage of oxygen level as the initial reason for altitude illness, pulmonary hypertension is one of the other contributing factors. Pulmonary hypertension refers to higher blood pressure in the arteries of the lungs. A low oxygen concentration in the blood causes the blood vessels in the lungs to tighten and go under pressure which causes chest tightness, fluid leakage into the lungs, and noise while breathing.
Symptoms:
a dry cough
nose bleeding
shortness of breath
higher temperatures (fever)
chest tightness
Rapid heart rates (Palpitations)
Congestion
Swelling
Fainting
3. High Altitude Cerebral Edema
High Altitude Cerebral Edema is a condition that initially starts as an ordinary acute mountain illness and drives to brain swelling which causes death or coma if left untreated within 48 hours. Unlike pulmonary edema where the fluid gets accumulated in the lungs, the cerebral edema causes fluid to accumulate in the brain. HACE is experienced at higher altitudes of 13000 ft where the oxygen level drastically drops, and body cannot adjust to the sudden change in oxygen and carbon dioxide intake. Therefore, it is vital to immediately descend to lower altitudes so the body can get enough oxygen. The symptoms of HACE is mostly seen during the night, and at times one who is suffering might not even notice due to loss of consciousness. Early signs of HACE corresponds with acute mountain illness symptoms such as vomiting, nausea, headaches, and insomnia. However, the following are some of the more intense signs and symptoms:
Symptoms:
Hallucinations
Loss of consciousness
Severe headaches where people cannot sit up
Fever and fatigue
Photophobia
Hypertension
Confusion
Coma
Shortness of breath
Inability to walk
Some of the Risk Factors Include
Some people may be at more risk to experience altitude sickness than others, and some of the risk factors include:
Drinking alcohol
Traveling with medical conditions such as asthma
Climbing rapidly before the body adjusts to the altitude
Climbing at an 8000 ft from sea level without resting
Previous high-altitude illnesses
Low fluid in the body
Hypothermia
Physical exertion
High Altitude Sickness Prevention
High altitude sickness prevention- anyone can develop high altitude sickness, and being physically fit or eating healthy does not help to prevent it. However, one of the best ways to diminish the impact of high elevation illness is to allow your body to get used to the changing altitudes as you are traveling into higher altitudes. Lack of oxygen in the red blood cells is the reason for getting mountain sickness. Therefore, one should climb the mountains or travel slowly so the body can get enough oxygen. If you climb over 1000 ft a day, then sleep at a lower altitude, and for every 3000 ft, you climb to make sure to at least rest for a day at that height before climbing higher.
In order to prevent the high-altitude illness, one can take the following measures:
No consumption of alcohol
No smoking
Drinking plenty of water
Ascend slowly
Take rest
Avoid exercising
Eat digestible food
Altitude Sickness Medication
One should consult a doctor or take the required over the counter medication to treat mountain sickness. To manage the condition, doctors prescribe medication as per each symptom respectively.
To treat the mountain sickness, over the counter medications are available such as ibuprofen, aspirin, and Tylenol. According to Dr. Grant Lipan, a professor of emergency medicine at Stanford University School of Medicine,"Ibuprofen can prevent 26% of cases of altitude sickness.". However, a much safer drug called 'Acetaminophen' is conferred to provide instant relief at higher elevations. Consult your doctor before using this medicine and to read more about it here
Zofran is a tablet for high altitude sickness which is prescribed for nausea and vomiting, and people usually take sleeping pills to deal with insomnia.
One of the standards clinically proven drugs is nifedipine and dexamethasone dose for high altitude sickness treatment. Which helps to lower the blood pressure and treat the more advanced mountain sickness called cerebral edema.
NOTE: All the medicines mentioned above are prescribed by doctors and have their side effects. Please consult a doctor before consumption.
Living at Higher Altitudes:
Living at higher elevations has an impact on one's health. A study Journal of Epidemiology and Community Health has shown that people living in Colorado and Utah mountain states have lower obesity rates due to reduced appetite. Because of lower oxygen level, studies have suggested that high altitudes improve cardiovascular health. Some researchers concluded that women living at higher elevations have a lower risk of heart attacks. However, on the other hand, diminished oxygen level also leads to chronic obstructive pulmonary disease (COPD). People living at higher elevations do not experience mountain sickness as their body is adjusted to their surrounding air pressure and oxygen level.
The following are some of the most famous cities with highest altitudes:
El Alto, Bolivia – over one million people live 13,615 feet above the sea level

Mount Everest (Himalayan mountain range)- Border of Nepal is almost 29,035 feet tall
K2 Height: Peak elevation from sea level 28'251 ft. (8611 m.)

Alma, Colorado- with a population of only 275 residents is 10,353 feet above the sea level
High Altitude Statistics
| | | | | | |
| --- | --- | --- | --- | --- | --- |
| Mountain | Height ft | Height m | Summits | Deaths | Death/Summits % |
| Everest | 29,029 | 8,848 | 6,208 | 257 | 4.14% |
| K2 | 28,251 | 8,611 | 306 | 81 | 26.47% |
| Kangchenjunga | 28,169 | 8,586 | 284 | 43 | 15.14% |
| Lhotse | 27,940 | 8,516 | 525 | 14 | 2.67% |
| Makalu | 27,838 | 8,485 | 377 | 39 | 10.34% |
| Cho Oyu | 26,906 | 8,201 | 3,171 | 49 | 1.55% |
| Dhaulagiri I | 26,795 | 8,167 | 448 | 69 | 15.40% |
| Manaslu | 26,782 | 8,163 | 672 | 67 | 9.97% |
| Nanga Parbat | 26,660 | 8,126 | 335 | 68 | 20.30% |
| Annapurna I | 26,545 | 8,091 | 191 | 67 | 35.08% |
| Gasherbrum I | 26,509 | 8,080 | 334 | 29 | 8.68% |
| Broad Peak | 26,414 | 8,051 | 404 | 21 | 5.20% |
| Gasherbrum II | 26,358 | 8,034 | 930 | 21 | 2.26% |
| Shishapangma | 26,335 | 8,027 | 302 | 25 | 8.28% |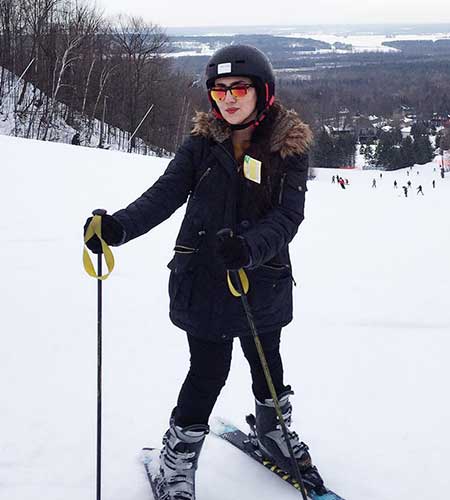 Personal Experience
Personally, I have experienced altitude discomfort in Canadian Rocky Mountains while I was traveling from Toronto to Vancouver and started hiking right away. The Rocky Mountains including Banff and Lake Louise has altitudes around 2300 m and for many people, mountain sickness has not been an issue to travel to these beautiful mountains. However, if you are sensitive to higher elevations like me, then it is not a good idea going to the Banff gondola to go up the mountains. As per my own experience, I didn't allow my body to get enough rest as I was driving for 2 to 3 days continuously from a low sea level altitude of Toronto to higher heights of Rocky Mountains without allowing my body to adjust to the surrounding air. Lack of oxygen also made me hallucinate and sit scream as i felt my ears and head will pop. American Rocky Mountains are at much higher altitudes above 13000 ft which can cause severe headaches and a shortage of breath so don't stop yourself from hiking the beautiful Rocky Mountains. It's worth the try.
FAQ
Why is it hard to breathe at high altitudes?
Air pressure decreases as altitude increases. Due to the lower air pressure and oxygen level at the higher altitudes, the body cannot take the oxygen it usually requires at the pace it is used to of. The air pressure at the higher elevations is almost 30% lower than the sea level. When lungs do not get enough oxygen and carbon dioxide, it leads to a shortage of breathing. In addition, the strong dry winds, and low humidity at the higher altitudes also cause dehydration which makes it difficult to breathe.
Can high altitude cause sleep apnea?
Yes, apnea is a sleep disorder which occurs when a person's breathing stops or get interrupted during sleeping. Lack of oxygen in blood and body's inability to store enough oxygen leads to apnea. When brain and body do not get oxygen, it makes apnea condition worst, and one may find it difficult to breathe while sleeping. Anyone suffering from apnea should consider visiting a doctor before traveling to any higher altitudes, as it may cause severe health issues.  Source: (https://www.sleepapnea.org/)
Does high altitude affect blood pressure?
Yes, oxygen deprivation causes the body to work harder and heart to beat faster which causes the blood pressure to increase. high altitude and blood pressure are related, therefore, people with hypertension or other cardiovascular problems are advised to avoid going to higher altitudes or take proper precautions.
How do you deal with altitude sickness?
How long do the effects of altitude sickness last?
These symptoms usually start happening within an hour or between 6 to 12 hours of ascending into higher altitudes and last for few days.
What drugs do you take for altitude sickness?
To treat the mountain sickness, over the counter medications are available such as ibuprofen, aspirin, and Tylenol. According to Dr. Grant Lipan
Infographic

Embed Altitude Sickness Symptoms Infographic on your Blog!
Just Copy and Paste Below code!
References
https://www.uptodate.com/contents/high-altitude-pulmonary-edema
Maggiorini, M; Brunner-La Rocca, HP; Peth S; et al. (October 2006). "Both tadalafil and dexamethasone may reduce the incidence of high-altitude pulmonary edema: a randomized trial". Annals of Internal Medicine. 145 (7): 497–506. doi:10.7326/0003-4819-145-7-200610030-00007. PMID 17015867.
https://www.webmd.com/hypertension-high-blood-pressure/news/20140827/everest-study-finds-high-altitude-affects-blood-pressure