k2 Mountain Elevation
K-2, the Savage Mountain (Nickname)
Height: Peak elevation from sea level 28'251 ft. (8611 m.) k2 meter
Where is k2 Location: One of the many peaks of the Karakorum Range, on the border of China and Pakistan, (Taxkorgan Tajik county China and liberated Kashmir, Pakistan).
K2 Mountain Map: Click here to find K2 Map
Topography: K-2 is ranked 22nd by Topography Prominence.
---
K2 Mountain, Highest in Pakistan and 2nd Mountain High Elevation in the World.
K2 Mountain offers a beautiful serene sight to look at. This extremely picturesque peak rises single over 3000 m above the valley bottom at its base. The relief in comparison to height is unique. K2 has placed far away from travel routes and inhabited areas. It gained the attention of climbers only in an early 20th century. K2 is a consistently steep pyramid on almost all sides, offering very difficult and dangerous access for the climber.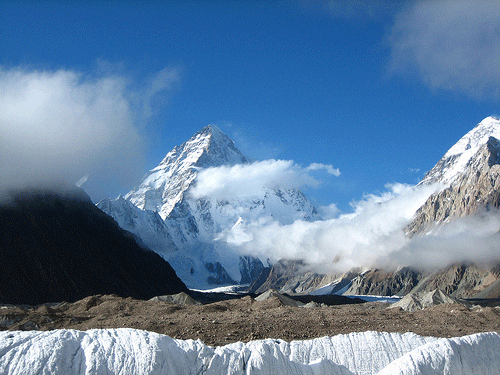 This truth is unwelcome by climbers, who call it the "Savage Mountain", forgetting totally the artistic scenery and visual appeal of the ranges. What else could they expect at an elevation of 8611 m? besides rock, ice and glaciers. The savagery is highlighted as the fatality rate is 2nd highest among 8000 m peaks after Annapurna being first. One of four climbers dies from those who reach K2 Summit. So far all attempts to climb this mammoth peak in winter have failed.
The Name K2
The Great Trigonometric Survey (GTS) was conducted in 1856 by Thomas Montgomerie. In his first survey of Karakoram from Mount Haramukh, about 210 Km South, he labeled two highest peaks as K1 and K2 and lower ones K3, K4, and K5. In GTS, preference is given to local existing names when defining/recording. The peaks K1 to K5 were already known as Masherbrum, Broad Peak, Gasherbrum II, and Gasherbrum I, while K2 had no local name being located so remote and invisible from Askole, the last village. Only a feeble glimpse is possible from Baltoro Glacier.
Casual names attributed to K2 mountain were scarcely used including Chogori (Big Mountain), Qogir (Chinese) and Lamba Pahar (Urdu, tall mountain). Therefore, the survey mark K2 steadily became known and adopted locally in the Balti language also.
The Italian climber Fosco Maraini, when summited Gasherbrum IV, described K2 as "bare bones", all rock, ice, storm, and deep abyss but nothing human.
Early Climbing Attempts to k2 Elevation
In 1892 British Expedition led by Martin Conway reached 'Concordia' on Baltoro Glacier. The first serious attempt to climb K2 was made in 1902 by Oscar Eckenstein and Aleister Crowley from North Ridge. He could reach only 6500m after 5 costly attempts in the record longest duration of 68 days, of which only 8 were clear days. The next expedition in 1909 by Luigi Amedeo, Duke of Abruzzi, reached 6250m on South East Spur (now termed Abruzzi spur or Ridge) with extreme difficulty. He failed to find a better alternative route and declared that K2 cannot be climbed at all. Charles Houston, an American, attempted in 1938. He surveyed and concluded that Abruzzi spur was the best route and reached about 8000m. Extreme Bad weather forced him back. Next year Fritz Wiessner was only 200m. Short when disaster struck and four climbers disappeared. Charles Houston again attempted K2 in 1953. A strong storm pinned the team at 7800m for ten days. In a desperate retreat attempt, a mass fall occurred. Fortunately, Pete Schoening managed to save the entire team except for Art Gilkey, who got killed. This team effort and courage is a milestone in mountaineering history.
K2 Mountain Successful Attempts 
An Italian expedition finally ascended K2 on 31st July 1954. Ardito Desio led his team of Lino Lacedelli, Achille compagnoni and a Pakistani Colonel Muhammmed Atta Ullah. Walter Bonatti and porter Mahdi proved vital for success, carrying oxygen to 8100 m. On 9th August 1977, Italian Ichiro Yoshizawa and a Pakistani Ashraf Aman summited via Abruzzi route using 1500 porters. In 1978 an American, James Whittaker succeeded using the new route, the long corniced North East Ridge. The team Louis Reichardt, John Roskelley, Rick Ridgeway and Jim Wickwire who suffered overnight bivouac, at the highest level, 150m below the summit. In 1982, a Japanese Mountaineering Association team ascended from North Ridge on the Chinese side. The team was Naoe Sakashita, Hiroshi Yoshino and Yukihiro Yanagisawa reached the top, but Yanagisawa died when descending. Four more team members topped summit the next day. A Czech climber Josef Rakoncaj climbed K2 Twice. Firstly, in 1983 with Italians led by Francesco Santon and Secondly on 5th July 1986 as a member of Agostino da Polenza's expedition.
Recent Attempts
K2 is attracting more and more mountaineering enthusiasts. Since 2008, 299 people climbed, dominating the K2 tough challenges. In the same period, 2600 individuals summited the popular but far easier mount Everest. With the improvement of equipment and facilities, climbing is becoming easier but the climbing challenge seekers would stay with and dominate K2, preferably.
---
Women Mountaineers K2 Mountain
The first woman to reach K2 summit was Wanda Rutkiewicz of Poland in 1986. The next four successful women, however, died while descending. A rumor of Mountain curse spread among women, but brave ladies broke this curse by successful summiting namely, in 2004 Edurne Pasaban, in 2006 Nives Meroi (Italy) and Yuka Komatsu (Japan), in 2007 Eun-Sun Oh, in 2008 Cecilie Skog and Mi-Sun Go became the 11th woman to reach the summit and descend safely.
Routes to the K2 Summit and difficulties mountain high elevation
Climbing explorers have experimented all the routes available to discover the easiest, but K2 is not prepared to concede fully. Some common difficulties exist on all routes. Oxygen becomes scarce by 30% at the peak causing fatigue. The mountain steeps require a committed effort when ascending or descending. These steeps also make a retreat in storms risky. The extreme storms continue for days and weeks at times without break. This causes supplies shortage, forced retreats, accidents, and deaths mostly on down way. All major routes are on Pakistan side, where base camp is located.
Bottled Oxygen
The climbers used oxygen very scarcely in the past. Since 2004 the trend to carry bottled oxygen has increased tremendously. Over 50% summiters used it. Still, acclimatization is a must for the high climb and to avoid high altitude sicknesses like 'Hape' and 'Hace'.
Abruzzi Spur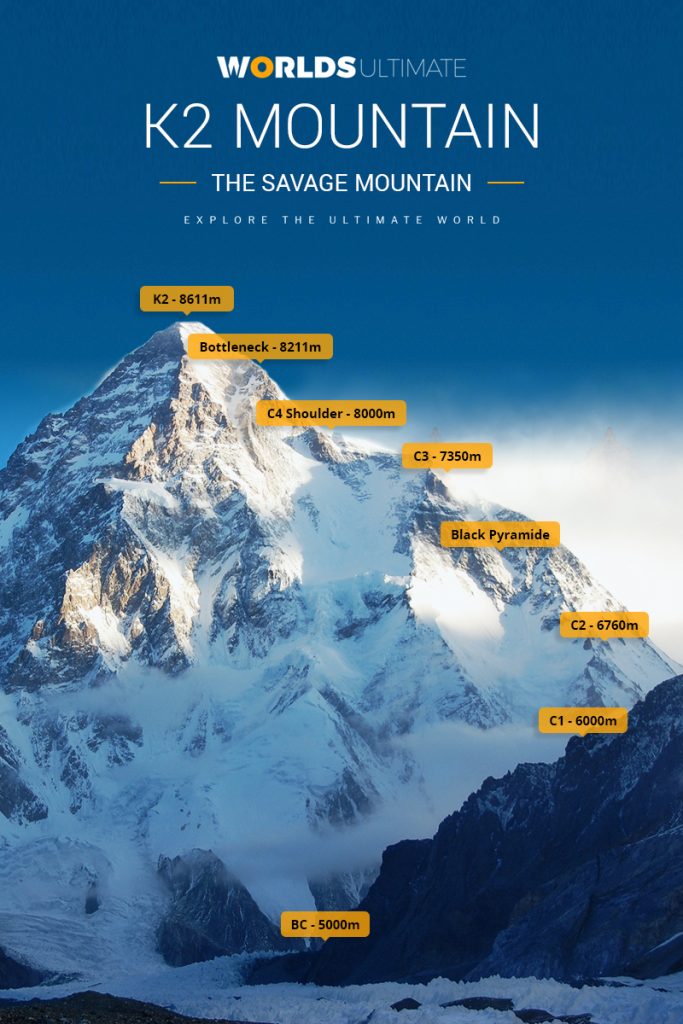 This route now is most common. This southeast Ridge was first used in 1909. It begins at 5000m. altitude. Climbers follow rock ribs, ice fields; climb two tough spots to "House's Chimney" and "Black Pyramid". Then difficult skiddy slopes are crossed to reach the "shoulder". The last obstacle is the narrow "Bottleneck" or an ice cliff in the east of the summit. In 2008 a section of ice cliff snapped, broke the rope, killing climbers.
---
North Ridge: This is on the Chinese side opposite Abruzzi Spur. Few climbers choose this route as hazardous Shaksgam River has to be crossed. It ascends a tough long steep rock ridge that lands on the mountain "Camp IV, "Eagle'sNest" at 7900m. It crosses a dangerous hanging glacier and then to the summit.
North East Ridge – Long and difficult route joins to the upper part of Abruzzi route, used in 1978.
West Ridge – Used in 1981South west Pillar or "Magic Line" First climbed in 1986 by Polish-Slovak trio. The only next successful climb was by spanish Jordi Corominas, despite many other attempts.
South Face or "Polish Line"– In 1986, Jerzy Kukuczka and Tadeusz Piotrowski summited on this route. This dangerous avalanche route is also called "Suicidal Route" as no one else even attempted it.
Northwest Face – climbed in 1990
Northwest Ridge – (finishing on North Ridge) Climbed in 1991
South – Southeast Spur or "Cesen route"
A safer alternative as it avoids the obstacle "Black Pyramid" It ends on Abruzzi Spur. First climber in 1994
West Face – (difficult at high altitude) Russian team summited successfully in 2007
[nggallery id=6]
k2 Movie
Check out the movie about a successful K2 Mountain Expedition Directed by Franc Roddam Produced by Jonathan Taplin K2 (also known as) K2: The Ultimate High