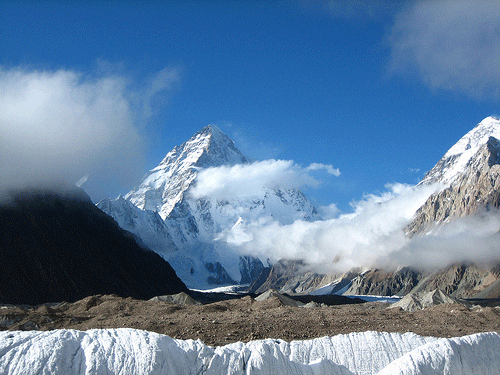 K2 Mountain Elevation
K2, the Savage Mountain (Nickname)
Height: Peak elevation from sea level 28'251 ft. (8611 m.) K2 meter
Location: One of the many peaks of the Karakorum Range, on the border of China and Pakistan, (Taxkorgan Tajik County China and liberated Kashmir, Pakistan).
K2 Mountain Map: Click here to find the K2 Map
Topography: K-2 ranks 22nd by Topography Prominence.
---
K2 Mountain: Highest in Pakistan and 2nd High Elevation

Mountain

in the World.
K2 Mountain offers a beautiful serene sight to look at. This extremely picturesque peak rises singly over 3000 m above the valley bottom at its base. The relief in comparison to height is unique.
K2 is placed far away from travel routes and inhabited areas. It gained the attention of climbers only in the early 20th century.
The savage mountain is a consistently steep pyramid on almost all sides, offering very difficult and dangerous access for the climber.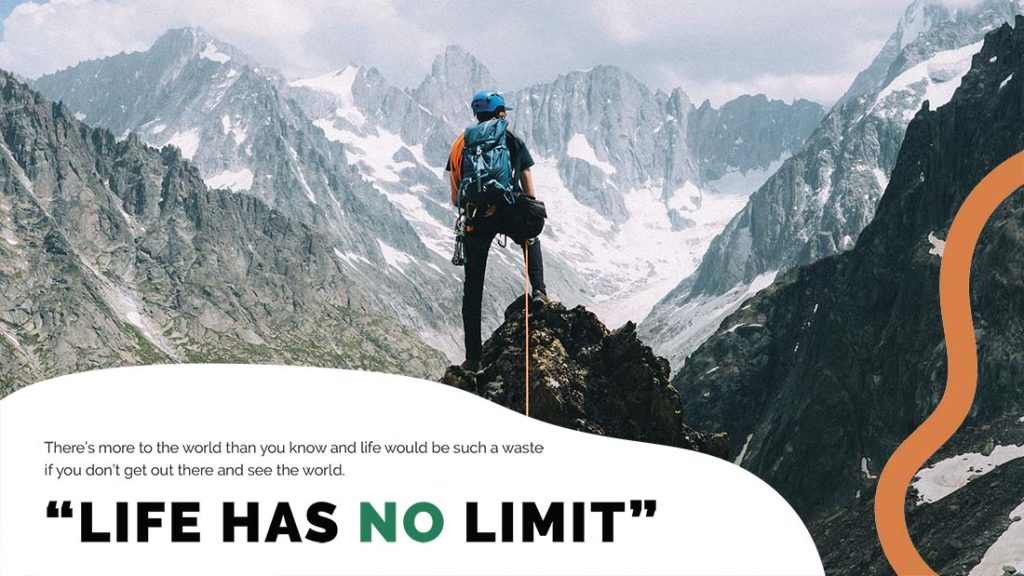 The Name
The Great Trigonometric Survey (GTS) was conducted in 1856 by Thomas Montgomerie. In his first survey of Karakoram from Mount Haramukh, about 210 km South, he labeled the two highest peaks as K1 and K2 and the lower ones as K3, K4, and K5.
In GTS, preference is provided to local existing names when defining/recording. The peaks K1 to K5 were already known as Masherbrum, Broad Peak, Gasherbrum II, and Gasherbrum I.
While K2 had no local name being located so it was remote and invisible from Askole, the last village. Only a feeble glimpse is possible from Baltoro Glacier.
Casual names of K2 mountain were scarcely used including Chogori (Big Mountain), Qogir (Chinese), and Lamba Pahar (Urdu, tall mountain). Therefore, the survey mark K2 steadily became known and adopted locally in the Balti language.
The Italian climber Fosco Maraini, when summited Gasherbrum IV, described K2 as "bare bones", all rock, ice, storm, and deep abyss but nothing human.
Brief History
The history of exploration is a testament to the indomitable human spirit and the relentless pursuit of conquering nature's challenges.
K2, often referred to as "the Savage Mountain," acquired its ominous reputation for its perilous nature and extreme conditions.
The discovery was a result of the Great Trigonometric Survey of India, led by British explorers in the 19th century. While Thomas Montgomerie, a British surveyor, is credited with measuring the mountain's height and pinpointing its location, the peak's name originates from this survey.
"K" stands for Karakoram, the mountain range in which it resides, and "2" signifies that it was the second peak according to the survey in the region. Montgomerie's contribution marked the inception of its enduring legacy in the world of mountaineering.
The highest peaks in the world that come under the Karskorsm range were found with their local names.
| | | | | |
| --- | --- | --- | --- | --- |
| Sr. No. | Mountain by Name | Route/Region | Height (meters/feet) | By Number |
| 1 | K2 (Godwin-Austen) | Pakistan-China | 28,250 meters (8,611 feet) | 2 |
| 2 | Nanga Parbat | (Himalayas) Pakistan | 26,660 meters (8,125 feet) | 9 |
| 3 | Gasherbrum I | Pakistan-China | 26,470 meters (8,068 feet) | 11 |
| 4 | Broad Peak | Pakistan-China | 26,400 meters (8,047 feet) | 12 |
| 5 | Gasherbrum II | Pakistan-China | 26,360 meters (8,035 feet) | 13 |
| 6 | Disteghil Sar | Pakistan | 25,858 meters (7,882 feet) | 17 |
| 7 | Masherbrum | Kashmir 2 | 25,660 meters (7,821 feet) | 21 |
| 8 | Rakaposhi | Pakistan | 25,551 meters (7,788 feet) | 22 |
| 9 | Kanjut Sar | Pakistan | 25,461 meters (7,761 feet) | 23 |
| 10 | Saser Kangri | India | 25,172 meters (7,672 feet) | 30 |
| 11 | Haramosh Peak | Pakistan | 24,270 meters (7,397 feet) | 41 |
The highest mountains in the world in Karakoram
Records and Achievements
K2 has been the stage for numerous records and achievements through numerous expeditions, each a testament to human perseverance and the allure of challenging the impossible.
First Successful Ascent
The pinnacle of its mountaineering history was in 1954, when an Italian team, led by Ardito Desio, finally succeeded in making the first ascent. Lino Lacedelli and Achille Compagnoni, two members of the team, etched their names into history as the first climbers to conquer the summit. This triumph marked a historic moment in mountaineering and proved that human determination could overcome even the most formidable obstacles.
Early Climbing Attempts to K2 Elevation
In 1892 British Expedition led by Martin Conway reached 'Concordia' on Baltoro Glacier. The first serious attempt to climb K2 was in 1902 by Oscar Eckenstein and Aleister Crowley from North Ridge.
He could reach only 6500m after 5 costly attempts in the record longest duration of 68 days, of which only 8 were clear days.
The next expedition in 1909 by Luigi Amedeo, Duke of Abruzzi, reached 6250m on South East Spur (now termed Abruzzi Spur or Ridge) with extreme difficulty. He failed to find a better alternative route and declared that K2 could not be climbed at all.
Charles Houston, an American, attempted in 1938. He surveyed and concluded that the Abruzzi spur was the best route and reached about 8000m.
Charles Houston again attempted the Karakoram 2 in 1953. A strong storm pinned the team at 7800m for ten days.
In a desperate retreat attempt, a mass fall occurred. Fortunately, Pete Schoening managed to save the entire team except for Art Gilkey, who got killed. This team effort and courage is a milestone in mountaineering history.
Successful Early Attempts 
An Italian expedition finally ascended the king or mountain on 31st July 1954. Ardito Desio led his team of Lino Lacedelli, Achille compagnoni and a Pakistani Colonel Muhammmed Atta Ullah.
Walter Bonatti and Porter Mahdi proved vital for success, carrying oxygen to 8100 m. On 9th August 1977, Italian Ichiro Yoshizawa and Pakistani Ashraf Aman summited via the Abruzzi route using 1500 porters.
In 1978 an American, James Whittaker succeeded in using the new route, the long corniced North East Ridge.
The team Louis Reichardt, John Roskelley, Rick Ridgeway, and Jim Wickwire who suffered overnight bivouac, at the highest level, 150m below the summit.
In 1982, a Japanese Mountaineering Association team ascended from North Ridge on the Chinese side. The team was Naoe Sakashita, Hiroshi Yoshino and Yukihiro Yanagisawa reached the top, but Yanagisawa died when descending. Four more team members topped the summit the next day.
A Czech climber Josef Rakoncaj climbed K2 Twice. Firstly, in 1983 with Italians led by Francesco Santon and Secondly on 5th July 1986 as a member of Agostino da Polenza's expedition.
Recent Attempts
Mount Godwin-Austen is attracting more and more mountaineering enthusiasts. Since 2008, 299 people climbed, dominating the mountain's tough challenges.
In the same period, 2600 individuals summited the popular but far easier Mount Everest. With the improvement of equipment and facilities, climbing is becoming easier but the climbing challenge seekers would stay with and dominate it, preferably.
In 2022, a record-breaking history was made, where a vast majority of expeditions were completed in history. More than 100 summits in a day were recorded from which many had achieved record summits.
In January 2021, the mountaineering world witnessed a historic feat on the mountain. A team of Nepali climbers achieved the first successful winter ascent of the mountain, an accomplishment that had eluded mountaineers for decades. Led by Nirmal Purja, the team faced extreme cold, hurricane-force winds, and logistical challenges.
The summer of 2021 saw an influx of climbers eager to reach Chogori's summit, despite its notorious challenges.
This season was marked by several successful ascents, including the continuation of Nirmal Purja's efforts to complete all 14 of the world's 8,000-meter peaks.
However, the season also witnessed the tragic loss of climbers due to avalanches and adverse weather conditions.
It served as a stark reminder of the formidable dangers it presents. Recent attempts to conquer this formidable peak have been marked by both triumph and tragedy, showcasing the unique challenges presented by "the Savage Mountain."
In 2020, a team of climbers from China and Nepal made a significant achievement on the savage mountain. They successfully summited the mountain via the challenging Abruzzi Ridge, demonstrating their expertise and resilience in tackling one of the world's most treacherous peaks.
This ascent highlighted the growing role of climbers from the region in taking on the formidable challenges of the mountain.
Women Mountaineers
K2's formidable reputation as "the Savage Mountain" hasn't deterred women mountaineers from making their mark on its slopes. The history of female climbers on the mountain is filled with remarkable achievements, breaking down barriers, and serving as an inspiration to all.
The first woman was Wanda Rutkiewicz of Poland to reach the K2 summit in 1986. Her ascent was groundbreaking.
It solidified her place as an iconic figure in the world of mountaineering. Tragically, she lost her life during an expedition in 1992.
It is a reminder of the inherent dangers of high-altitude climbing. The next four successful women, however, died while descending.
A rumor of the Mountain curse spread among women, but brave ladies broke this curse by successfully summiting namely, in 2004 Edurne Pasaban, 2006 Nives Meroi (Italy) and Yuka Komatsu (Japan), in 2007 Eun-Sun Oh, in 2008 Cecilie Skog and Mi-Sun Go became the 11th woman to reach the summit and descend safely.
Gerlinde Kaltenbrunner, an Austrian mountaineer, made her mark on the king of mountains in 2011.
She reached the summit, becoming not only one of the few women to conquer this challenging peak but also achieving the remarkable feat of climbing all 14 of the world's 8,000-meter peaks without supplemental oxygen. In 2017, Vanessa O'Brien, a British-American mountaineer, reached the summit of K2.
Nirmal Purja's 2021 winter ascent of K2 was historic for its achievement and for the participation of a woman mountaineer, Mingma Gyalje Sherpa, in the team.
Tragedy and Uncompleted Summits
The dark side of K2's history contrasts with uncompleted summits and tragic events. While the Italian team's 1954 achievement was a crowning glory, it came at a high cost.
Gyalzen Norbu, a Pakistani porter, lost his life in the pursuit of the summit, underscoring the severe challenges it presents.
Chogori is infamous for its high fatality rate, particularly on its formidable slopes. It has seen numerous heroic attempts thwarted by cruel and unpredictable weather, avalanches, and other deadly obstacles.
In fact, the savage mountain is apparently more perilous than Mount Everest due to its higher fatality rate. This stark reality serves as a stark reminder of the mountain's relentless and unforgiving nature.
Historic Winter Ascent
In 2021, mount Godwin-Austen witnessed another remarkable achievement – the first successful winter ascent by a Nepali team. Led by Nirmal Purja, this historic milestone showcased the extraordinary skill and determination of these climbers. It was an endeavor that had eluded mountaineers for decades, adding a new chapter to its history.
The Thrilling Saga of K2: Summit & Expeditions
Delve into the historical journey of the K2 summit, exploring both thriving and unsuccessful endeavors, the formidable dangers faced, and the human toll that has…
Routes to the K2 Summit and Difficulties Mountain High Elevation
Climbing explorers have experimented with all the routes available to discover the easiest, but K2 is not prepared to concede fully. Some common difficulties exist on all routes.
The mountain steeps require a committed effort when ascending or descending. These steps also make a retreat in storms risky. The extreme storms continue for days and weeks at times without a break.
This causes supply shortages, forced retreats, accidents, and deaths mostly on down way. All major routes are on the Pakistan side, where the base camp is located.
Bottled Oxygen
The climbers used oxygen very scarcely in the past. Since 2004 the trend to carry bottled oxygen has increased tremendously. Over 50% of submitters used it. Still, acclimatization is a must for the high climb and to avoid high altitude sicknesses like 'Hape' and 'Hace'.
Normal Route
The Normal Route on the mountain, although labeled "normal," is far from it. This route, also known as the Southeast Spur, is the most popular and frequently attempted route. It begins on the Pakistani side of the mountain and involves several high camps. It includes Camp 1, Camp 2, Camp 3, and Camp 4.
Challenges:
Avalanche Danger. The Normal Route is particularly susceptible to avalanches, especially during the summer season. Climbers must be cautious and closely monitor the weather to minimize this risk.
Bottleneck. The infamous Bottleneck is a section where climbers must navigate a narrow and steep gully. This area is highly exposed to falling ice and rockfall, making it one of the most dangerous parts of the route.
Climbing Difficulty. The Normal Route involves technical ice and rock climbing. Climbers need to be proficient in using ice axes, crampons, and ropes.
North Ridge
The North Ridge is the second most popular route to the summit of the king of mountains. This is on the Chinese side opposite the Abruzzi Spur. Few climbers choose this route as hazardous Shaksgam River has to be crossed. It ascends a tough long steep rock ridge that lands on the mountain "Camp IV, "Eagle'sNest" at 7900m. It crosses a dangerous hanging glacier and then to the summit.
Challenges:
Exposure to Cold. The North Ridge is known for its extreme cold. It has frigid temperatures and biting winds. Climbers must be well-prepared to withstand these harsh conditions.
Technical Difficulty. This route demands expert rock and ice climbing skills, including traversing knife-edge ridges and steep sections.
Altitude and Acclimatization. The higher start point on the North Ridge can be demanding on climbers' bodies due to rapid altitude gain. Adequate acclimatization is crucial to mitigate the risks of altitude sickness.
Abruzzi Route
The Abruzzi Route, named after an Italian climber, is another challenging path to the summit of K2. It merges with the Normal Route at Camp 4 and has become increasingly popular in recent years. This route now is the most common. This southeast Ridge was first used in 1909. It begins at 5000m. altitude. Climbers follow rock ribs and ice fields; and climb two tough spots to "House's Chimney" and "Black Pyramid". Then difficult skiddy slopes are crossed to reach the "shoulder". The last obstacle is the narrow "Bottleneck" or an ice cliff to the east of the summit. In 2008 a section of ice cliff snapped, and broke the rope, killing climbers.
Challenges:
Avalanche Prone. Like the Normal Route, the Abruzzi Route is susceptible to avalanches, especially in the Bottleneck section.
Steep Sections. Climbers encounter steep and technical sections that require advanced mountaineering skills.
Exposure to Weather. The route is exposed to K2's unpredictable and severe weather conditions, which can change rapidly and pose significant risks to climbers.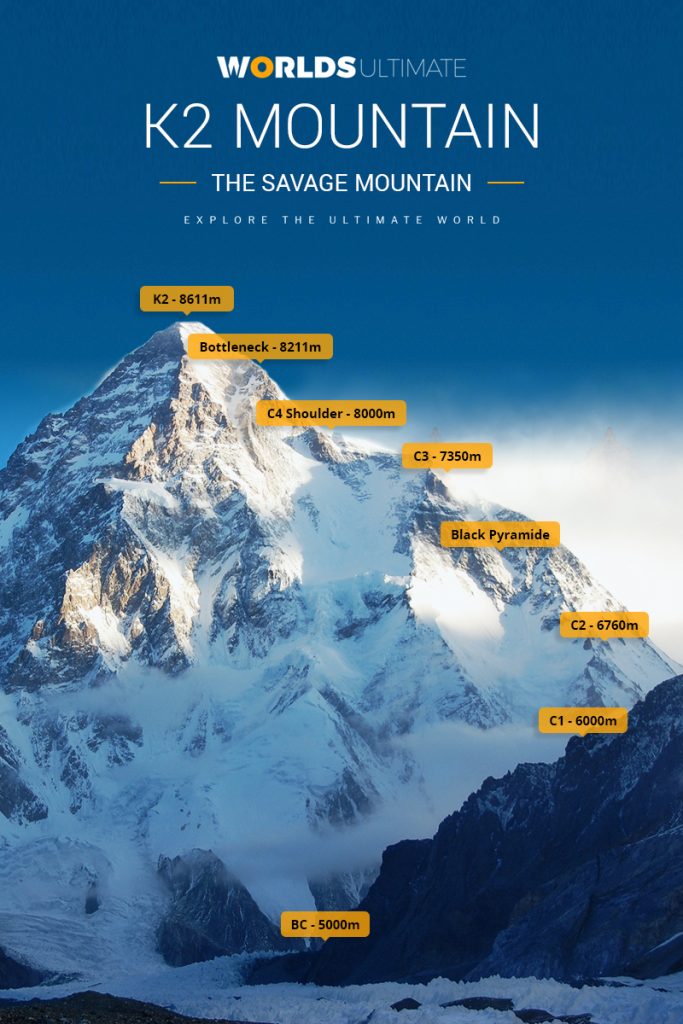 Brief History of Routes
North East Ridge – A long and difficult route joins to the upper part of the Abruzzi route, used in 1978.
West Ridge – Used in 1981 South West Pillar or "Magic Line" was First climbed in 1986 by the Polish-Slovak trio. The only next successful climb was by Spanish Jordi Corominas, despite many other attempts.
South Face or "Polish Line"– In 1986, Jerzy Kukuczka and Tadeusz Piotrowski summited on this route. This dangerous avalanche route is also called the "Suicidal Route" as no one else even attempted it.
Northwest Face – Climbed in 1990
Northwest Ridge – (finishing on North Ridge) Climbed in 1991
South – Southeast Spur or "Cesen route". A safer alternative as it avoids the obstacle "Black Pyramid" It ends on Abruzzi Spur. First climber in 1994
West Face – (difficult at high altitude) Russian team summited successfully in 2007
Climbing Difficulty
Climbing K2 is considered one of the most difficult and dangerous mountaineering challenges. These challenges are due to its steep slopes, extreme altitude, and unpredictable weather.
Unforgiving Terrain. The steep and exposed terrain of the savage mountain demands climbers to use advanced mountaineering techniques, including rock and ice climbing.
Altitude and Acclimatization. Climbers face the relentless effects of altitude, which can lead to altitude sickness and other health issues. Proper acclimatization is critical.
Brutal Weather. Its extreme weather conditions, characterized by extreme cold, fierce winds, and sudden storms, test the endurance and resilience of climbers.
Technical Climbing. Successful ascents of chogori require technical climbing skills, including the use of ice axes, crampons, and ropes.
Physical and Mental Stamina. Climbers must be physically fit and mentally prepared for the intense physical and mental strain it presents.
Base Camp
K2 Base Camp serves as the launching point for mountaineers embarking on the arduous journey to conquer "the Savage Mountain". The journey to K2 Base Camp is an adventure in itself.
The trek offers breathtaking vistas of the Karakoram Range and a taste of the region's rugged beauty. Trekkers follow ancient trade routes, traverse glaciers, and navigate challenging terrain. The trek usually takes about 7 to 10 days and covers approximately 60 miles (97 kilometers). Trekking to K2 Base Camp requires careful planning and preparation. Here are some essential tips:
Ensure you have the appropriate gear, including sturdy hiking boots, warm clothing, and a good-quality backpack.
Acclimatize gradually to minimize the risk of altitude sickness.
Stay hydrated and carry a water purification system to access safe drinking water.
Be respectful of the local culture and environment, and always follow leave-no-trace principles.
Accommodations at the mountain Base Camp are basic and typically consist of tents and temporary structures. Climbers and trekkers must be prepared for primitive living conditions. Transport options to reach these accommodations at Base Camp include trekking or hiring local porters and yaks to carry equipment and supplies. The journey can be challenging but offers an authentic mountain experience. Climbers and trekkers need appropriate permits to access Base Camp and the surrounding areas. These permits help manage the flow of people and protect the environment.
Equipment and Gear
Mountaineering gear and equipment are essential for the challenging conditions encountered on K2. Such as:
Climbing gear includes ice axes, crampons, ropes, harnesses, and carabiners, which are essential for ascending its steep and icy slopes.
A comprehensive gear list encompasses clothing, sleeping bags, tents, and other equipment. This list ensures climbers are well-prepared for the harsh environment.
Specialized mountaineering equipment, such as high-altitude boots and down suits, is designed to withstand extreme cold and high altitudes.
Clothing should include multiple layers to cope with changing weather conditions, along with high-quality insulation to keep warm at high altitudes.
Weather and Conditions
Climbing K2, the second-highest mountain on Earth is a formidable challenge largely due to its unpredictable and severe weather and treacherous conditions.
Weather
The weather is known for its extreme and rapidly changing conditions. This mountain experiences a wide range of weather phenomena. Which includes heavy snowfall, high winds, and frigid temperatures.
Temperature Extremes. The base camp can experience temperatures ranging from -20°C to -30°C (-4°F to -22°F). Specifically, during the climbing season. At higher altitudes, it can plummet to -50°C (-58°F).
Fierce Winds. The mountain is known for strong winds that can reach hurricane force. These winds, combined with the extreme cold, pose a significant threat to climbers.
Sudden Storms. The weather on the savage mountain can change rapidly, with clear skies giving way to blizzards and whiteouts. Climbers must be vigilant and prepared for sudden weather shifts.
Avalanche Risk
Avalanches are a significant risk to chogori, especially during the summer climbing season. Heavy snowfall, steep slopes, and the unstable nature of the snowpack make this mountain prone to avalanches.
The Bottleneck, a narrow and steep gully on the mountain, is particularly notorious for avalanches. Climbers must carefully navigate this hazardous section. They must assess avalanche risk, use avalanche safety equipment, and time their ascents to minimize exposure during high-risk periods.
Summit Weather
Reaching its summit is the ultimate goal for climbers. The weather at the summit can be even more brutal and unpredictable. At an elevation of 28,251 feet (8,611 meters), the conditions are harsh.
The thin air at the summit poses additional challenges, as climbers must deal with hypoxia and reduced physical and mental capabilities. Summit temperatures can plummet to -60°C (-76°F) or lower. Hurricane-force winds are common here. These extreme conditions make it imperative for climbers to make swift and safe descents.
Climbing Season
The climbing season for the king of mountains typically falls between June and August. During this period, weather conditions are relatively stable, making it the most favorable time for summit attempts. The warmer temperatures and longer daylight hours increase the chances of success.
The summer season provides the best chance for climbers to experience more stable weather and milder temperatures, although still quite challenging. The popularity of this season means that the routes can become crowded, which can pose safety and logistical challenges.
Weather Forecasts
Accurate weather forecasts are of paramount importance for the expeditions. Climbers rely on these forecasts to make informed decisions about when to ascend and descend, to minimize the risks associated with the mountain's harsh conditions. Reliable weather forecasts help climbers plan their summit pushes, taking into account temperature, wind speed, and potential storms.
Geology and Formation
Understanding the geology and formation of K2 is essential for comprehending the unique challenges this mountain presents to climbers. Let's explore the geological aspects of "the Savage Mountain."
Geology
Mount Godwin-Austen, a formidable peak in the Karakoram Range, is a product of the ongoing collision between the Indian and Eurasian tectonic plates.
The complex geological processes that have shaped the Himalayas and the Karakoram Range are evident in their rugged and imposing features.
The Indian plate's relentless northward movement meets the Eurasian plate. It leads to the colossal uplift of the Himalayas and the Karakoram Range.
The rock composition of the mountain plays a pivotal role in its formation and its challenges. It presents to climbers. K2 is composed primarily of sedimentary rock, including limestone, shale, and sandstone. These rocks have been folded, faulted, and thrust upward over millions of years.
Mountain Formation
The savage mountain, like the entire Karakoram Range, was formed by the dynamic interplay of tectonic forces, erosion, and glaciation.
The formation of K2 is a testament to the earth's ever-changing landscape. The continuous tectonic uplift, combined with the erosive forces of glaciers and weather, has sculpted K2 into its distinctive pyramid shape.
The movement of glaciers in the region has carved deep valleys and chiseled the sharp ridges and spires of chogori.
Glacier
The king of mountains is surrounded by numerous glaciers, including the Godwin-Austen Glacier. These glaciers significantly impact the challenges climbers face on the mountain.
Glaciers are riddled with deep crevasses that pose a constant threat to climbers. Navigating these icy chasms requires skill and caution.
Similarly, Glacial icefalls are common on mountains, creating hazardous terrain that can trigger avalanches and icefall-related accidents.
Topography
K2 is a challenge that only the bravest and most skilled climbers dare to take on. The mountain's steep and rugged terrain makes it a formidable obstacle.
The final ascent to the summit is particularly dangerous, with incredibly steep slopes and dangerous rock and ice faces. The famous "Bottleneck" ridge is especially hazardous, with sheer drops on both sides.
Tragedies and Accidents
Unfortunately, K2's unforgiving nature has resulted in numerous accidents and tragedies. That makes it one of the most dangerous mountains in the world.
Accidents
Chogori has seen its fair share of accidents, including falls, avalanches, and medical emergencies. The steep terrain and unpredictable weather contribute to the high-risk environment.
Climbers face steep and technical sections that require advanced mountaineering skills, increasing the potential for accidents.
Disaster
One of the most infamous disasters on the savage mountain occurred in 2008, when a large serac collapsed, triggering a deadly avalanche.
The serac, a massive ice formation, broke free from the mountain's slopes, setting off a chain reaction of destruction. This tragic event claimed the lives of several climbers and has become a haunting reminder of K2's dangers.
Death Toll
As of now, the number of recorded deaths on K2 stands at 91. The majority occurs in the Death Zone situated at the bottleneck of the mountain.
It is around 26,000 feet high. The Death Zone refers to an inhospitable environment where the body undergoes cellular death due to a lack of oxygen.
Rescue Operations
Rescue operations on K2 are complex and perilous due to the mountain's harsh conditions. Climbers and expeditions often play a pivotal role in helping fellow mountaineers in distress.
Climbers are frequently the first responders in rescue operations, as the remote location makes timely professional assistance challenging.
Helicopter rescue operations are infrequent due to the extreme altitude and challenging weather conditions.
Safety Measures
To mitigate the dangers of K2 peak, climbers must take extensive safety measures. These measures include:
Acclimatization. Adequate acclimatization is critical to mitigate the risks of altitude sickness, which can be life-threatening at high elevations.
Risk Assessment. Climbers must continuously assess the conditions and risks they face on the mountain, making informed decisions about when to proceed and when to turn back.
Emergency Response. Expeditions must have well-defined emergency response plans, including communication protocols and evacuation procedures.
Challenges and Dangers
Climbing K2, the world's second-highest peak, presents a formidable array of challenges and inherent dangers. This truth is unwelcome by climbers, who call it the "Savage Mountain", forgetting the artistic scenery and visual appeal of the ranges totally.
What else could they expect at an elevation of 8611 m? besides rock, ice, and glaciers.
The savagery is highlighted as the fatality rate is 2nd highest among 8000 m peaks after Annapurna being first. One of four climbers dies from reaching the savage mountain Summit.
So far all attempts to climb this mammoth peak in winter have failed.
Terrain Challenges
The terrain is incredibly steep, with technical ice and rock faces that demand advanced climbing skills. Knife-edge ridges, such as the "Bottleneck," test climbers' nerves as they traverse narrow and precipitous terrain. The mountain is notorious for avalanches, particularly in sections like the Bottleneck and icefall areas.
Extreme Weather
High winds, often reaching hurricane force, make for harsh conditions and increase the risk of frostbite. Temperatures can plummet to -60°C (-76°F) or lower, challenging climbers' endurance.
Altitude
Altitude sickness is a serious concern for climbers, especially when scaling the hazardous K2. This condition can cause severe symptoms such as high-altitude pulmonary edema (HAPE) and high-altitude cerebral edema (HACE). It can be fatal if not addressed promptly.
Climbers should take necessary precautions to acclimatize gradually to the thin air. That might include ascending slowly and carrying supplemental oxygen to mitigate the risk. By doing so, they can avoid experiencing debilitating symptoms like headache, dizziness, nausea, fatigue, and confusion. Remember, the risks of altitude sickness are not worth taking lightly.
Extreme Cold
The high slopes are exposed to brutal cold, and climbers must be prepared for extreme temperatures. Extreme cold puts climbers at risk of frostbite, particularly on exposed skin. Frostbite can result in tissue damage and amputation if not addressed in time.
Conclusion
In takeaways, the Savage Mountain presents a host of unique challenges and dangers. K2 is a mountain that has captured the hearts and minds of adventurers and climbers.
With its rugged terrain, unpredictable weather, and constant risk of avalanches, it stands as a testament to the indomitable human spirit. That is driven by the pursuit of the world's most challenging summits.
To conquer K2, one must possess exceptional technical skills, physical endurance, and mental fortitude. However, the rewards are endless – stunning visual appeal, a sense of adventure, and the opportunity to push oneself to the limit.
Furthermore, K2's geological formation highlights the intricate processes that have shaped this imposing peak. For those who seek a true test of their abilities and a chance to witness nature's wonders, K2 is the ultimate destination.
Whether depicted in films or through captivating narratives, K2's rich history continues to captivate the world, offering an insight into the allure of this savage mountain and the remarkable individuals who dare to climb it.
---
K2 Movie
Check out the movie about a successful K2 Mountain Expedition Directed by Franc Roddam Produced by Jonathan Taplin K2 (also known as) K2: The Ultimate High