Gilgit Baltistan is situated in the North which is the most beautiful region of Pakistan. God Gifted natural treasure abounds in breathtaking landscapes is Pakistan.
Gilgit-Baltistan
Tourists from the whole world come here to take a break from a busy space. It is also well known for its geographical importance and natural beauty around the world. And calling GB small heaven wouldn't be an exaggeration. Three sparkling mountains range Himalayas, Hindu Kush, and the Karakorum also great each other.
Gilgit Baltistan History
In the ancient ages of sub-continent, Gilgit-Baltistan was an independent state under some local rulers. However, it was neither the part of Jammu nor Azad Kashmir. Maharaja Hari Singh was the king of Kashmir state before separation when Kashmir was one territory. He had a chance to conquer Gilgit-Baltistan and he did it with the help of the British. During separation, Mount Batten Plan also stated that everyone has the right to join either join Pakistan or India. But Allah has decided something else for Gilgit. Scouts of GB overthrew Hari Singh's Governor and established their own provincial government. After separation of sub-continent, Pakistan's Govt. pressurized Gilgit to get a merge in Pakistan. To get rid of Indian Invasion, GB became the part of Pakistan. Pakistan and Gilgit's Scouts captured some part of Jammu Kashmir and some of Baltistan. So it is also known as Northern Areas of Azad Kashmir.
Geographical Representation
Area: 38,000 sq. kilometers.
Altitude: 4,900 ft. (1,500meters)
Population: 216,760
A region of strategic significance and immense geographic. Geo-corridors (Power of all times) are special gifts of nature to Gilgit Baltistan. In addition to this Russia, China, Afghanistan (US), and India embrace it from all directions.
GB has an area of 38,000 sq. kilometers. First, significantly mountains are lying on the foothills of the Karakoram's range with an average altitude of 4,900 ft. (1,500meters). Second, Indus River of neighbor states Ladakh and Baltistan drained it. Borders of Afghanistan, China, India (Jammu Kashmir), and controlled state of Azad Kashmir are attached with this beauty.
Gilgit Baltistan is also the home of the world's highest range of mountains. Karakoram and Western Himalayas are the main range of it. The featured mountains of GB in the world are K2 and Nanga Parbat. And the Hindu Kush lies to the west and Pamir is in the North. As well as, GB is the meeting point of these three mountains ranges because of its geo-location. Gilgit with a population of 216,760 is the administrative center of it. Two Divisions, seven Districts, and twenty-two Tehsils comprise Gilgit Baltistan. Diamer, Ghizar, Gilgit, Astore, and Hunza Nagar are the Tehsils of Gilgit. Further, Skardu and Ghanche are Baltistan's Tehsils.
The government of Gilgit Baltistan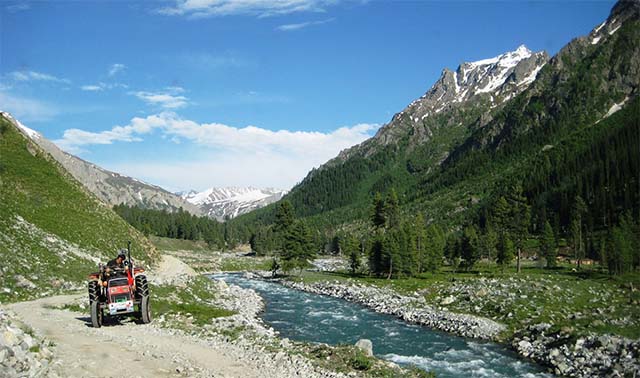 Gilgit Baltistan's elected assembly is Gilgit Legislative Assembly and this was established under GB Empowerment and Self-Governance by order 2009. This assembly consists of 33 members out of which, 24 seats are filled by direct election, 6 seats for women, and 3 reserves seats for technocrats.
Governor of GB: Mir Ghazanfar Ali Khan
Chief Minister: Hafiz Hafeez-ur-Rehman
Dispute of GB
Why is the Gilgit Baltistan considered as a disputed region? During the time of separation and Kashmir was in hand of local rulers. So they tried to merge it in India with the help of British. But patriots fight against them and got their state free from rebels.
GB is in Kashmir controlled by Pakistan government called Azad Jammu Kashmir. On the other hand, the issue of Kashmir is in under consideration of United Nation. In fact, when China started to invest in Pakistan to make it developed under the scheme of China Pakistan Economic Corridor (CPEC).  The highway constructed according to CPEC called Karakorum road which is the only road of travel between China and Pakistan as a result of CPEC. Furthermore, after this scheme, India started terrorist activity in Kashmir and other regions. However, the UN hasn't decided yet that Kashmir is in Pakistan or in India. This is the reason of Dispute. Besides the reason, everyone knows that Kashmir is the part of Pakistan and people of Kashmir also want calibration with Pakistan.
Demography Population
| | | | | | |
| --- | --- | --- | --- | --- | --- |
| Districts | Population(M) | Sunni | Shia | Ismaili | Bakhshi |
| Gilgit | 0.196 | 36% | 45% | 19% | 0.5% |
| Skardu | 0.289 | 35% | 89% |   – | 6% |
| Diamer | 0.177 | 100% |   – |  – | – |
| Ghizer | 0.162 | 10% | 5% | 85% |   – |
| Ghanche | 0.199 | 23% | 2% |   – | 75% |
| Astore | 0.096 | 70% | 30% |   – |  – |
| Hunza-Nagar | 0.130 |   – | 55% | 45% |   – |
| Tot. | 1.249 | 28% | 41% | 20% | 11% |
Tribes of Land
Yashkun
Sheen
Mughals
Pathan
Kashmiris
Soniwal
Kashgari
Major tribes of area are Sheen and Yashkun
District wise population
| | | | | | | |
| --- | --- | --- | --- | --- | --- | --- |
| Caste | Gilgit | Skardu | Diamer | Ghizer | Astore | Hunza Nagar |
| Yashkun | 50% | – | 15% | 85% | 53% | 50% |
| Sheen | 30% | 15% | 40% | – | 70% | 30% |
| Mughals | 10% | – | – | – | 4% | 10% |
| Wakhi | 3% | – | – | – | – | 3% |
| Gujar | 2% | – | – | – | – | 2% |
| Balti | – | 75% | – | 3% | – | – |
| Kashmiri | – | 10% | 45% | 12% | – | – |
Languages of G.Baltistan
Shina: It is the main language of Gilgit. Shina is spoken in Gilgit, Diamer, Ghizer, and Astore. Furthermore, people who speak shina are found north in Ishkoman valley.
Burushasky: Hunza Valley's main language and spoken by the people settled on the middle cause of the Hunza River. Nagar River is on its Southern bank. Actually, it is still an unwritten language.
Khowar: Chitral's main language. However, Khowar may speak may be found in Yasin but also understandable in some families of Gilgit because of marriage ties.
Balti: Language of Baltistan Division. Balti speaking people are settled in Rondu, Shigar, Khapolu, Kharmang, Skardu, and Ganache.
Domaaki: It is the main language of the Domas of Berichos who are also found in Gilg and in some Shina speaking villages. Moreover, Domaaki speaking people are especially musician and smiths.
Waakhi: Either spoken in Ishkoman valley or in upper Hunza valley by more than 3,000 people. Pamir-Ian branch of Iranian Language.
Gojri: Gojar family's language spoken in Naltar Valley.
Climate Weather
In Gilgit Baltistan, the summers are truly clear and hot and the winters are very cold with cloudy sky. Over the course of the dry year, the temperature varies from 23 to 92-degree f and is rarely below 12 to 98-degree f.
| | | |
| --- | --- | --- |
| Month |                        Average Temp |            Average Rainfall |
| |           High                            |            Low | Days                   |       Millimeters |
| January |           High 9.6°C                 |            Low -2.7°C |  Days 4                |      4.6 mm |
| February |           High 12.6°C               |            Low 0.4°C |  Days 6                |      6.7 mm |
| March |           High 18.4°C               |            Low 5.4°C |  Days 7                |      11.8 mm |
| April |           High 24.2°C               |            Low 9.2°C |  Days 7                |      24.4 mm |
| May |           High 29°C                   |            Low 11.8°C |  Days 7                |      25.1 mm                           |
| June |           High 34.2°C               |            Low 14.9°C |  Days 5                |       8.9 mm |
| July |           High 36.2°C               |            Low18.2°C |  Days 7                |       14.6 mm |
| August |           High 35.3°C               |            Low 17.5°C |  Days 6                |       14.9 mm |
| September |           High 31.8°C               |            Low 12.4°C |  Days 4                |       8.1 mm |
| October |           High 25.6°C               |            Low 6.3°C |  Days 3                |       6.3 mm |
| November |           High 18.4°C               |            Low 0.4°C |  Days 2                |       2.4 mm                           |
| December |           High 11.6°C               |            Low -2.3°C |  Days 4                |        5.1 mm |
| | | |
Source: www.weather-pk.com/en/pakistan/gilgit-climate
---
Mountain Ranges: (Meeting point of mountains)
The home of the 5 highest mountains ranges is GB.
It is also land where three extravagant mountains such as Himalaya, Karakoram, and Hindu-Kush greet each other. These mountains ranges have a large number of peaks ranging from 6000 to 8611 meter above than sea level under the radius of 180km. The junction point of these ranges is the Jaglot. The list of some famous mountains is given below with detailing.
| | |
| --- | --- |
| K2 | K2 (Savage Mountain) is the world second largest mountain located on the border of Baltistan and Xinjiang China with a peak elevation of 8,611 meters (28,251 feet). And K2 name gave it by mount researcher Thomas Montgomery with the help of a survey. |
| Broad Peak | Known as the 12th highest peak on Earth located within a radius of 8km from K2 with an elevation of 8,051 meters (26,414 feet). It is also called as Broad Peak because of its length 1.5km. |
| Gasherbrum (K5) | The 11th highest peak of the world located in GB and also known as Hidden Peak or K5. GasherBrum's part and it comes from 'gasha' beautiful and 'brum' mountain in Balti. K5 designated in 1865 because it is the 5th peak of Karakorum Range. |
| Gasherbrum II (K4) | It is also located in Gasherbrum Massif and the second highest peak of this region, so it is known as Gasherbrum II or K4. The 13th highest peak of the world with an elevation of 8,035 meters (26,362 feet). |
| Masherbrum | Also called as K1 with a height of 7,821 meters (25,659 feet). The 9th highest peak of Pakistan and 22nd highest of the world. Moreover, the very first mapped mountain of Karakorum mountains range. It is also 'Queen of Peaks'. |
| Rakaposhi | Meaning of Rakaposhi in the local language is 'Snow Covered'. And also known as Dumani 'Mother of Mist' and ranked as the 12th highest peak of Pakistan and 27th of the world. |
| Sia Kangri | Kangri is 63rd highest mountain of the world and 25th highest in Pakistan with a height of 7,442 meters (24,370 feet) located on Pakistan China border. It is within junction tri-point of three territories Pakistan, China, and India. As well as, this region is controlled by China according to 1963 Border Agreement but also claimed by India. |
| Trango Towers | This is the group of granite spires located on the north of Baltoro Glacier and Furthermore, these towers also offer some of the highest cliffs and most challenging climbing peaks. The highest point of this range is more than 6,286 meters |
| The Himalaya Range | Usually known as Himalaya located north of Indian sub-continent. The Hindu-Kush, Karakorum, and other ranges that extend from the Pamir Knot also included in Himalaya. |
| Nanga Parbat | Meaning of Nanga Parbat in Urdu is 'Naked Mountain' also called 'Killer Mountain' with a point of elevation of 8,126 meters (26,600 feet). It is the 9th highest of the world with three faces such as Diamir Face (West), Rakhiot (North), and Rupal (South). |
| Hindu Kush | 800 kilometers long mountains range located between Central Afghanistan and Northern Areas of Pakistan. Moreover, the highest point of this range is Tirich Mir (7,708meters) in the Chitral region of KPK. |
Glaciers of GB
A glacier is a dense ice body which is slowly moving river of ice formed by the accumulation of snow falling on mountains.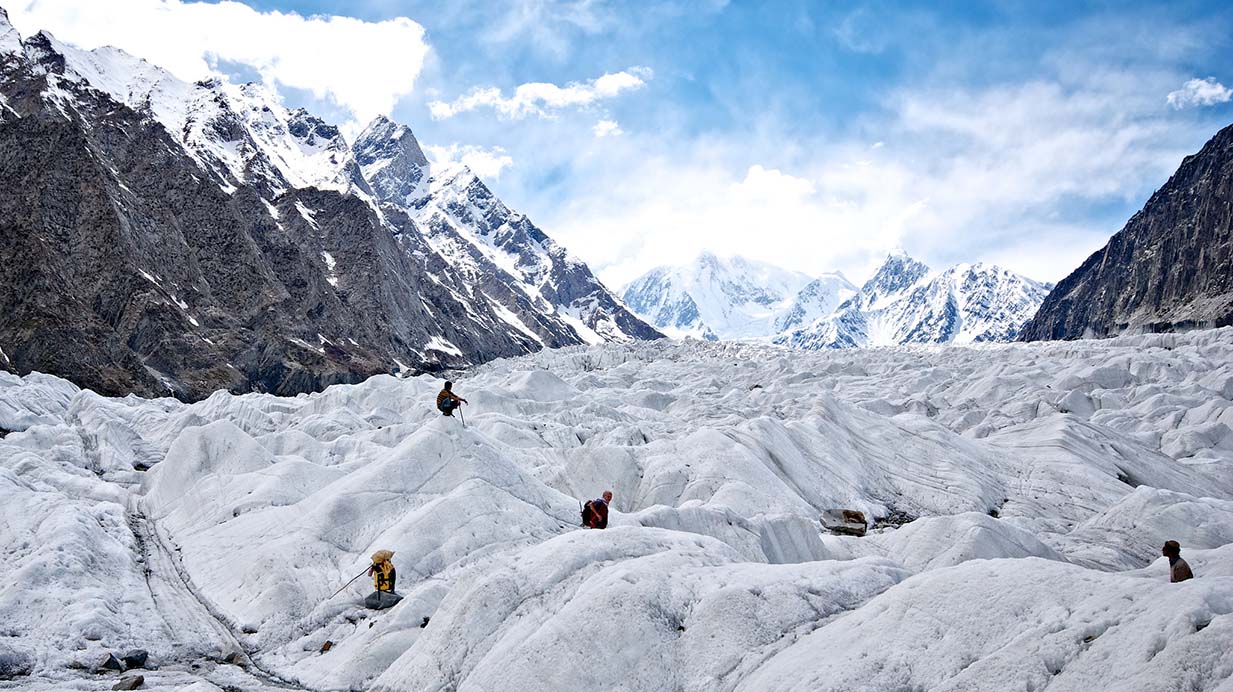 As a matter of fact, Gilgit Baltistan is home of hundreds of glaciers feeding rivers of Pakistan too. We can also say Gilgit 'Roof of the world'. People of GB also suffer from an insufficient amount of water. Moreover, glaciers of GB are the main source of water for many valleys of Gilgit and Baltistan. But they are melting at a very high level more than normal level.
One of the local stated that:
"We worry it may even vanish and there will be no drinking water too," said Abdul Nasir, 60, pointing up at the 19,000-foot mountaintop streaked with thin, patchy snow. "And Every year, it's melting." 
You can get an idea of the amount of ice in glaciers by this statement of an expert:
Hameed Ahmed Mir, a local biodiversity expert who has worked for the United Nations, said that one cubic yard of ice weighs almost a ton — enough to supply four to seven families with drinking water for several days — and one vehicle can carry three to four tons of snow or ice. "Then multiply that by 200 vehicles per day."
Some of the important and world famous GB glaciers are also explained below:
(1) Siachen Glacier
Located in East of Karakorum range and longest glacier of Karakorum with the length of 70 kilometers. It is 2nd longest in the world. Sia in the Balti language refers to the rose family plant widely present in the region. "Chun" refers to any object present in abundance. Thus the name Siachen refers to land with an abundance of roses. Glacier's melting waters are also the main source of the River Nubra in India and drain into the River Shyok. The Shyok, in turn, joins the River Indus; thus, the Glacier is a major source for River Indus. Water is because of this.
(2) Biafo Glacier
The 3rd longest glacier out of the polar region with the length of 63km. Biafo Glacier meets Hisper Glacier (49km) at an altitude of 5,182 meters (16,824feets) to create the world's longest glacier.
(3) Batura Glacier
57 kilometers long and lies in Batura Valley.
(4) Shani Glacier
Shani Glacier is next to Hare Shani located in GB.
(5) Sarpo Laggo Glacier
Presented in Karakorum mountain ranges of Himalaya.
(6) Rupal Glacier
In Astore district of Gilgit Baltistan region. It is the main glacier of Rupal Valley of Nanga Parbat.
(7) Panmah Glacier
Located near to Central Karakorum National park.
(8) Passu Glacier
It is in the south of Batura glacier.
Gilgit Baltistan Culture and Sports
GB has also a number of cultural entities, various backgrounds, and ethnic groups. Moreover, people have beautiful lifestyles and attitudes and they show their love by living together in peace and harmony. And a variety of cultural activities held in Gilgit Baltistan throughout the year.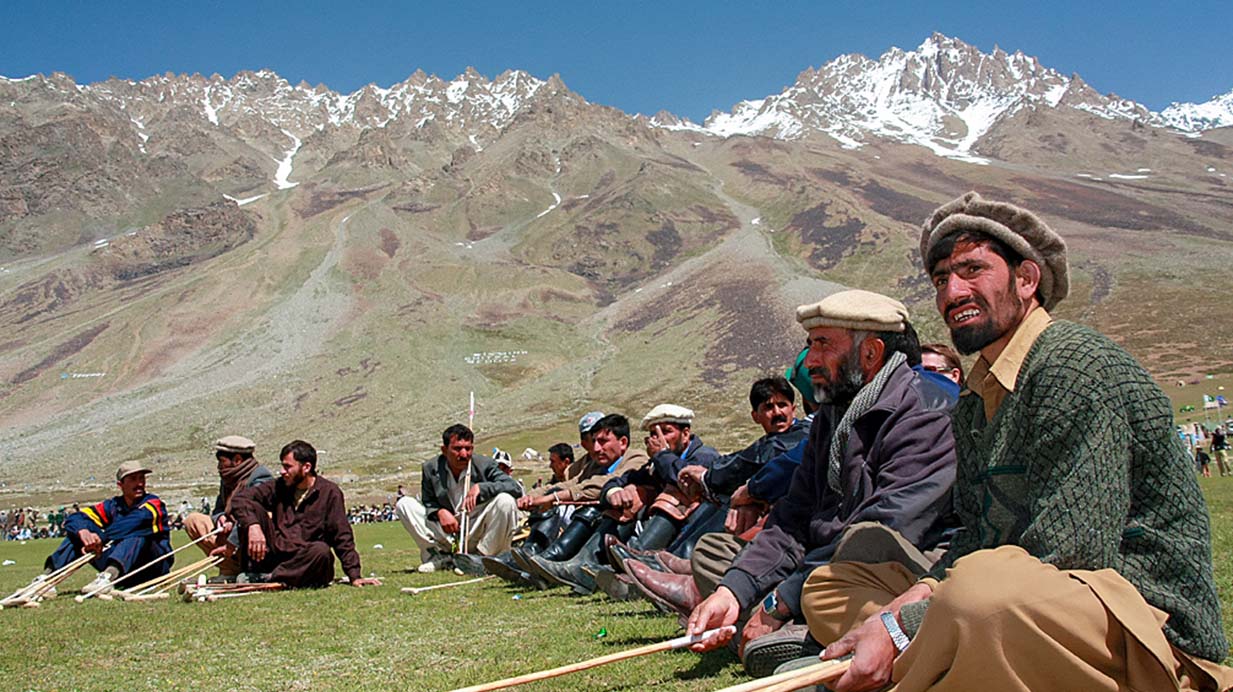 Furthermore, these cultural festivals represent the number of merriment cultural and religious events.
Cultural and Religious Festivals
Eid-ul-Azha (The event of sacrificing animals for the happiness of Allah).
Eid-ul-Fitar (Happy day after fasting month of Ramadan).
Eid Milad-un-Nabi (PBH) (An event of the birthday of our Holy Prophet Hazrat Mohammad PBH).
Navroz-New Day (In fact, the arrival of the spring season with boiled colored egg: 21st March of every year).
Jashan-e-Baharan (Actually, Combination of many sports and cultural events: MELA in local language).
Harvest time festival ("Chineer" celebrated at the time of harvesting crops).
List of Sports in GB
Many sports events are organized each year too. GB Scouts has excellent Ski and Polo teams. As well as, football is a very favorite game among the children of Baltistan.
Ski: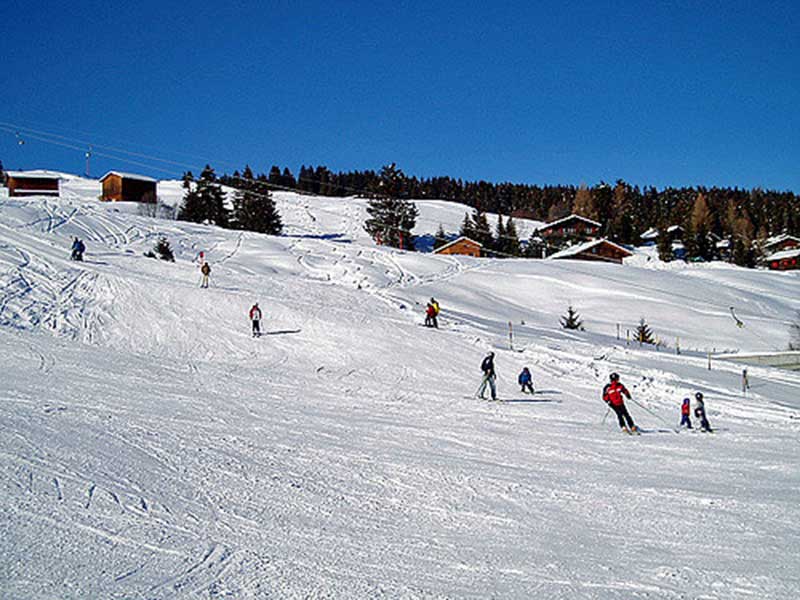 Competitions
| | | | | | | | | | | | |
| --- | --- | --- | --- | --- | --- | --- | --- | --- | --- | --- | --- |
|        Event | 2009 | 2010 | 2011 | 2012 | 2013 | 2014 | 2015 | 2016 | 2017 | 2018 | 2019 |
| National Ski-Champ | 1st | 2nd | 1st | 2nd | 3rd | 2nd |    – | 2nd | 3rd |    – |    – |
| CJCSC Ski Cup | 1st | 1st | 1st | 2nd | 2nd | 1st |    – | 2nd | 3rd |    – |    – |
| 10 Corps Snow Combat Champ | 1st | 2nd | 1st |    – |    – | 2nd | 1st | 2nd |   – |    – |    – |
| Shah-Khan Ski Cup | 2nd |    – |    – |     – | 1st | 1st |    – | 2nd | 1st |    – |    – |
| National Cross Country Ski Champ |    – |    – | 1st |     – | 2nd | 2nd |    – | 2nd |   – |    – |    – |
| Karakoram Alpine Cup-Champ |    – |    – |    – |    – |    – |    – |    – | 2nd |    – |    – |    – |
| Sadia Khan |    – |    – |    – |    – |    – |    – |    – |    – |    – | 1st |    – |
| | | | | | | | | | | | |
Source: http://www.gilgitbaltistanscouts.gov.pk/Sports%20Ski.htm
Polo: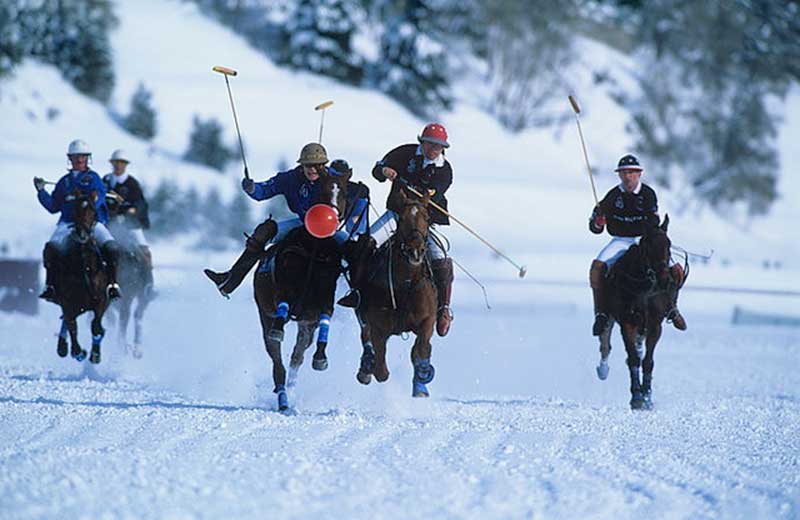 Competitions
GB Scouts:
| | | |
| --- | --- | --- |
|                 Events |                  Year |                Positions |
| Jashan-e-Baharan Festival |                  2004 |                    1st |
| Bank Al-Falah Tournament |                  2005 |               Runner Up |
| Jashan-e-Baharan Festival |                  2006 |                    1st |
| Silk Route Festival Tournament |                  2007 |               Runner Up |
| Jashan-e-Baharan Tournament |                  2008 |               Runner Up |
| DG GB Scouts Tournament |                  2009 |               Runner Up |
| GB Liberation Tournament |                  2010 |               Runner Up |
| Shandur Polo Festival |                  2011 |               Runner Up |
| Jashn-e-Baharan Tournament |                  2012 |               Runner Up |
| Jashn-e-Baharan Tournament |                  2013 |                     1st |
| Tournament Jashn-e-Baharan |                  2014 |                      3rd |
| Jashn-e-Baharan Tournament |                  2015 |               Runner Up |
| Jashn-e-Baharan Tournament |                  2016 |                      3rd |
| Tournament Jashn-e-Baharan |                  2017 |               Runner Up |
| Jashn-e-Baharan Tournament |                  2018 |                      1st |
Source: http://www.gilgitbaltistanscouts.gov.pk/Sports%20Polo.htm
Football (Children and Youngers Game)
Volleyball
Cricket (Game of Children and Youngers)