The beautiful Valleys of Gilgit Pakistan
Gilgit Pakistan
Today, Pakistan does not count among well-reputed countries of the world, corruption and terrorism depict everywhere. What is the truth nobody knows for real. We should be supportive at the time of crises a country is undergoing. The objective should rather be restoring it, when it is facing difficulties. We can really help to build a new Pakistan by looking at the bests they had right now.
After a thorough research and exploration, we found it rich and fully blessed by nature. Its Northern areas are as beautiful as the beautiful lush green fields of Scotland.
Gilgit is one of the main cities in Baltistan Region and is the heart of Pakistan's Northern Areas, also known as the hub for Mountaineers who come from all over the world.
Gilgit, Baltistan
Gilgit is truly magnificent for its scenic beauty, it seems to be like especially crafted by the Nature to have the greatest tourism experiences. It has consisted of high altitude mountains, Glaciers, beautiful valleys, and lakes. This is one reason why almost every traveler familiar with this area of Pakistan.
It is accessible from road and Air too. By Road, it takes about 18-24 hours passing through the Silk Road (also known as Shahrah-e-Resham in Urdu). Air flights are also operational from Islamabad (the Capitol city of Pakistan) on alternate days and daily in peak season, a subject on the weather conditions, it only takes about 45-50 minutes by air traveling, most people chose to travel by air instead of going by road. The peak season is from May to Mid-October. The maximum temperature in May goes up to 33 C and minimum 16 C in September.
Tourism in Gilgit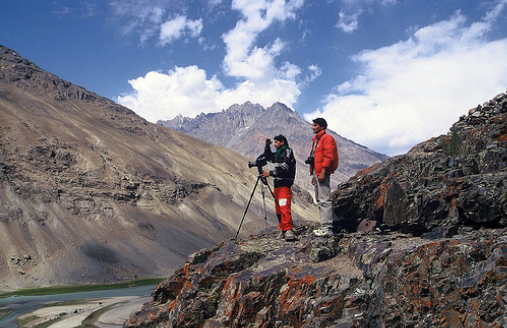 Gilgit is the base for World's High Altitude Climbers, Trekkers and Expeditors. Because it leads to the Karakoram and Himalayan Ranges which is the land of all the highest peaks in the world above sea level. Most of the expeditions come in the month of August every year.  From there onwards they move to Skardu, where they get ready for their expeditions by purchasing important mountain gears on very cheap prices, the products are also available for rent in order to keep your expenses low.
The biggest Expeditions of K2, Broad Peak, Nanga Parbat, Gasherbrum I and Gasherbrum II are all trekked from this route. On the way, there are other hundreds of other 6000m+ and 7000m+ mountains that come in the Karakoram, Hindu Kush and Himalayan Range. Several of them are still unnamed and unclimbed dangerous peaks.
Places to Explore in Gilgit
There are various places to visit this beautiful Capitol city of Baltistan Region like Naltar Valley, it is on the South Eastern side of Gilgit and is gifted with its lush green lands and pine forests, behind there are huge mountains that creates a complete poetic or a fantasy land. Hence, it became the main attractions for tourists in Pakistan.

Hunza Valley is at a distance of almost 3 hours drive and is known as the heart of Gilgit. Other than its scenic views it gives a time of life and a true peaceful experience when lying there for several hours. There are 3 Historical forts still standing there perfectly, the Altit Fort, Baltit Fort and Ganish Fort along with a big range of mountains around it.
Some general words have been thrown about this place, if death has to come, it should come here.
More places to visit in Gilgit
Fairy Meadows, Shigar Town, Skardu City, Deosai National Park, Astore Valley, Rama Lake, Juglot Town, Phunder Village, Yasin Valley and Kargah Valley.
Other than the above mentioned places there are even more beautiful locations that you will be able to only explore when there.