Harsh economic trends and situations have pushed many frequent travelers and tourists on back foot as they can hardly decide which places they would like to travel in the future considering the rising inflation and soaring prices of air tickets and accommodations around the world. Travelling today is an expensive affair and therefore many travelers look out for simpler ways where they can cut down the overall cost of travel to save more and use that money on something else that can make their travel memorable and better. Let's look out for better travel tips that we can find to cut down the overall cost of travel if you are planning to travel alone to romantic places or with your family and friends.
The Ultimate International Travel Tips
Research –
Obviously, when you want to look out for practical options that work in real time you have to think out of the box and that can only happen when you start finding more information that is relevant to your travel. The good thing is that today there are many travel tips sites, review sites, booking sites that share large amount of real time data on the web that can be a handy tool to cut down the overall cost of travel. You need to start researching travel tips on how you want to travel, when you want to travel and where you want to stay and then start comparing and researching on the options that you find. This way you can get real time data to support your travel plans. You can also make use of forums to ask any of the travel related queries to other travelers and that can be useful as well.
Doing a bit of research in guidebooks and online travel tips about the local climate, minimum and maximum temperatures and weather forecasts will help in deciding what items of clothing to pack. Finding out about local customs is a good idea too, as there may be dress codes – or certain taboos – to be aware of in certain places. The same is true of getting medical advice in advance about destinations on the itinerary, and making arrangements for any necessary shots. As a visitor in another country, aim to learn something about local languages; that way, at least a basic level of communication might be possible. Contact your accommodation and find out what facilities they offer. If you can wash your clothes while you are away, it is worth thinking about taking less with you.
Book in Advance–
Most travelers booked their air tickets in advanced and the same trend continues in the current year as well where travelers are always conscious about the rapidly rising air ticket charges. Buying your air ticket in advance is one of the best travel tips always gives you an advantage to cut down the prices that you will pay if you are buying an air ticket at the last moment. You can do the same for hotels and various rental accommodations as well to ensure that you get cheaper deals that you can bring down the overall cost.
Allowances-
Different airlines have various specifications for their carry-on allowances and there are actually no standard issue rules and regulations. Both size and weight need to be checked, for example British Airways specs are different to Virgin's and low cost airlines like Ryanair are very strict.
Make sure your bag or backpack fits in with the requirements for any airline you intend to use on your trip – this can save you nasty surprises in terms of extra check-in costs.
Use City Transit–
Travelers usually never look out for using city transit like local buses, trains and subways because they believe that it is too risky as they can face some unwanted situations. However, using transit options can actually help you to cut down your overall travel costs. Instead of using taxis and rental cars that are expensive you can look out for trains and buses that can get you from one part of the city to another without charging you more money. You can find out more about the safest travel tips and quickest ways to travel through the city using city transportation options and save some bucks for your trip.
Use Bicycles–
No matter where you go you will always find bicycles that you can get on rent. Although, bicycles are not good enough for long distance travels but you can certainly roam in the city on it and save yourself some good money. Rental bicycles are available cheaply and therefore you don't spend the same amount of money when you are renting a car that also charges you for the amount of fuel you use. With bicycles you can quickly get to various locations without bothering about city transport schedules and timings.
Hunt for Discounts –
Most useful travel tips, a good shopper always hunts for better discounts and therefore don't be too impulsive when you are buying something that attracts your attention. When you are shopping in the city you need to make sure that you ask for the same kind of products at different locations and stores and chances are that you might find someone that can offer you the same product for a comparatively low price. You need to keep in mind that there are some wholesale sellers that do offer similar products for low retail price and you can grab the opportunity.
Travel in Groups –
Traveling solo is definitely expensive and therefore you can always look out for other travelers that you can join as there are many hotels and restaurants that offer discounts when you are in groups. This way you can make better friends on your journey and get some discounts that you might not have enjoyed if you would have arrived solo. Traveling in groups also reduces your chances to get robbed or miss out the help that you might need. One of my best travel tips
Free Internet–
In some of the reviews that were posted on the sites it was found that majority of the travelers spend too much on getting internet services. Instead of spending money on hotels that offer paid Wi-Fi or internet service look out for locations where you can get free Wi-Fi services like public places or cafes like Starbucks that offer options to use internet service for free.
Ultimate Gear Checklist
Traveling GEARS
Lightweight clothing
Long-sleeved shirts
Sweaters or fleece jacket
T-shirts and tank tops
Pants or shorts
Belt –
Backpack
Luggage Lock
Sleeping Bag
Socks –
Comfortable walking shoes
Rain jacket, windbreaker
Toiletries
Pajamas/sleepwear
Underwear
Sunglasses
Dresses
Hat or sun visor
Scarf
Swimsuit
Cell phone and charger
Travel speakers
Travel pillow,
Eye mask and ear plugs
Electric converters and adapters
Travel Documents
Money belt
Travel Blogger GEARS
Laptop
Tablet
Book/reading material
Guidebooks
Roller Bags
Camera Equipment
The Drone
Smartphones:
Tripod
Wireless microphones
Universal power adapter
Travel Adapter
Camping Hammock
Hiking Shoes
Headlamp and Flashlight
Memory Cards & Reader
Travel apps
GPS receiver
Binoculars
USB Battery Pack
Travel credit card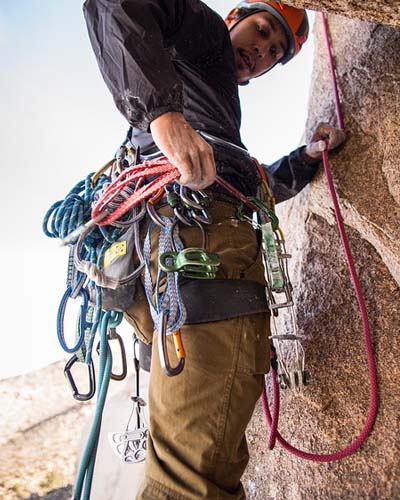 Ultimate Backpacking Travel Tips
No matter what type of holiday or trip you are about to embark on, knowing what to take with you and what to leave behind is an essential thing to learn. With increases in the costs for taking all kinds of luggage on a plane it's important to keep weight down. If you're going backpacking it's even more necessary to make sure you're not carrying anything you really don't need. You may feel that all you need to do is arrange places to go and things to see once you are there. However, there are a few best travel tips and hints to make packing before you leave and unpacking once you arrive a less stressful experience.
Carry it
The best travel tips for any kind of travel is to try and limit your luggage to carry-on baggage only. Not only will this save you money but it also saves time and hassle with check-ins and waits at carousels in airport arrival lounges. Another advantage is that your gear is with you at all times so you know that it is safe and being handled carefully.
Packing Travel Tips
Before packing for your holiday, you need to consider where you are travelling to and the time of the year you are going. Even if you are going at the height of summer, you may want to pack a pair of trousers and a thin waterproof jacket in case of any rain showers. If you are going somewhere cold, you may want to think about acquiring a suitcase that is large enough to accommodate the bulkier, warmer clothes that you will need to take with you.
Don't take more than you need. Although this sounds obvious, it is the hardest thing to do when trying to travel light. Think about what you really need clothes-wise for the climate that you will encounter but remember to consider that temperatures are likely to be different when you return home so you'll need to prepare for that. Making sets of coordinated clothes that can be mixed and matched together can also be a great idea to save space in your bags. Next you should pack the items that will be creased easily and then everything else you are taking with you. Once everything is in the case, the weight on either side of the delicate items will help to minimize any creasing that may take place.
Hairdryers can take up a lot of room. Find out if your accommodation supplies one so you don't have to bring yours. Don't take full bottles of shampoo and shower gel with you- if you have old camera film canisters lying around, use these and wrap them up in a plastic bag to minimize damage in the event of a leak.
By taking these travel tips into account, you will be able to take less with you, helping to ensure you are not charged for extra weight at check-in and that getting around is easier and less tiring.
Fold and Roll
How you actually pack can make all the difference too – you need to make the most of every nook and cranny in your bags. Fold and roll is the big trick that seasoned travelers learn to use, folding heavy items as alternating layers so that bulges even out into a smooth pile and rolling small items up so that they fit in between others. A lot of people believe it is better to roll your clothes up than fold them when packing a suitcase, but this is not always the case. The best way to pack is to put heavier items, such as jeans and jumpers, at the bottom of the suitcase.
Don't Sacrifice the Essentials
When packing light it can be easy to get carried away and scrimp on the essentials – but this is something you should avoid at all cost. To do this, you need to identify what is absolutely vital to your trip and make sure it is packed as a priority.
It is a real advantage to be able to keep in touch wherever you go and the nature of the internet means that it is a great idea to take a device with you to go online. There's no need to take everything though – do you really need a tablet or laptop as well as a smartphone? Instead of loading yourself down with pesky gadgets, take only what you need.
With the right clothing and footwear, a first aid kit, bottled water and a map and compass, most trekkers have begun to assemble the essential equipment. Some like to add foods rich in carbohydrates and, of course, essential medications. Just organize the passport and any necessary visas, and the adventure can begin.
Everyone knows that heat therapy is a great pain reliever. If you are traveling, one of the things you would surely want to pack would be a portable travel heating pad. A portable pad can come in handy when you are in the car, on the airplane, or in the outdoors. Many people experience cramps, back pain, muscle strain while playing outdoors, climbing a mountain, and having a period pain on the road, etc. Therefore, keeping a heating pad in your backpack would come in handy and useful.
Similarly, make sure you have adequate travel insurance in place to address any potential problems you may encounter.
If you want real inspiration of the world while traveling keep on eye on above travel tips. Enjoy your holiday!
Travel Tips to Remember
Before Going Trekking
Trekking provides amazing opportunities to visit remote parts of the world, and while having a relaxed attitude to meet new people and experiencing new cultures is a good thing, to make it even more enjoyable it's necessary to give careful thought to certain arrangements before setting out. Here are a few salient best travel tips to guide both experienced trekkers and those who are new to the adventure.
Traveling in style
By its very nature, trekking takes place over rough and often mountainous terrain where extremes of temperature are common. There are some basic clothing items that should be included, even if the trek starts in a warm climate, since it is likely to end on a very cold mountaintop. These include a sun hat and a beanie, gloves, thermal and down layers of clothing, warm socks, sleeping bag or blanket, and waterproofs. The right shoes or boots are absolutely critical, and the best type will depend on where and for how long the planned journey will take place. Choose heavier duty boots with sturdy soles for mountainous regions, and trekking shoes of lighter weight when walking over long distances one of the beat travel tips
Planning for delays
Dreaming up a schedule that is too densely packed with very specific locations can turn into a nightmare if one little thing happens that will cause a delay. Instead, take the cheapest flights on specific dates to and from the starting and finishing points for the trek, but build in some contingency days for travel in between those dates, so that unforeseen hitches like cancellation or postponement of internal flights (which can be very common) do not cause a problem down the line.
Getting help and Travel Tips advice
Using local porters and guides may be considered an unnecessary expense. However, it can be well worth the investment, particularly for first time trekkers or those travelling long distances, as it means backpacks and other equipment can be shared. When trekking in an organized group it makes sense to check out beforehand if the group uses porters and, if so, how much they will carry and how they are treated – reputable companies will always make good provision for their employees in terms of wages and eating and sleeping arrangements. These are most useful travel tips