Previously in my article, I gave an overview of Australia and cover some informative topics which will be helpful for those who planning and looking forward to a big move to Australia. Well, my approach didn't end up in general views, so now I am digging into one of its city called Brisbane Australia. Brisbane a capital city of Queensland as well as third popular city after Sydney and Melbourne. Brisbane is really a vibrant and sunny city, during winter when Sydney and Melbourne hardly see a sign of sun, this city will be blessed with bright sunshine and due to its subtropical climate and dynamic economy, it became the main attraction for a large number of migrants.
Things to do in Brisbane Australia:
Brisbane is an outdoorsy city throughout the year because of its weather condition. During the daytime, the temperature hardly drops under 20 degree which means you can enjoy a lot of activities outside, which can be in your backyard spending some quality time with family or by visiting some beautiful places in Brisbane Australia. Okay, when we talking about going outside for enjoyment the first things come into the mind that we need a lot of money for this leisure but fortunately in Brisbane, you will find plenty of attractions for free and without breaking the bank.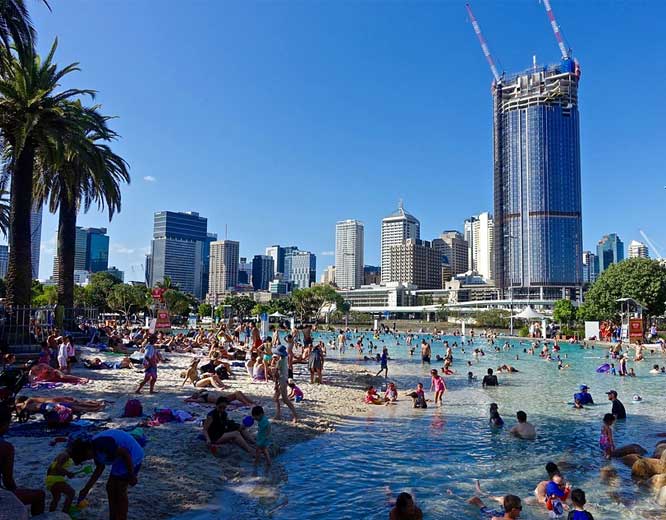 Visit South Bank:
South Bank, the heart of cultural and central business hub. It famous for its diverse mix of amusements, art, recreation and leisure activities. South Bank Brisbane riverside state includes parklands, incredible dining and eye catchy riverside glimpse and it doesn't end up there, the local Brisbane government held hundreds of events to make more attractive for locals as well as for tourists. It is a perfect place to chill out and relax. Keep in mind one thing that whether you are Brisbane's local or you visiting you must add south bank tour to your to-do-list otherwise you will miss out the beautiful place.
street Beach, the eighth man-made wonder of the world is situated at South Bank. It is an extremely huge seashore like lagoon where people love to visit and lay down on a sand and enjoy the dip in the middle of the city. Kids like to spend an hour and hour by splashing water at the Aquativity water park
South Bank has two hotels from the well-known chain Mantra and Rydges are located on Grey Street. You can also find good places to stay in nearby suburbs from where you can walk to the City, South Brisbane and West end too and if you don't feel like then there is a plenty of public transport options available such as bus, train, CityCat, and ferry.
Cuddle A National Icon:
Australia has a huge variety of Koalas so they are Australian icons, a symbol of exclusive biodiversity and worldwide recognized by the Guinness book of records. Around 12km away from the Brisbane Australia, there is an 18 hectares Lone Pine Koala Sanctuary established in 1927, the world first largest and oldest Koalas sanctuary with 130 koalas and 90 years of experience. Koalas are really adorable and cute, you can have an opportunity to hold and cuddle them. Origin of the sanctuary is mainly about Koalas and it is a predominant species in there but as the time passes a wide range of different animal added to the display started with a platypus in 1974 and then later included bats, dingoes, snake, lizards, kangaroos, wombat and quite big range of different birds.
Wine and Dine:
Brisbane no doubts has a huge range of option for fine dining restaurants but it also has some casual laid back night out dining for your comforts. I cannot write the list of all restaurants because Brisbane Australia offers a number of relaxed ambiance bars and eateries which keep adding on and on but love to mention few of them which you should go while you out in there. Canvas a vintage-inspired treasure serve boutique wine and rustic food. Mecca Bah specializes in authentic Moroccan food. You just need to name it and you will find that particular cuisine in Brisbane.
Places to Visit in Brisbane:
Brisbane have a number of attractive places to keep you on your foot all the time while on holidays. Earlier I mentioned some very special places that unique to Brisbane Australia and now there are many more to come such as QAGOMA an Art Gallery presents a number of Australian and international exhibitions with a focus on the contemporary art of Australia, Asia, and Pacific.
Australia's world famous zoo founded by late Steve Irwin was known as Crocodile Hunter and his family is dedicated to conserving wildlife through education and research. The zoo runs a Croc express coach from Brisbane Australia or Gold coast to the zoo
I am providing you the list of some place which you should consider to add in your Brisbane trip just a suggestion.
Brisbane Story Bridge Adventure
Sea World Gold Coast
Glass House Mountains
Mount Coot-tha
Wheel of Brisbane
Mount Tibrogargan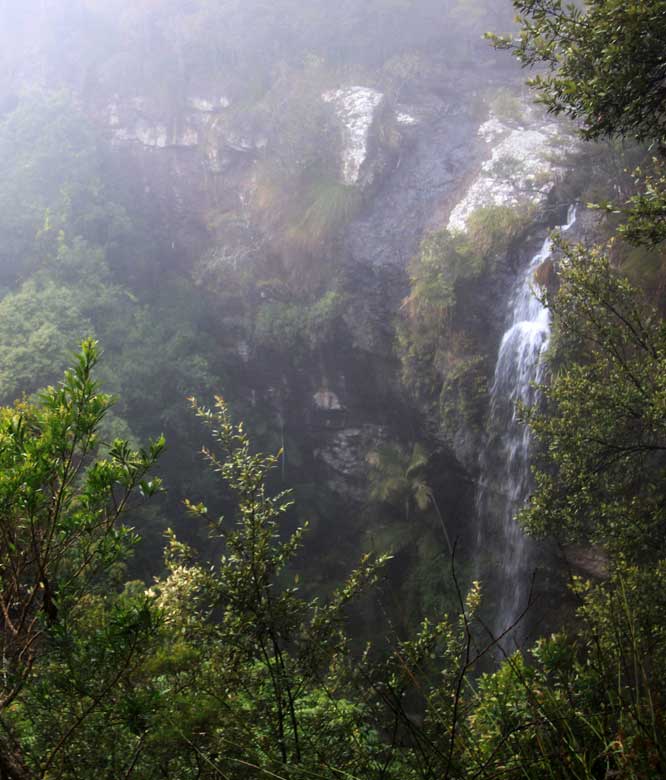 Photo by palg1305
Get Lost In Ancient Rainforest:
The Ancient Rainforest is recognized as Gondwana Rainforest and it has a historical background and that's the reason we using "ancient". I will discuss a tiny bit to understand the historical links and rest you can explore by yourself.
In olden times Africa, South America and Australasia they were all connected to each other and come under the southern supercontinent Gondwanaland which was enclosed by moderate rainforest. With the passage of time when the continent apart, most of the rainforest dried up and died but you can still find the remaining Gondwana Rainforest straddled at the border of Queensland and New South Wales
Formally this ancient rainforest renowned by Central Eastern Rainforest Reserves in Australia and it is the most widespread area of subtropical rainforest in the world. Overall this is a World Heritage site with 50 different reserves covering 366,000 hectares from Newcastle to Brisbane Australia. In short, every nook and corner offers something to explore and discover.
Some of the places such as Nightfall Wilderness Camp have a stone bath and safari tents to facilitate ones you out there in Rainforest
Nature paradise O'Reilly's Rainforest Retreat is famed for its treetop walk from where you can enjoy a close-up view of wildlife and it also has Lost world Spa to take a pleasure of relaxation and rejuvenation.
Binna Burra Lodge, Queen Mary Fall, Spring Creek Mountain Cafe, these are the names of some places and they are many more where you can get lost and forget about the world outside of here.
Moreton Island
World's third largest sand island around 25km of Brisbane Australia shore and 75 minutes of the ferry ride from Brisbane. A nice place to spend the weekend or stay overnight. An island has some beautiful beaches and steep dunes like Mt Tempest is the largest one with 920ft high. Coral seas situated on the east coast of the Island. For adventurous people, Island offers plenty of activities to carry out like quad biking, sand tobogganing four-wheel drive in safari., whale watching cruise, feeding wild dolphins and so on.
North Stradbroke Island
Stradbroke islands know by its short name Stradie and it is situated within Moreton Bay in the state of Queensland. This place has so much to show and walk around. An ideal place for holidays as a family with eternal summer ventures to amazing whale watching during the winter. It has some beautiful scenic views which you really enjoy and wants to capture in your camera as a memory. The number of sandy beaches with three little townships gave you vibes of a village to relax and feel fresh air.
Day Trips
Day trips good for local but if you are a tourist then you really need a decent amount of time to discover within Brisbane Australia and the neighborhood otherwise you might regret.
Some awesome places for day trips are Granite Belt, Eumundi Market, Mount Nebo and many more.[us_separator]
Living in Brisbane Australia
If somebody out there considering to move and live in Brisbane Australia below are some relative information to get a general view but of course, you have to do your own homework before a big move.
Brisbane City
A very lively city blessed with a subtropical climate. An ideal way to know about the city is through the eye of locals Brisbane Greeter, a bunch of friendly looking people in red shirts very passionate volunteers guides the small group around the city telling them stories and some cool things about the Brisbane Australia. A perfect destination for an outdoor life.
Accommodation
Brisbane Australia have a number of housing options from standalone big houses on big lands with open breezy verandahs and high ceiling to modern contemporary living style apartment. Prices vary from suburb to suburbs.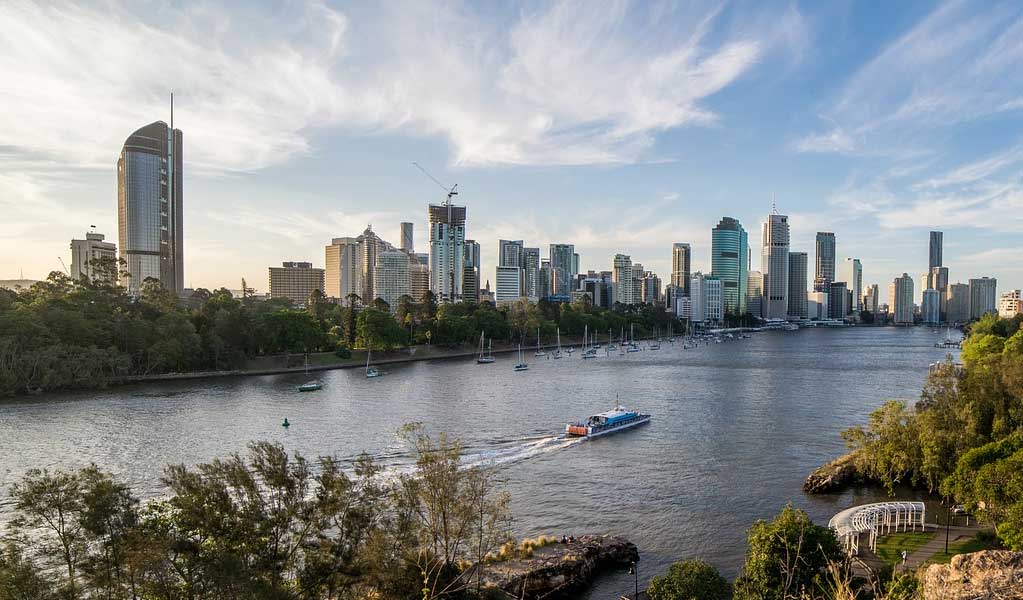 Job opportunity
A fastest growing capital city offers a range of job opportunities in public as well as 1private sectors.
Health
Excellent healthcare facilities available for Brisbane's residents both publicly & privately.
Transport
The local government of Brisbane Australia provides a clean and reliable transport system including train, fairies, buses for the public to travel around Brisbane.
Living Expenses
As we all know from my previous article that Australia is an expensive place to live in but if we compare Brisbane to Sydney and Melbourne it is relatively affordable.
Where to eat and Drink
When they talk about food in Brisbane Australia, they are seriously keen on their food and drinks that they offer but it doesn't mean that you have to spend the fortune to get pleasure from. There are some award winning and wallet-friendly restaurants to serve you from breakfast throughout the dinner.
Alfresco great evening ambiance with a sophisticated option of dishes.
Miel container's beef patty burger judged as the best burger by Master chef TV show only cost you AUD13.50. This stylish converted shipping container restaurant has plenty of other treats at very reasonable prices.
Vietnamese-Australian celebrity chef offers his renowned 20 hours Fat Pho noodles at Fat Noodles restaurant only for AUD$ 24.
If I keep on writing about their restaurants I can easily make another article out of that so I am putting a full stop now and leave the rest to you all for further digging.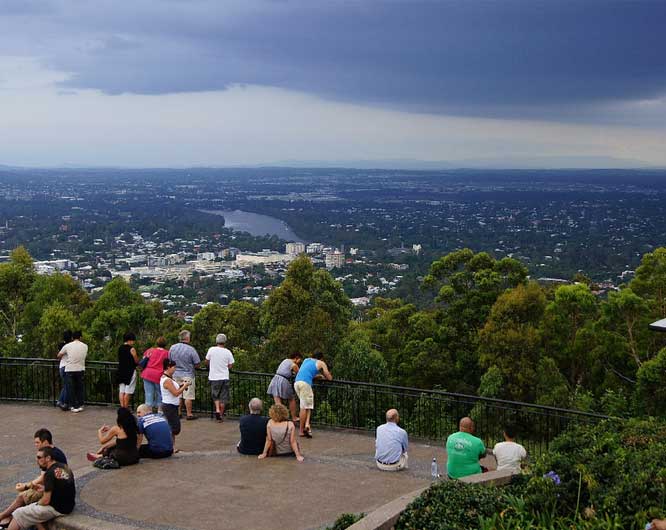 Photo by Tatters.
Brisbane Neighborhood
Brisbane city a center of fashion, shopping, award-winning foods and extensive events through the whole year but these happenings do not only belong to the city means there much more need to discover in Brisbane Australia neighborhood suburbs.
Paddington
This is a beautiful suburb with old style worker cottages and character homes. It is a long road with the abundance of food options and shops.
Tenerife and New Farm
A perfect place for a coffee lover. It is hard to tell that where Teneriffe ends and New Farm starts but in short this place is bustling with options to make your weekend outstanding.
Many more to travel around such as Bulimba, West end, Samford & MT Glorious, Fortitude Valley, Kangaroo Point and Woolloongabba.