Being a traveler never hampers you going on long trips. Enjoy your healthy visits full time.
I am the luckiest for being the only female child of my parents, for it has always earned me greater respect and ease. Isn't it great! All encourage me to do wonders in every positive aspect of life. Consequently, I always enjoy my doings as a solo.
"No need to feel afraid of solo travel. It's really a love."
So I am never scared. I have recently done my masters in mass communication and, hence, am on vacation nowadays. I have a strong wish to visit some snowy mountains, charming waterfalls, lush green valleys with the marvelous scenic beauty of nature, etc.
However, search out a number of guidelines about vacation ideas for a single woman and here is the best I will like to follow for myself. It is about a single woman traveling in Canada. I think it better to share with you this guide regarding the best places to travel alone female in Canada.
Stress-Free Travel for Women to a Paradise: Niagara Falls
Have you ever been to Canada? It is an absolutely fantastic country with a minimum crime rate to travel in especially as a single woman traveler. Admittedly, Niagara Falls is scarcely one of the worrisome places on the planet for a solo girl. That's really great!
You never need to worry about the proper form of attire or any means of protecting yourself and the other issues you might have to face elsewhere in the world. What you do need is the proper planning as to how you will fill your days over there. Here are some of our fabulous ideas to help you plan your adventure to Niagara Falls. You must be very much vigilant about what to pack for your stay over there.
a) How many days will you plan to stay?
Usually reported as a heaven for all the visitors including loved-up couples and families. Trip to Niagara Falls has its own special charms specific to various parts of the year. Its springs, summers, falls and winters all are equally charming with so many things to explore around that you hardly stop finding new things to do, even if you stay for a month. You will come to know a lot of history and other excitements in the city and the valley and the surrounding areas.
However, you can have the best of your experience at Niagara Falls on a four-day trip. During these days of full excitement and adventure, you can feed your eyes and mind with the glorious and appealing beauty of Niagara Falls, Niagara Gorge, Niagara Valley and a lot of other top attractions around. On top of all, you will leave equally excited about your next trip here.
In short, there is hardly a bad time around the year to visit Niagara Falls. So, take a break and head up to Niagara for real-life fun and enjoyment.
b) What deserves your budget most?
Normally a person never falls into a high profile budget category. So, the first thought that might disturb your nerves is about the possible huge amount you may have to spend for your four-day stay at a developed tourist destination like Niagara Falls. Most, fortunately, the trip to Niagara Falls and the area around are budget-friendly enough that you can easily afford your stay here. You may never expect that a lot of attractions including those about the Falls themselves are totally free. This allows you to spend most of your budget on your lodging and transportation.
Staying in a hotel room is no doubt a luxury option especially when you come to know that hostels also cost almost the same. At a hotel on the Canadian side, you may definitely enjoy a buffet breakfast, an attached bathroom to yourself alone, outstanding views of the Falls and some other worthwhile perks, etc. So, compared to hostels, hotels here do worth the extra portion of your money.
Talking about your transportation facility, you must buy a pass for the WEGO transportation system. Costing you only $14 for a two-day unlimited-ride pass, these busses will take you through most common areas of the city and the countryside. These include a variety of Niagara Parks, Clifton Hill, Lundy's Lane and more. You will have to spend much more if you use rideshares or a rental car.
c) What will be your day to day plan?
This is obviously a difficult question to answer, for you must enjoy whatever comes your way in that area. Plenty of attractions will appeal to your heart and sight, making you a bit confused about where to start. You will also see a number of guides for families highlighting the various attractions and explaining their history. But you are never required to follow their directions for that matter.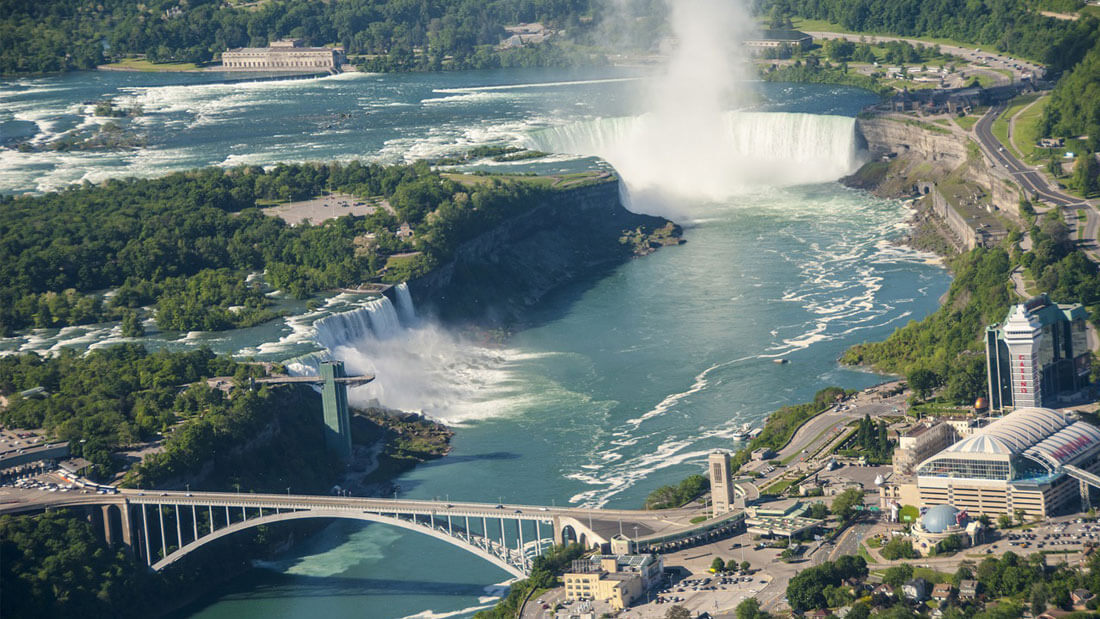 Here is a comprehensive four-day itinerary ideal for you.
Activities worth the very first day
The foremost thing which brought you here deserves your first day the most; i.e., the Waterfalls. For the best free of cost views, you may visit Queen Victoria Park, Rainbow Bridge, Table Rock, and Goat's Island. If you want to have even better views, you may pay for the outstanding views at Skylon Tower, the Niagara SkyWheel or enjoying a Niagara River Cruise.
What to do on the second day
After the falls, the best that deserve your time are Botanical Gardens and Dufferin Islands, the free of cost entertainments once again. Devote maximum of your time to these splendors of natural beauty. Exploring the lush green valleys of Niagara will definitely be a refreshing experience for your physical as well as mental health.
You should also spend your time visiting Niagara Falls in the wine-country, the Niagara Valley. A surrounding small town, Niagara-on-the-Lake, is also there with its outstanding live theatre much of the year. A wealth of interesting history and smart shopping areas are also lying around in the surrounding small towns of St. Catharine and Grimsby. You can enjoy visiting them with full zeal and zest.
How to enjoy on the day four
Having explored all the natural beauty and other cultural aspects of the whole area of Niagara, you must be feeling both elated and fatigued. So, today you better book a spa appointment at Christenne Fallsview Spa to drain out all your travel stress and refuel yourself for your next trip. If you feel equal to it, you may have final glimpses of Niagara Falls with a hearty meal at AG or Tide & Vine.
Conclusion
Niagara Falls confers you an affordable, quick and smooth trip as a traveler to refresh yourself to undertake the liabilities of your routine life.