Leonardo Da Vinci was born on 15th April 1452. He died on 2nd May 1519.
He was a Famous Artist with incredible skills.

A renaissance period Italian genius with unique powers. He possessed keen observation, invention intuition, and experimenting qualities. His curiosity made him a multi dimensional persona. Moreover, he was a painter, scientist, artist, and architect. And in sciences, he was mathematician, geologist, writer, engineer, inventor, sculptor, musician, and botanist. He was always interested in learning everything. The studies of Leonardo Da Vinci were more logical. But were too advanced and different. In fact, looked unusual for his time to be applied and understood.
Therefore, Art historian Gardner states that about him that the scope and depth of his intuition were unprecedented. Moreover, his mind and personality seem to us SUPERHUMAN. This great man was born in Florence. His full name at birth was Leonardo De ser Piero Da Vinci. The meaning is son of Sir Piero from Vinci.

Leonardo Da Vinci
Training at Verrocchio's Workshop,(1466-1476). Andrea di Cione was commonly known as Verrocchio. And he was the owner of the workshop in Florence. In 1446 he got admission in this workshop. And he was just 14 years old at that time. Moreover, the boy of that age was not usually allowed. The other painters working also there such as Domenico, Perugino, Botticelli, and Lorenzo di Credi. Leonardo Da Vinci learned drafting, chemistry, metallurgy, and medicine. Here he mastered his skill of painting. And he helped his master Verrocchio on his "Baptism of Christ" work.
Moreover, that work was also highly appreciated. He was already a qualified master of artists. He got high skills in medicine at the age of twenty. Later on, his father set up his own workshop. His most well known works were in Pen and Ink medium.
Leonardo Da Vinci as an Outstanding Painter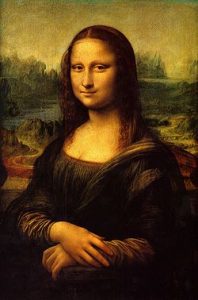 "The Mona Lisa" and "The Last Supper" are two most famous master pieces Leonardo. "The Vitruvian Man" is also considered as a cultural icon.
He experimented new techniques in oil paintings like different compositions. Those techniques were appliqué positions, made use of light, and shadings in detail. The humanist approach of Donatello's David can also be observed in Leonardo's paintings.
Early Madonnas painted by De Vinci are The Madonna with a carnation and The Benois Madonna. These were made according to the trend following frescoes. He experimented with composition by placing Virgin at an oblique angle.
This theme was repeated in The Virgin and Child with St. Anne. Leonardo Da Vinci was a unique painter. And he still holds the same top position. Because his artworks are the most reproduced, copied, published, and recognized universally. Framed reproductions, printed T-shirts and knitted carpets with images of Madonna are common every where.
Moreover, the laughing painted in 1500 is also reproduced in every possible medium.
Famous Paintings of Leonardo Da Vinci
Adoration of the Magi
Virgin of the rocks
The Last Supper (1498)
Drawings of Leonardo
Leonardo Da Vinci used to keep his journals full of small and large pencil sketches. The above three paintings were sketched initially on his journals as pencil drawings. He added details in them later when he painted them.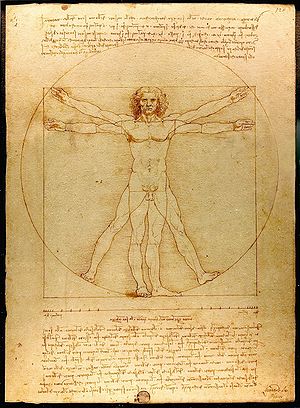 He was really an organized artist. Landscape of the Arno Valley (1473) is reported to be one of his earliest drawings.
Famous Drawings of Leonardo Da Vinci
"Vitruvian Man" (1485), a study of human body proportions.
"Head of an Angel".
"Star of Bethlehem", a botanical study majorly.
"The Virgin and The Child with St. Anne".
"St. John the Baptist" (National Art Gallery, London).
"Leonardo Smoke" or sfumato is a shadowy quality. He used this technique at the corners of the mouth. And also eyes in Mona Lisa. Thus, giving it a divine natural smile. Again he used it for The Virgin and The Child with St. Anne.
Drapery is extensively used by Leonardo. He is known to add details, falls, light and shades in drapery. He often depicted Sala, his pupil in fancy dresses for deep study of drapery detailing.
Journals of Leonardo Da Vinci
This genius man used to note each and every detail of his studies. Therefore, he did this even on traveling. His journals show the diversity of his interests in arts and sciences. It seems he maintained his notes on a daily basis. These are written in a mirror-image style for secrecy. Those notes were according to some historians. But he was a left hand writer. It might be convenient for him to write from right to left. His journal pages show:
His study shows the human fetus in the womb (1510).
Shoes for walking on water.
Composition of paintings.
Study of faces and emotions.
Study of animals, babies, plan studies, rock formations, whirl pools, war machines, and helicopter. Moreover, various details on architecture are sketched in the journal pages. The Codex Leicester is the one most scientific work of him. And that is now owned by Bill Gates.
Leonardo facilitates its reading and understanding by pictures, sketches and words. A single topic is found only on one sheet with all its pictorial details.
Leonardo Da Vinci as a scientist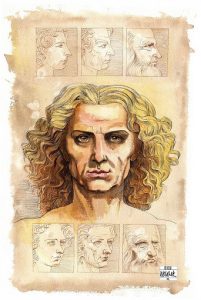 Leonardo Da Vinci was unlike the traditional scientists of his time. His focus was more on observation rather than theory and experimentation. He was a great observer. And he used to write down each and every aspect in detail. He was a genuine fore runner for later scientists like Galileo and Newton. He was a keen mathematician. His contributions are also in technology. And contribution in architecture will remain alive for centuries. His original concepts were a helicopter, a calculator, a tank, and solar power. Those were not discovered or even thought of at his time. But in the modern world, these are as common as salt.
The world is full of many men and women. Those who are masters of and outstanding in one or two subjects. But a genius like Leonardo leaves the human race far behind him in every respect. Moreover, a mind is so curious to learn and invent. And it is also highly skilful when it comes to art. Therefore, his fame in his lifetime was equal to the King of France.
It is impossible to cover all areas of his natural talents. He was in fact a miracle of nature, created with utmost intelligence. The world will see very few of his kind.