Are you surfing across the internet to discover the best gymnastics mats for home? So, here for your ease, we present you the ultimate guide on the latest and in-trend mats.
Either you are looking for the gymnastics mat for yourself or for your little ones, this article will help you to investigate every aspect of these mats.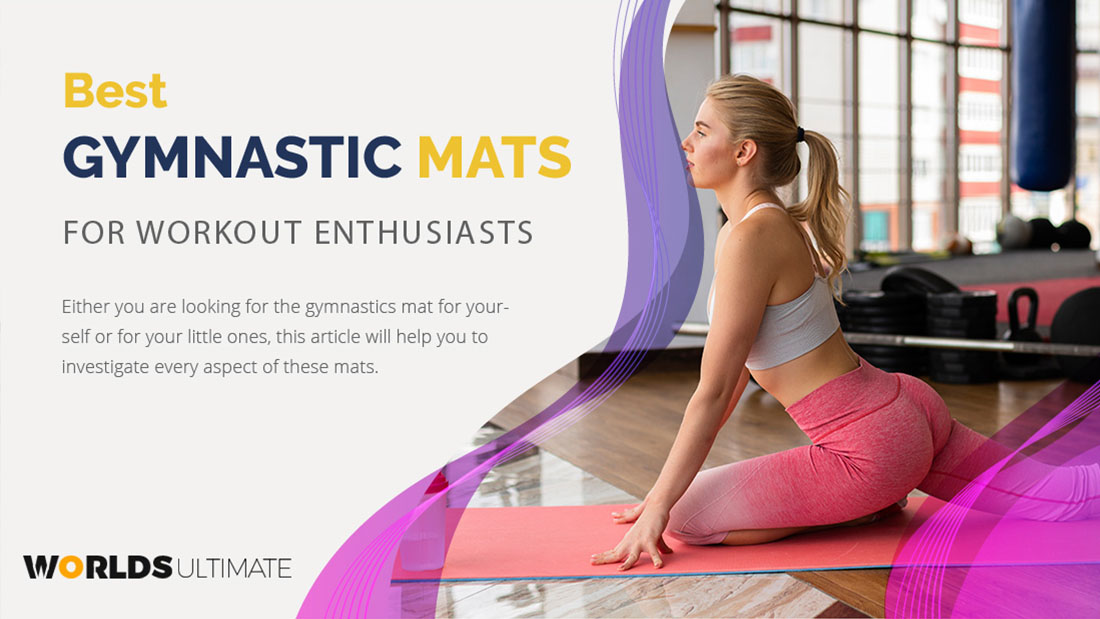 Typically, these mats are made up of foam. Then, covered with leather or synthetic cloth. The foam or mattress in-case is made from a variety of materials. Therefore, they present a comfortable and relaxing experience throughout the workout! Also, these gymnastics mats are available in a wide range of colors, dimensions as well as quality.
The Utmost 6 Leading Gymnastics Tumbling Mats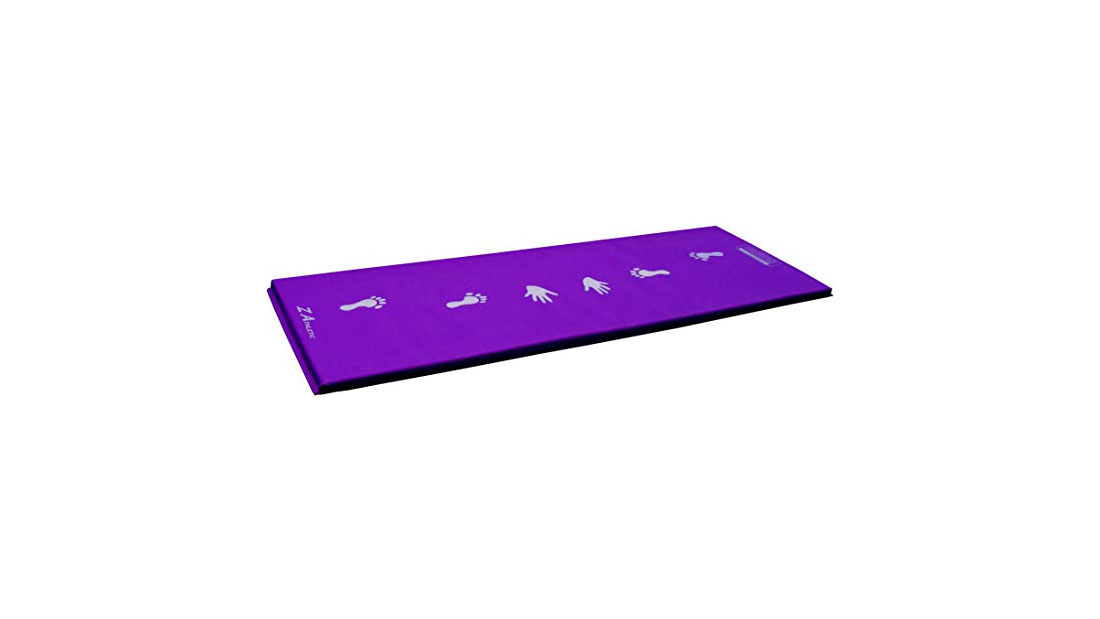 This cartwheel and balance beam mat is designed by Z-Athletic by keeping the gymnast's professionalism in mind. This mat is imprinted with hand and footprints For your ultimate ease. It also helps to practice balancing skills using the practice beam! Coupled with this, it is made up of gentle open-cell polyethylene foam covered in a high quality 18oz vinyl. It has softer landings. The children also use it.
It is safe, non-toxic and meets all CPSIA (Consumer Product Safety Improvement Act) standards. Identically, it is easy to clean and nonporous vinyl is mildew and puncture resistant.
Features
Colors: pink, blue and purple
Open-cell foam
Well-made and undergoes heavy duty
Dimensions: 70.9 x 23.6 x 1.5 inches
Weight: 6 pounds
Model number: ZATH-cartwheel-purple
Brand: Z-Athletic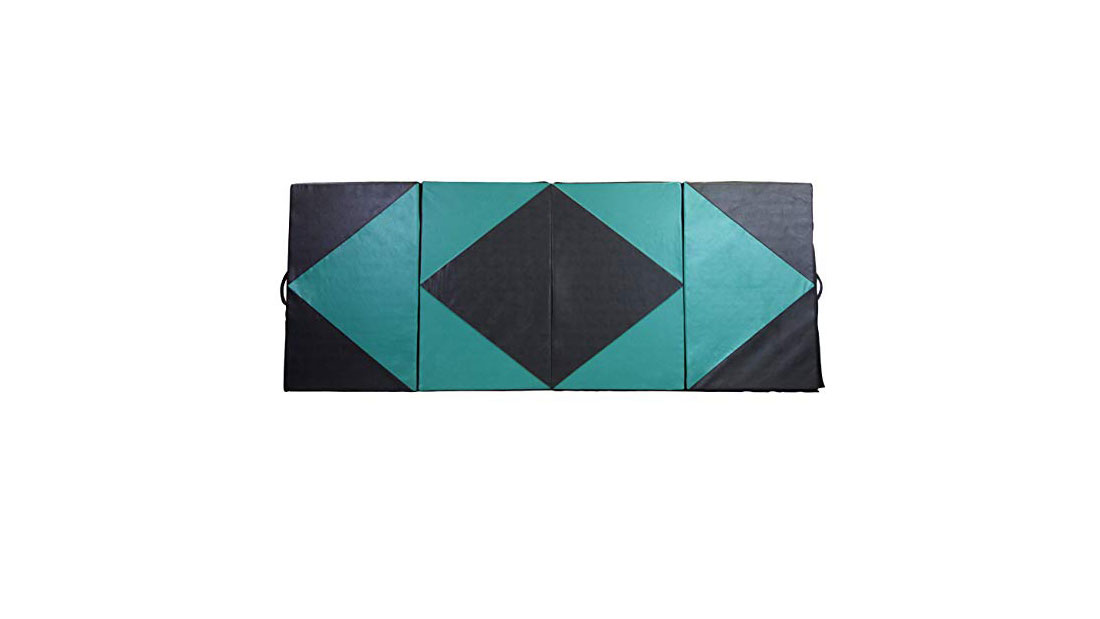 This gymnastic tumbling mat is suitable for martial arts, tumbling, aerobics, yoga, dance and for kids paying or baby crawl, etc. The manufacturers of this mat also present "velcro" on two sides and make it easy to hook several mats together to make a large tumbling run or workout area. This also features high-density 2" EPE foam, eco-Friendliness, and PU (water-proof) cover. Moreover, it's portable design helps to fold up quickly and has reinforced carrying handle, which achieves user to carry and store conveniently.
Features
Panels: 4
Size:  4" x 10" x 2″
Brand: ZENOVA
Color range:
A-rose and black triangle
B-purple and pink
C-rose and purple straight
E-green and black 2
F-pure purple and G-new purple
G-black and rose
G-pink and G-purple plus, pink
H-black and H-blue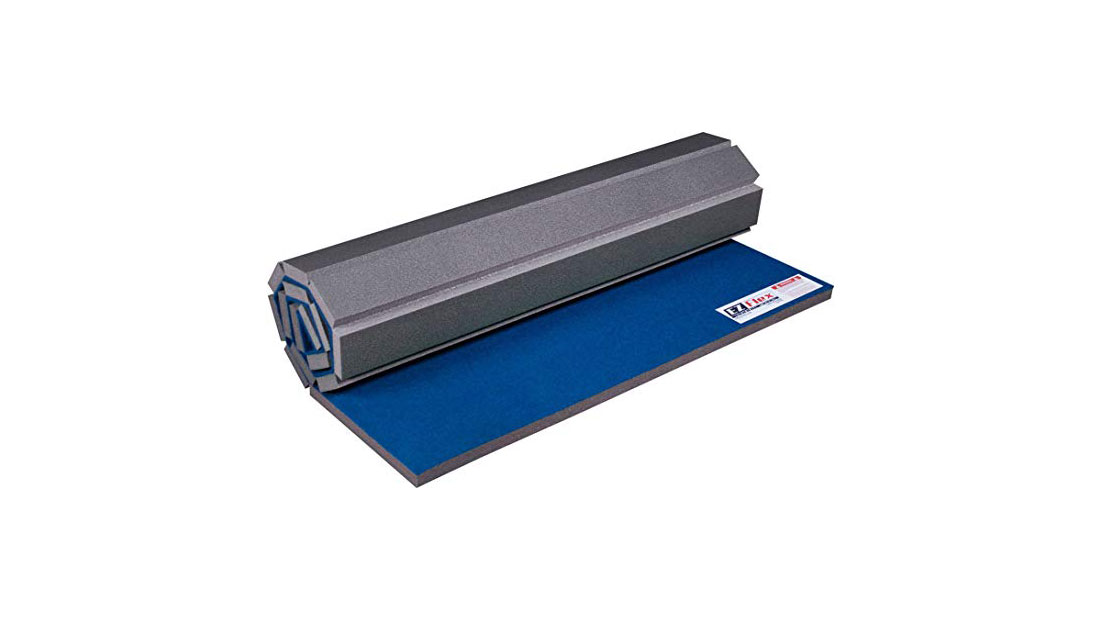 Flex gymnastic mat is lightweight, portable, and super easy to set up and store. It is also perfect for practicing cheerleading or gymnastics skills at home or anywhere! The EZ Flex rolling system has hook fastener strips with all orders of two or more mats for joining. Adding to it, various schools and gyms utilize this mat.
Features
Colors: black, blue, grey and red
Durable
Thickness: 1-3/8″
Brand: EZ Flex Sport Mats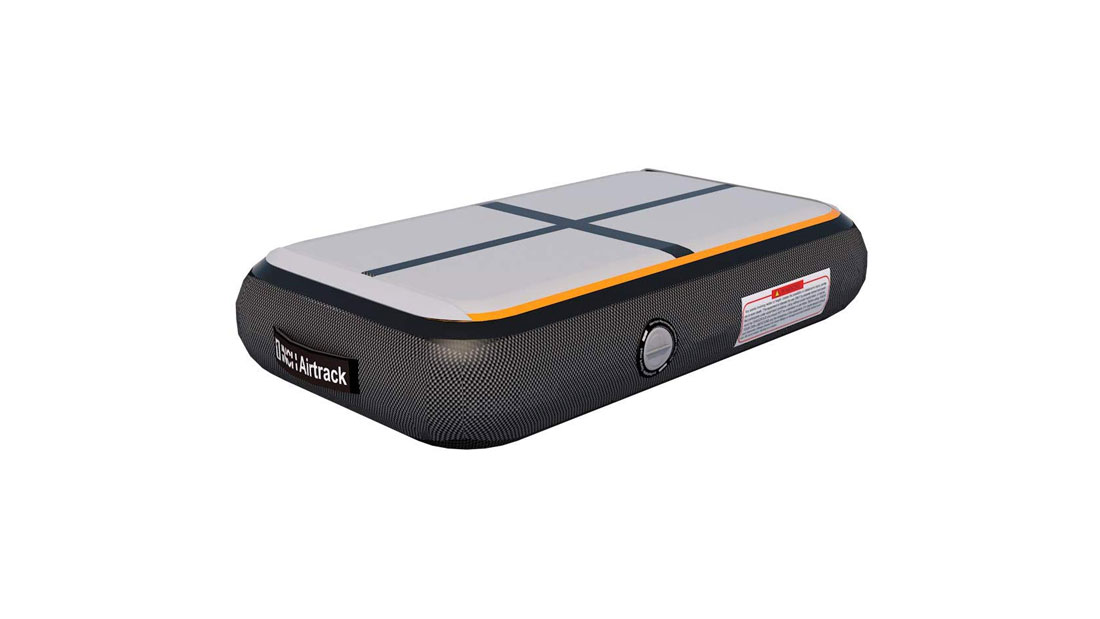 This mat is designed carefully and has best air-tightness and durability with enhanced handles. It is perfect for gymnastic training and tumbling etc. Airtrack tumbling and inflatable gymnastics mat is made up of drop-stitch material and is available in various colors, plus lengths. You can easily place this air track mat anywhere on the floor, water and grass but in order to keep it safe, don't put near the fire or any sharp things.
This gymnastic mat is not only suitable for recreational groups but also for higher level gymnasts! This mat also has easy inflaming and defaming properties with no noise during workouts. Most importantly, it has Electric Air Pump in black color with 110V/220V (voltage) and 500W (power).
Features
Brand: 1 Inch
Size: 3.3ft x 2ft x 4/6/8 inches
Thickness: 4/6/8 inches
Colour schemes:

Black+blue
Blue+white
Green+blue
Green+pink/small green+pink
Small black
White+blue/small white+blue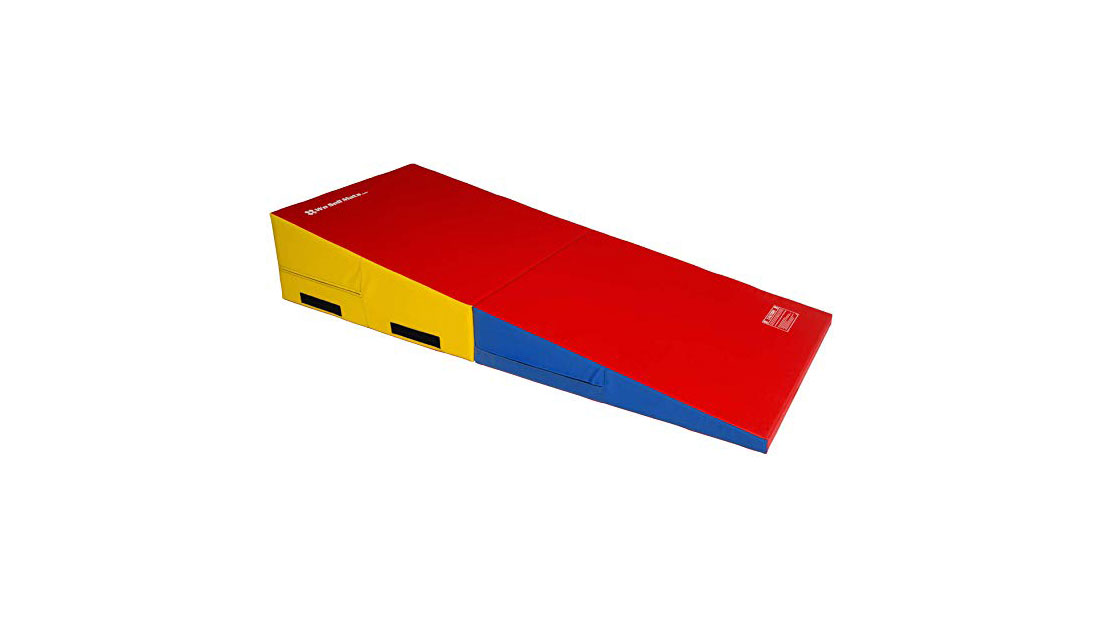 The manufacturers present the colorful incline mats with wonderful vibrancy that come in four size ranges. It is made from tough high quality 18 oz. vinyl; likely, commercial-grade construction makes this mat an excellent choice for gymnastics studios or home use.
In fact, the handles on each side make it very easy to carry.
Features
Brand: We Sell Mats
Colours: Lime-green/blue, multi-coloured and pink/purple
Sizes:

Small- 34" x 24" x14"
Large plus- 84" x 36" x 16"
Large- 72" x 36" x 16"
Medium- 60" x 30" x 15"
XX large- 120" x 60" x 24"
X large- 96" x 48" x 20"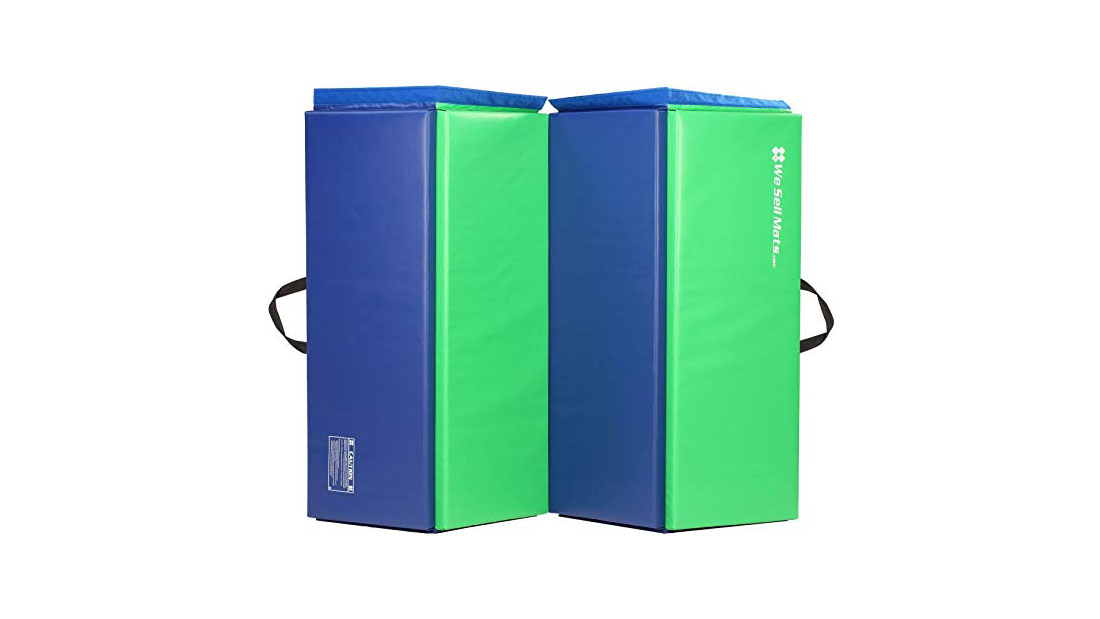 This portable folding exercise panel mat is a great addition to any workout such as martial arts, cheerleading, yoga, pilates, and much more! It has velcro on 4 sides which makes it easy to hook several mats together to make a large workout area or tumbling run.
Handles are also present and this makes your number one choice for a portable exercise floor. It is made from safe non-toxic lead-free durable ECO 18 oz vinyl and standard cross-linked polyethylene foam.
Features
Brand: We Sell Mats
Size: 2" – 10"
Colour scheme:

Black/Blue/Black or blue
Lime green or blue
Multi-colour
Pink/purple/pink or purple
---
Types of Mats
1. Cartwheel Gymnastics Mat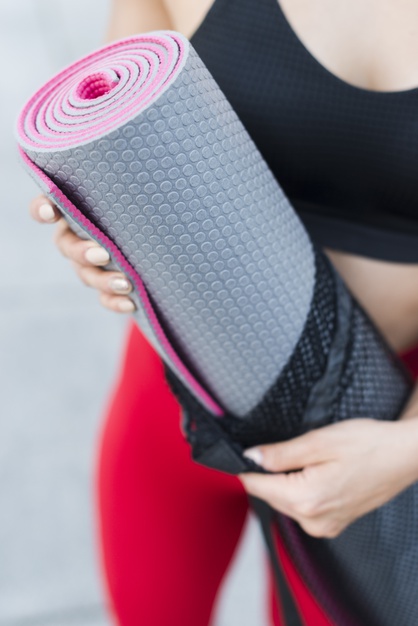 Cartwheel Mats are particularly used for the training on cartwheels. Mostly, it has beamlines that guide you to do a proper cartwheel. Basically, it is used by beginners or young gymnasts. This can also be utilized for handstands or handstand rolls.
2. Flexi-roll Mats
A Flexi-roll mat is made to look and feel like a competition floor. It is the best option for those who want to get comfortable with the feel of a competition floor at home. The perfect thing about a Flexi-roll mat is that it can be flexibly rolled up and stored with ease.
Flexi Roll mats also provide you with high-quality training and have a very smooth surface that makes it easy for you to clean. This type of mat is perfect for wrestling; plus, it is recommended for cheerleaders and for tumbling. Not just that, it can also be used for any home exercises.
3. Incline Mats
An incline mat is perfect for young gymnasts. This type of mat can also be used for log rolls and the great thing is, it can help a gymnast create body awareness and lessens stress on the body while learning. However, it's not recommended for harder skills because of the risk of injury.
4. Panel Mats
This portable folding exercise panel mat is great for a workout. Panel mats are perfect for yoga, stretching, pilates, martial arts, cheerleading. It can also be used as a playmat for kids. You can also hook it from several mats to make a large workout area or tumbling run with the help of Velcro in all four sides.
Factors to look when Purchasing the Tumbling Mats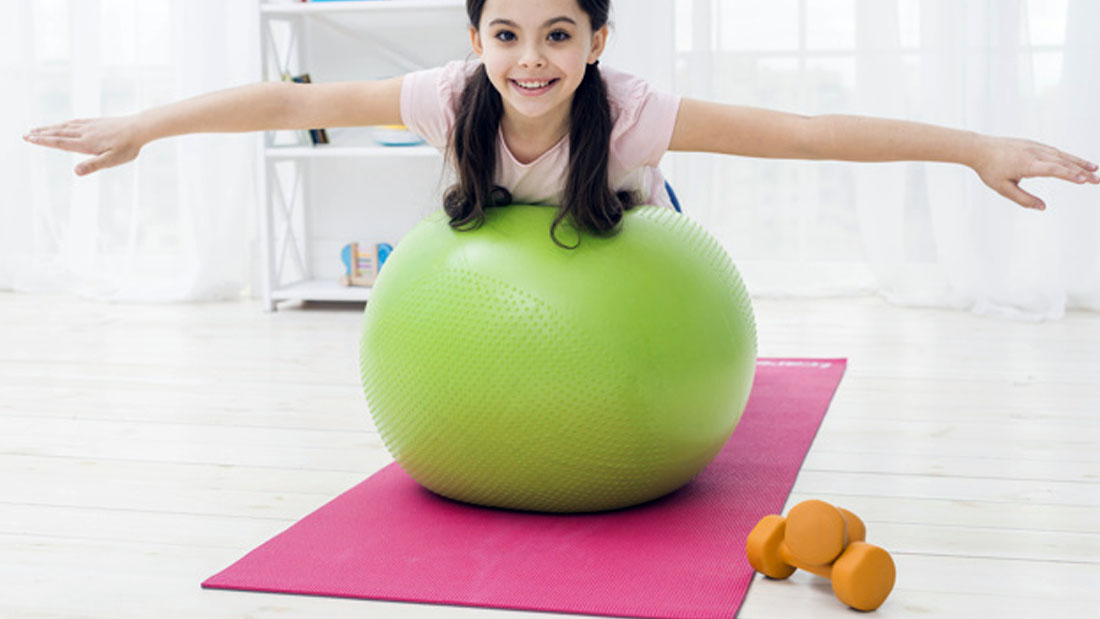 If you are looking to buy a gymnastic mat, you need to make various considerations prior to its purchasing. We have mentioned the essential factors of tumbling mats that help you to get the mat according to your needs.
Mat Thickness
Thin mat: won't provide cushioning and protection.
Thick mat: you may not be able to practice stunts because the hands or feet will sink into the mat when they aren't supposed to.
Consider buying the mat with a standard thickness which is about 13/8" thick.
Mat Dimensions
Before buying a mat, you need to think about where you will use it. You also want to make sure it is big enough to practice stunts and other activities on it.
Purpose
What do you need the mat for?
For your kids to play or to practice yoga, martial arts, gymnastics, and regular workout?
Keeping these elements in mind, you can decide upon the mattress thickness and type. First of all, decide the purpose of the mat only then you will be able to decide about other features.
Material
Consider the mat cover and the mattress material that is used inside. Is it water-resistant, simple foam or polymer?
Look for a soft and firm mat. Moreover, the outside cover also matters; it could be PU, leather, vinyl or any other material. Also, consider the requirement of removable or ineradicable covers. Equally important, remember the seams and their placing; they might interrupt your workout routine. Go for good quality material and avoid buying a low-quality mat.
Financial planning
What else is required than having a perfect and cheap gymnastic mat in your budget? But, how are you supposed to search for a gymnastic mat that fits your wallet? This is quite easy as you can finalize an amount first so that you can narrow down your choices and ready to buy, accordingly.
Uses of Gymnastic Mats
A gymnastics mat is the most essential piece of equipment for your daily exercise and also serves a lot of benefits. Particularly gymnastics mats are used for training and acquiring new skills. Contrary to the name, gymnastic mats are not only used by gymnasts but also utilized in many sports and activities like regular exercise. Moreover, a safe playing area for your kids, for your yoga classes and many other physical activities.
Furthermore, wrestlers, dancers, and cheerleaders usually use gymnastics mats in their homes as they provide stability and bounce for your daily exercises. The gymnastic mats not only protect you but also your floor from scratches that may be caused by the use of heavy equipment during workouts.
FAQs
Why purchase the Gymnastic Mats?
Once you buy a gymnastic mat, it simply just attracts the uses of itself. Likewise, these mats encourage extra practice for your child so they can work on their skills while they are not at the gym and also presents the safety features. Gymnastic mats are best for dancers to stretch on. Whatever your reason, we hope that this ultimate guide will help you to choose the ideal gymnastics mats for home.
How to clean the Gymnastic Mats?
Cleaning the gymnastics mats is definitely not a difficult task as cleaning will remove perspiration and maintain hygiene. Follow the steps below:
Mix mild soap, plus water and make a solution. Then, wipe down the mats with a piece of cloth. Ensure not to fold up the mat while it is wet otherwise it ends up with more sludge.
Difference between Gymnastics and Tumbling Mats?
Gymnastics and tumbling are different workouts. Tumbling includes the series of acrobatic skills down a long runway. On the other hand, gymnastics involves vaulting, uneven parallel bars, balance beam and floor for women; and vaulting, parallel bars, pommel horse, rings, high bar and floor for men. The dimensions and properties of mats used for competitive tumbling and gymnastics are dictated by the bodies of the sports. For recreational use, the gymnastics and tumbling mats are interchangeable.
Conclusion
We hope that this article serves as a complete guide and help you buy the excellent gymnastics mats . Equally Important, all products mentioned above are acclaimed and wonderful as these mats will also protect the floor from unnecessary incidents.
These 6 affordable gymnastics mats we have reviewed are the best with good quality and provide firm support for your gymnastic use. Thus, if you decide to purchase the gymnastics mat, then, consider buying one from the list above. All of them deliver great results for your daily use.