As a gymnast, you must know the need for practice. Gymnastics requires a lot of balance, flexibility, and strength.
You must understand that the equipment's quality significantly impacts performance. If the quality of the equipment you perform varies greatly, the results may not be the same.
One such essential piece of equipment is a gymnastics bar. Usually, gymnasts pay a hefty amount for gym and trainers rather than buying a gymnastics bar for home.
Well, to your surprise, that is not the case. There is a lot of good-quality, cheap gymnastics bars on the market.
If you are still looking for the best one and how to ensure it will get the job done, fret not! We have got it all covered for you.
Here are the seven best ones for you among the various gymnastics bars with different features in the market. We also share the three best gymnastics bars under $100 and a small buying guide for your assistance.
So, please keep reading and thank us later!
(The following list of Gymnastics Bars by top brands is updated in 2023 with up-to-date tactics by our experts).
Latest Gymnastics Bars for Home: From Material to Size to Price
Are you ready to take your gymnastics skills to the next level? Look no further than these eight top-notch gymnastics bars perfect for professionals and beginners. With these high-quality bars, you can practice and perform confidently and precisely, no matter your skill level.
Each of these bars has been carefully tested and reviewed by experts in the field to ensure that they meet the highest quality and performance standards. From the sturdy construction to easy adjustability, these bars have it all. And with a range of price points, there's sure to be a bar that fits your budget.
So whether you're a seasoned gymnast looking to hone your skills or a beginner just starting, these bars are the perfect way to take your gymnastics game to the next level. Only settle for the best – choose one of these top gymnastics bars and see the difference!
Get your little gymnast ready to soar with the Z ATHLETIC Kip Bar and Gymnastics Mat set! 
With over a decade of experience designing horizontal bars, Z ATHLETIC has created its newest Kip Bar with exceptional quality and durability. 
Featuring sturdy steel legs and a high-quality fiberglass core, this bar can support a direct pull-down weight limit of 300 lbs and usage limit of 120 lbs, making it perfect for gymnastics levels 3-4. 
Plus, the adjustable height settings ranging from 36″-58″ ensure that this bar can be used at multiple ages and heights, and an optional extension kit is available if your child starts to outgrow it.
 And with a commercial-quality gym mat included, your little one will have a safe and comfortable landing surface for their practice sessions.
Assembly is a breeze with less than ten bolts and a wrench as the only tool required, and excellent over-the-phone assistance is available if needed. Give your young gymnast the gift of high-quality training with this gymnastics mat set today!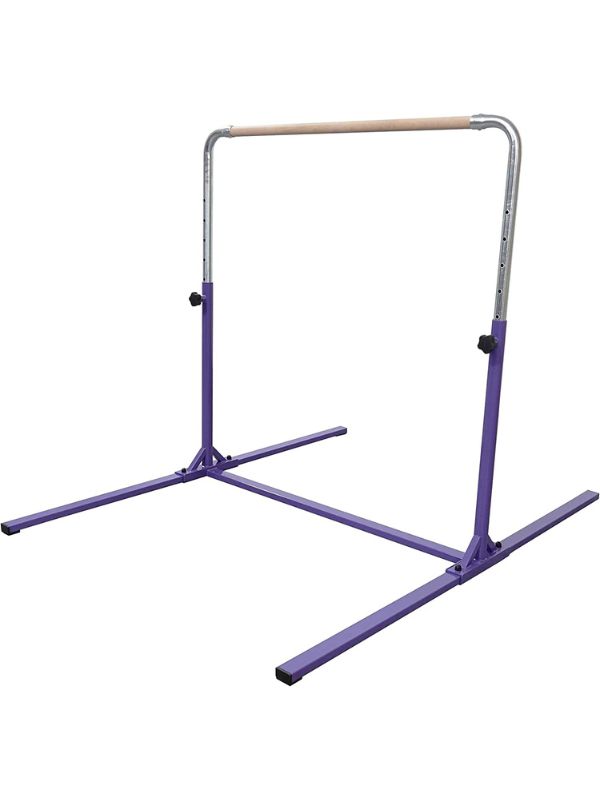 Are you seeking a safe and effective training tool for your young gymnast? 
Look no further than the Tumbl Trak Adjustable Gymnastics Bar! Your athlete will be safe and confident during training with a superior design featuring rounded corners and a flat steel base. 
The high-quality steel construction and solid wood bar provide a gym-like feel while ensuring durability for years. 
The bar adjusts from 38in – 56in with specially designed spring pin knobs for simple set-up and adjustment. And with a weight limit of 125 lbs, your athlete can safely swing, circle, hang, and kip to their heart's content. 
Plus, each order comes with a free chalk ball to keep hands dry and safe!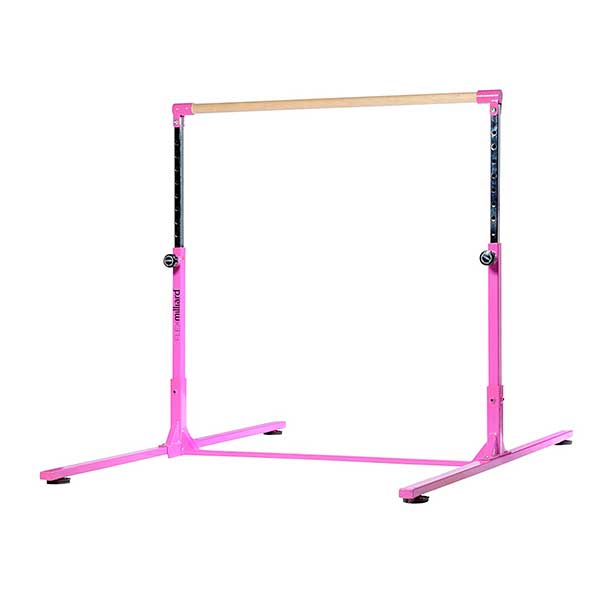 This gymnastics bar is sturdy enough and does not require stabilizers and extensions. Therefore, it is comparatively easier and less time-consuming to assemble it.
The best part about this training bar is that it can withstand up to 140 lbs, which enables bulky kids to use it too. It comes with a clear manual that helps in putting it together effectively. Another great thing is that it comes with a complimentary pack of stickers to decorate it your way and give it a personalized feel.
The bar is perfect for those between 2'5 to 5'5 in height. Therefore, it may accommodate some adults too. The wooden bar is made of fiberglass that prevents splinters and gives a smooth and robust feel.
The JC-ATHLETICS Gymnastic Kip Bar is safe and durable equipment for aspiring gymnasts. 
It features two bottom flat crossbars, a broad, heavy-duty metal base, and non-slip rubber end caps. 
The unique structure of supports and additional side foot make it even more solid than other bars. The kip bar is designed for professional gymnastics training and is ideal for gymnasts levels 1-4 and under 150 lbs. 
Its height is adjustable, with 12 levels ranging from 3 to 5ft. The bar is easy to assemble, taking less than ten minutes by following the instructions provided.
MARFULA Horizontal Gymnastic Bar is the ultimate solution for stable and safe gymnastics training. 
This bar is ultra-stable in every direction with a new and improved structure featuring a Lateral BIGH Triangle design, six rubber feet, and two knobs. 
It's made with high-quality materials, including a fiberglass crossbar, real 304 stainless steel, and heavy-duty steel with powder coating. 
The adjustable height feature is now more convenient than ever with an improved adjusted structure and scale value. Plus, this kip bar comes with a 2m x 4ft mat made of 18 oz vinyl and high-density foam, suitable for indoor and outdoor use. 
Get your child the sense of safety they need to improve their skills and have fun with MARFULA Horizontal Gymnastic Bar.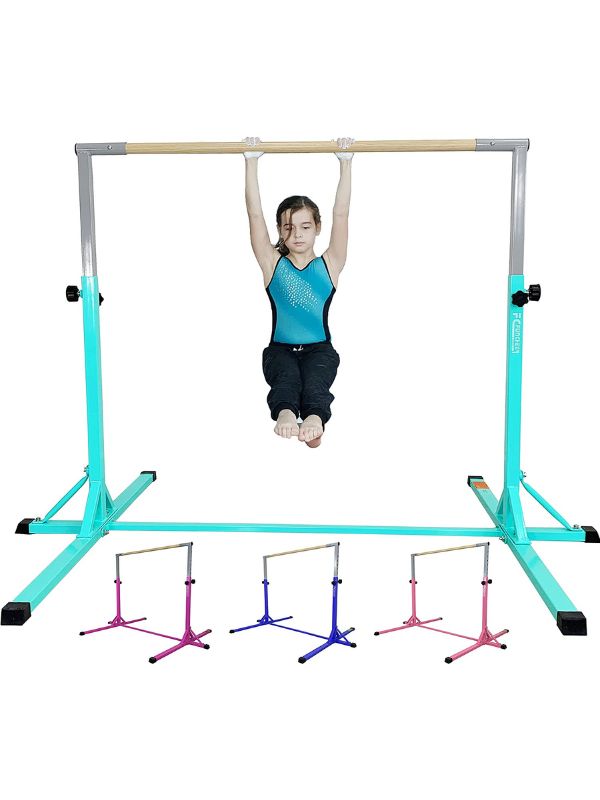 Introducing the FC FUNCHEER Gymnastics Bar – the perfect choice for your kids' home training! With 12 adjustable holes and two unique locking systems.
This expandable lip bar grows with your child, ensuring their safety during practice. The super sturdy structure supports basic levels from 1-4 and can hold up to 300 lbs, while the durable triangle base support system provides stability and prevents shaking during training. 
Easy to assemble with clear instructions and a helpful installation video guarantees hours of fun and skill-building for your little ones. 
Get your kids moving and reaching new heights with this top-quality gymnastics bar today!
Are you looking for the perfect gift to help your young gymnast improve their skills at home? 
Look no further than the X-Factor Gymnastics Bar! Designed with standard-size dimensions and a sturdy steel and wood bar, this is perfect for juniors and kids who want to train like the pros. 
With adjustable height settings ranging from 3 to 5 feet and a weight capacity of up to 180 lbs, this bar can accommodate a wide range of ages and skill levels. 
The easy installation takes 10 minutes and includes four rubber feet for floor protection and bar stabilization. 
The 2″x4'x8′ gymnastic mat provides your little athlete with a safe and comfortable landing surface. 
Today, give your child the gift of practice and skill-building with the X-Factor Athletic Teens Adjustable Gymnastics Bar!
Cheap Gymnastics Bars for Sale under $100
Are you low on budget but still can't compromise on quality?
Check out these cheap gymnastics bars for under $100 ONLY!
---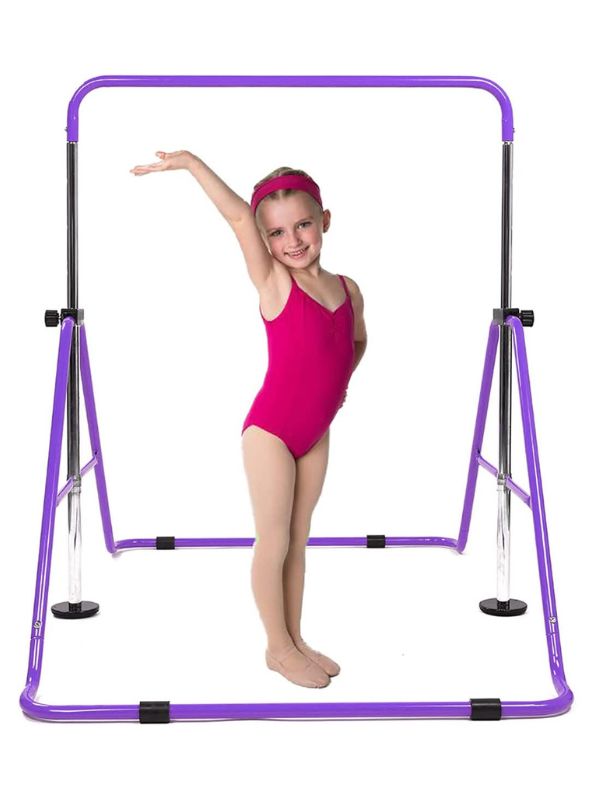 Look no further than DOBESTS Gymnastics Bars for Home – this bar is designed with a professional triangular structure and ensures stability during gymnastics training. 
It's also equipped with quick adjustment height, with four different heights, making it suitable for children aged 3-8 and accommodating up to 150 lbs. 
Plus, it's easy to assemble and folds down for storage, so you can save space when not in use. 
Give your child the gift of a happy childhood with this loving companion for gymnastics training at home!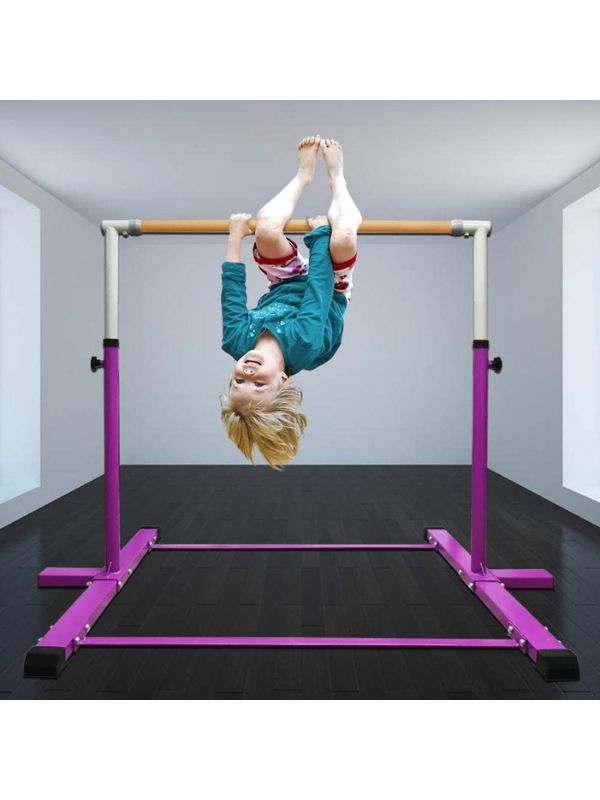 The JOYSFIT Expandable Gymnastics Bar is perfect for your young gymnast's training routine. 
A sturdy 6-point base and rubber end caps guarantee safety and steadiness. The broad and heavy-duty metal base ensures durability, and the gymnastics bar's adjustable height feature, with 12 levels, allows for growth and adaptability. 
Whether used at home or in the gym, this professional-grade equipment is easy to assemble and operate, making it the ideal choice for young gymnasts of any age and height. 
Your future acrobats can train safely and confidently with improved balance and flexibility.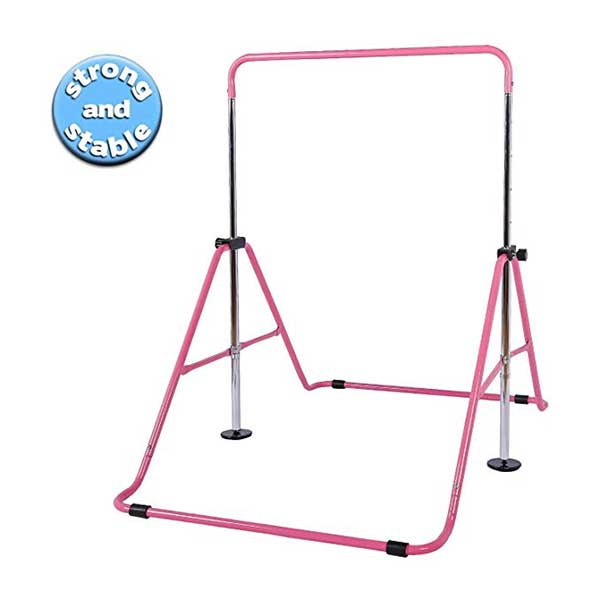 The design of this bar is similar to that of the ones discussed above. However, it can accommodate for beginners of age 3 to 8 years old and can withstand up to 140lbs.
The bar has a triangular structure with rubber pads and rings creating friction and improving the stability. Therefore, it becomes safer for your child to practice on it without the fear of being wobbled and slipped.
It is made of high-quality steel that has powder finish paint on it. The overall look and feel of the bar are strong and heavy, yet portable and compact. Gymnastics equipment bars cheap
Pros
Can accommodate up to 140lbs
Good for kids of age 3 to 8 years
Improved stability and portability
Money back guarantee
Cons
May wobble when set on adjusted to the greatest height
---
Buyers' Guide – What should I look for in a Gymnastics Bar?
---
1. How Much Does Gymnastics Bar Cost?
The first question that pops into your head is, "how much is a gymnastics bar?" for sure. Well, the price of a gymnastics bar for training at home may vary significantly. However, for a general idea, we can say it may cost you between $200 and $600.

Although the price may be essential, How expensive is a gymnastics bar? It would be best to forget that safety comes before anything else. You can check out the ten high-rated gymnastics bars above.

However, before purchasing one, you must consider a few things to save yourself from any hazards and waste of money and time.
2.  Is It Sturdy and Stable?
The first and foremost thing you must check before purchasing a bar is whether it is sturdy and stable. A gymnast often goes rigorous while practicing, and the person may get injured if stability is questioned. 

Therefore, check if there is a padded base for friction if the rods are heavy and unbreakable, and whether it wobbles on the allowed weight.
3.  Is the Size Suitable For You?
The next most important thing to consider is what size of the gymnastics bar suits you. Check if it fits you well and suits you and your requirements. You can find many different sizes and dimensions in the market.
4.  How Much is the Allowed Weight?
You must check the allowed weight before buying the bar. It would be best if you were also sure of the persons using the bar and how much they weigh. Every gymnastics bar has its limit for weight, don't forget to check it and match it with your criteria.
5.  What's the Bar's Height?
Usually, training bars come with adjustable heights. However, you must check whether the maximum limit will fit you perfectly. 

Also, keep a range you want for the adjustable height before buying the bar. It will help save you from confusion. Consider the room height of the walls and fans before fixing the range.