In this era of women empowerment, there is hardly any field where they aren't excelling. They are doing great in almost every area, proving themselves capable and setting examples for others. Even in every sport, we see them making their names through the international lists of toppers and best ones. Talking about gymnastics, we all know that it is the sport of extraordinary and not everyone can do it. Women's gymnastics is one of the most famous Olympic sports, and credit goes to the gymnasts whose stellar performance makes the show worth watching.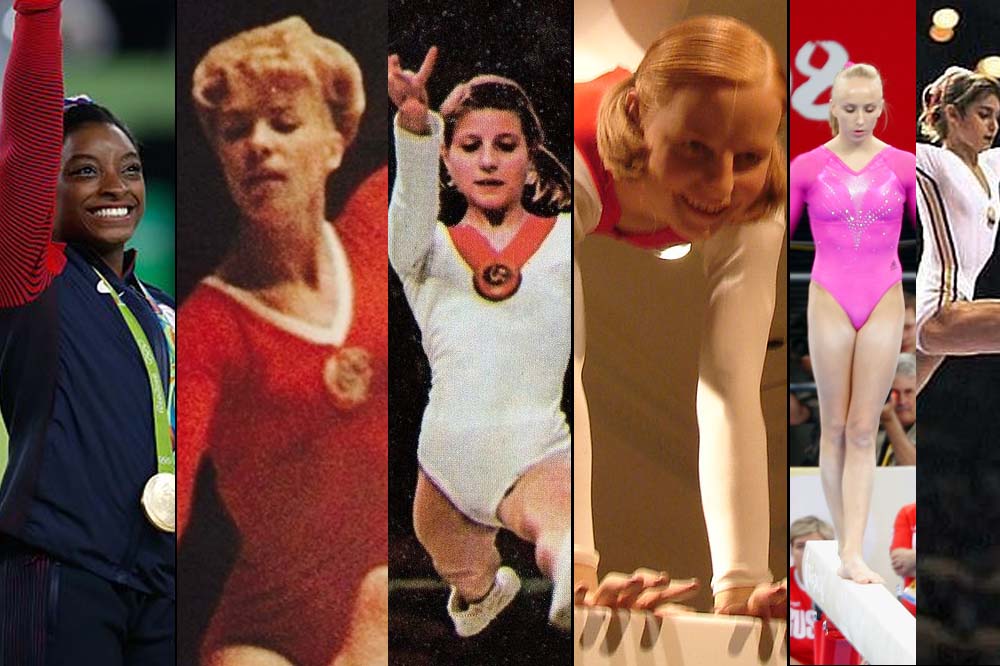 Every athlete has some specificity, which makes him superior to all others in that same respect. But some shine more, like the more prominent stars, which are brighter than others in a galaxy. Talking about such a universe of women gymnasts and the more famous gymnasts stars in them, this article has a lot to tell you.
So, are you interested in knowing about those famous gymnasts? Just stay by my side, and let's drive some inspiration or motivation from such great names.
Memorable Female Gymnast
There are thousands of female gymnasts around the globe. However, this compilation only features the most famous gymnasts of all time. Legendary gymnasts have put in a lot of dedication and exertion to become the finest they could be, so if you're a lady gymnast endeavoring to be the best version of yourself, then the ladies referenced below can inspire you.
Best Gymnast of All Time
Our list includes well-known gymnast women such as Olga Korbut, Simone Biles, Svetlana Khorkina, and others. Here, many female gymnasts would be familiar to you, like Shannon Miller and Aly Raisman of the USA Olympic gymnast team.
Gold Medal Gymnastics
Simone Biles – The Greatest Gymnast of All Time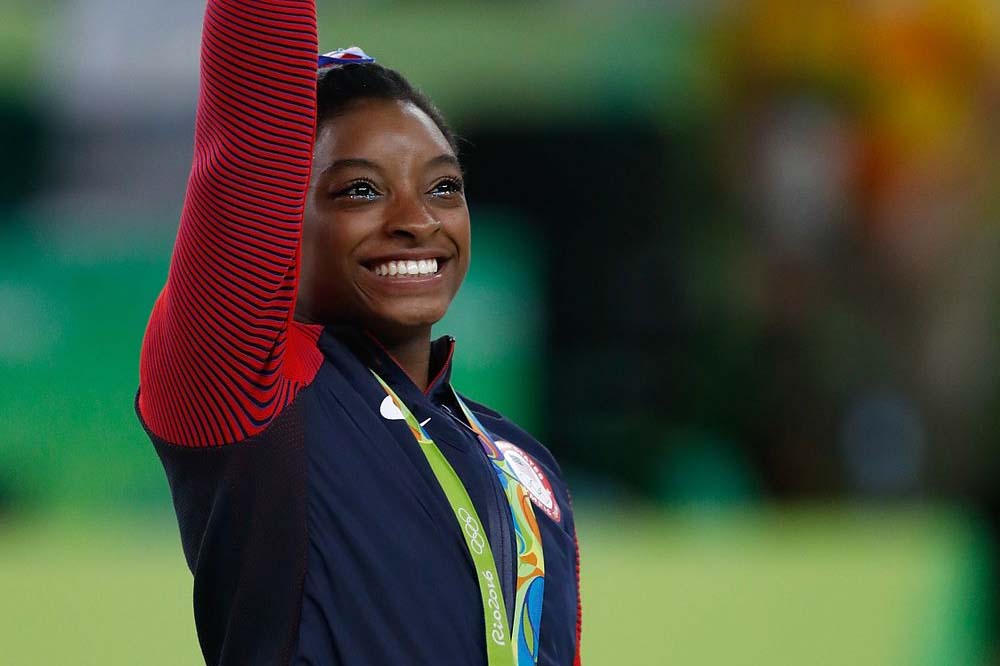 Simone Biles is a black female gymnast from the USA, who undoubtedly is the greatest and one of the famous gymnasts of our time or any time in history. She has earned the highest number of gold medals in the history of gymnastics.
In 2019, she became the most decorated gymnast ever at the world championships, with 25 total medals in her career, including 19 gold, three silver, and three bronze. No other female athlete has such an excellent and appreciable track record in the history of gymnastics ever. She is also credited for having an ideal muscular female gymnast body.
Other big names among black female gymnasts in history include:
Betty Okino, 1991
Dominique Dawes, 1994
Tasha Schwikert, 2002
Elizabeth Price, 2014
Gabby Douglas, 2016
Some Other Gold Medal Winner Gymnasts
Svetlana Khorkina from Russia and Larisa Latynina from the Soviet Union are other worthy female gymnasts who are famous for scoring the most gold medals in competitions, after Simone Biles.
Larisa Latynina-Russian Pride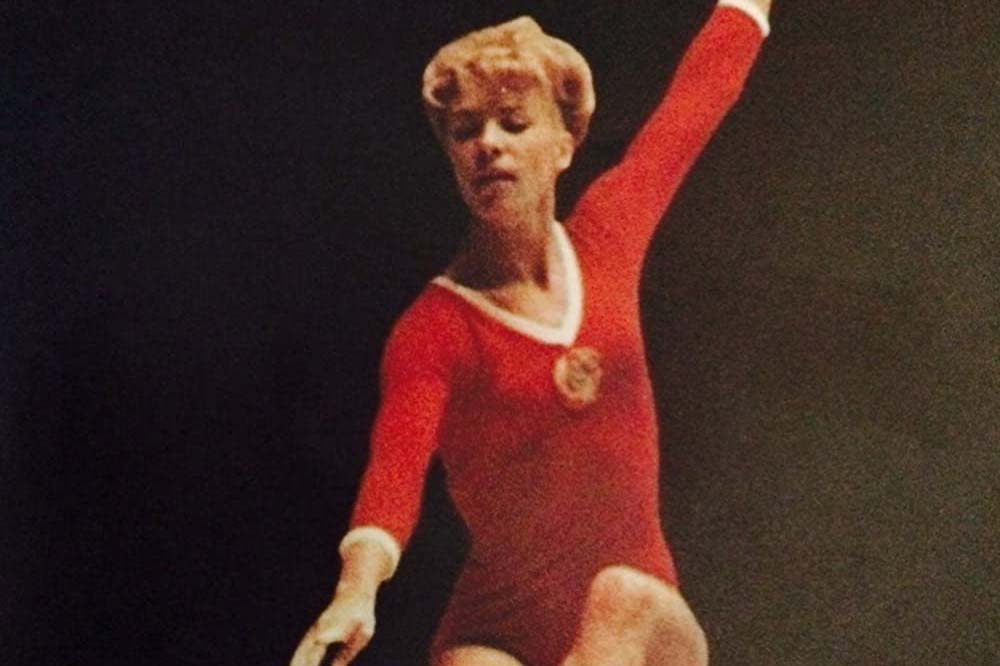 Larisa Latynina even enjoyed the record of scoring medals at every event. Her absolute of 18 Olympic awards was a record for a very long time and also, held the record for 14 special occasion awards.
Revolutionary Female Famous Gymnasts
A famous quote says that "People come and go in the world; some of them create their lives according to them while others walk through it."
The list of the world's best gymnasts includes the most outstanding female athlete of all time. They were showcasing their physical and technical sheer brilliance to pursue a gold medal with a special place in history assured for any athlete who innovates and breaks records on the biggest stage. Let's talk a little about such famous gymnasts women who revolutionized the sport and showed the world a new gymnastics way.
Olga Korbut
Olga Korbut is the name of a new era in women's artistic gymnastics. She was the one who, at the age of just 17, enthralled the entire world with her daring acrobatics and raw displays of emotions in the Munich Olympic Games, 1972.
Korbut embarked on a new age in which young, svelte women governed the world of gymnastics. Her backflip and Korbut flip on the balance beam were bold moves at the time, and they are still performed in women's gymnastics today.
Nadia Comaneci
Nadia Comaneci's heritage goes past making the three-digit scoreboards of Montreal 1976. She was the first female gymnast to score a perfect 10.0 in the Olympic gymnast competition.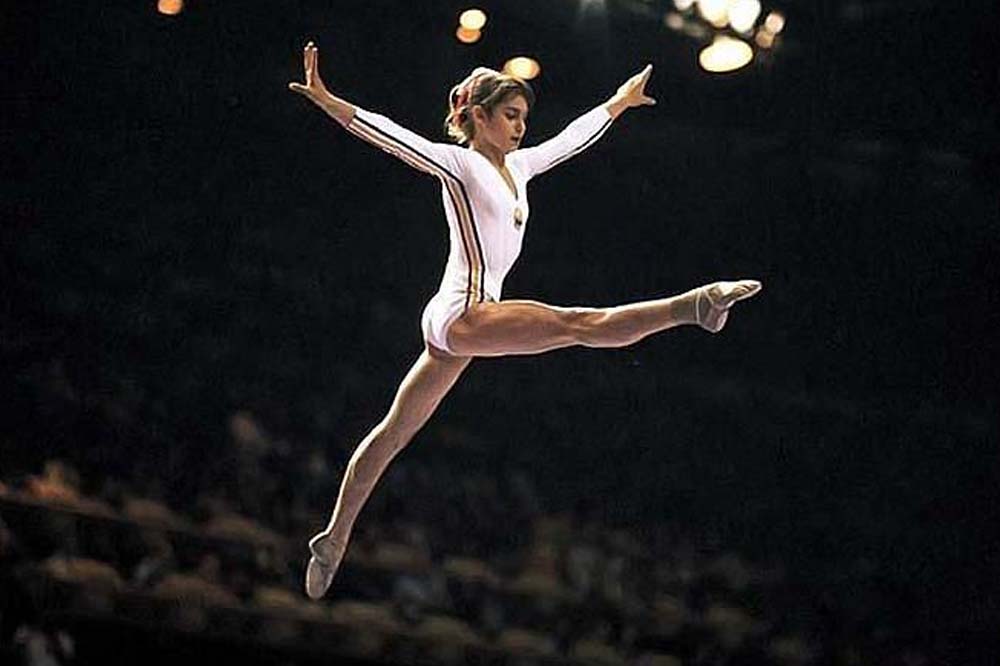 The ideal score by Comaneci started the ball rolling. Following her first 10.0 on the uneven gymnastic bars, she scored six more 10.0s during her career. Much like Korbut, she was also an innovator acrobatically. Her creation termed straddled front salto on uneven bars, still carries an E value under the current set of rules.
Svetlana Khorkina
Talking about gymnastics and not including Svetlana Khorkina is an injustice to gymnastics. She ruled over the world of gymnastics for almost a decade with her unique style in uneven bars and scored nine gold, eight silvers, and three bronze during her career.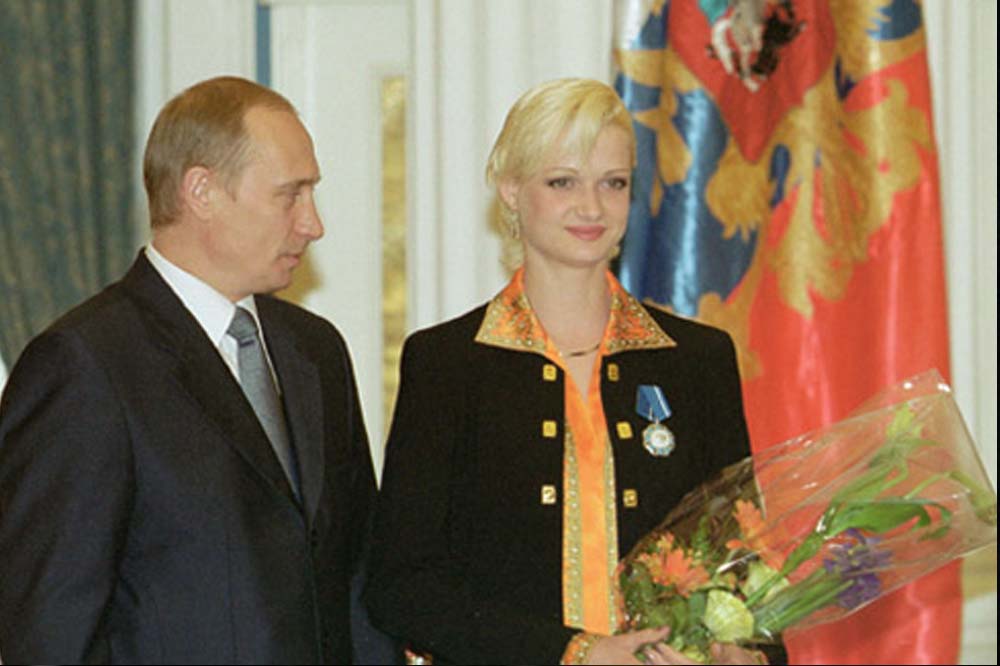 The Russians' innovation culminated in the development of eight named elements in the point code, including two vaults, three maneuvers on uneven bars, two components on the balance beam, and there's one exercise where you hop on the board. This contribution of Khorkina revolutionized gymnastics forever. Only Simone Biles has crossed her record of earning 20 World Championship medals.
Nastia Liukin
The first woman to earn an Olympic medal in the open-ended scoring era showed that you could still combine elegance and performance to reach excellence in a set of rules based on accruing difficulty. Liukin, being a daughter of an athlete, was into the Olympics since she was too young.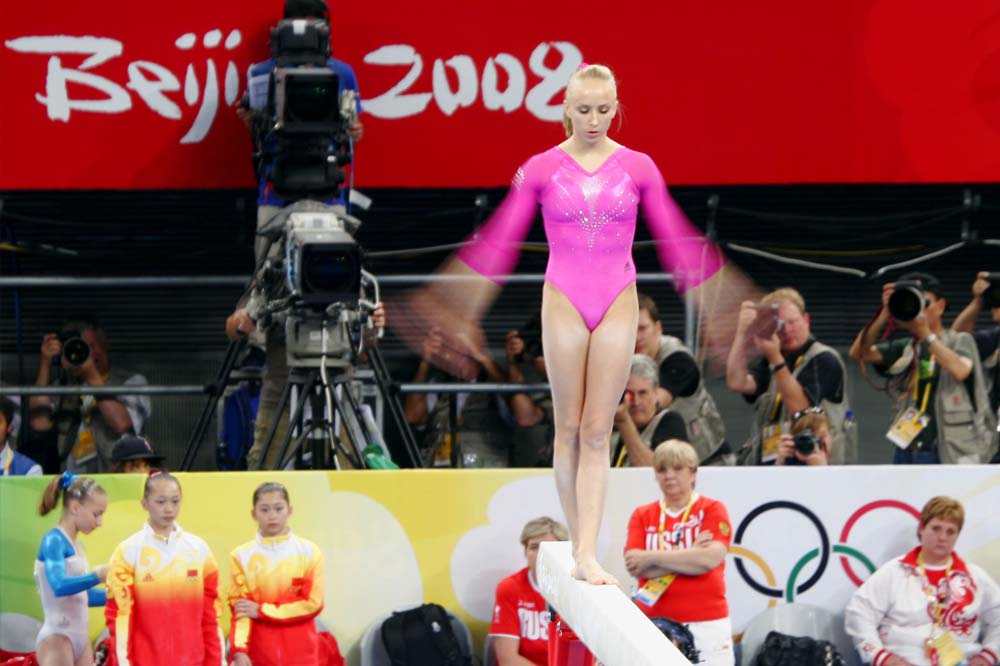 However, winning a gold medal was a fairytale for her. Undeterred, the 19-year-old Nastia Liukin made it to the 2008 Olympic Games in Beijing. She gave it her all when it mattered most, beating American rival and incumbent World champion Shawn Johnson.
Liukin became the third American woman to win the Olympic all-around gold medal, and she also finished scoring awards in three of the four individual equipment finals.
Simone Biles
As discussed earlier, Biles is a gymnast whose contribution to the field of gymnastics needs no introduction. She is undoubtedly the greatest gymnast of all time, who has taken this sport to new heights. Simone Biles dominated women's gymnastics in the lead-up to the 2016 Olympic Games in Rio de Janeiro, winning three consecutive World all-around titles.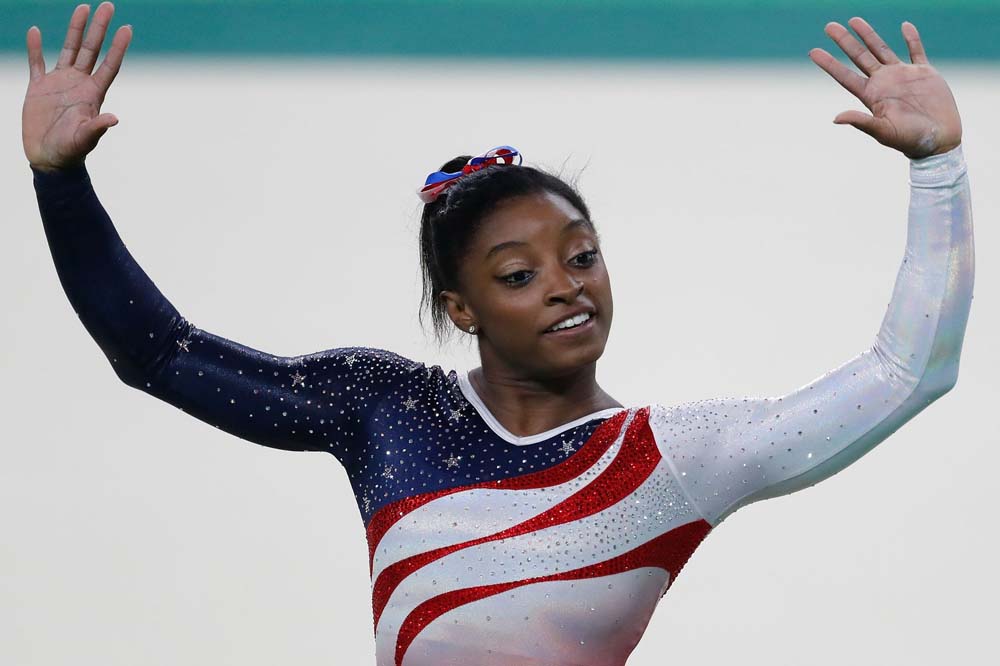 Following those victories, she captured the all-around gold medal in Rio. She helped Team USA secure its second consecutive team gold medal at the games, alongside teammates Aly Raisman, Gabby Douglas, Laurie Hernandez, and Madison Kocian.
Famous Gymnasts from the USA
American female gymnasts have taken an interest in each Olympic Games since 1936, except in 1980. A total of 83 female gymnasts have represented the United States of America.
American women have won 48 medals at the Olympics – nine in team all-around, 8 in individual all-around, 4 in the vault, 8 in uneven bars, 10 in balance beam, and 9 in the floor exercise. The medals include 28 golds. The U.S. has medaled in the group all-around in each Summer Olympics since 1992, winning golds in 1996, 2012, and 2016.
There is a list of seven American female gymnasts that have won at least four medals at the Olympic Games:
Shannon Miller (7)
Aly Raisman (6)
Simone Biles (5)
Nastia Liukin (5)
Mary Lou Retton (5)
Dominique Dawes (4)
Shawn Johnson (4)
I hope you might have got some inspiration for yourself from these ladies ruling the world with such great victories. They have proved that being dedicated and consistent with your hard work can lead to heights. You have to keep trying to be the best version of yourself every day, and that's all!
Gymnast

 

Years

 

Gold

 

Silver

 

Bronze

 

Total medals

 

Age at Last Olympics

 

Marian Barone

 

1948, 1952

 

0

 

0

 

1

 

1

 

28

 

Mohini Bhardwaj

 

2004

 

0

 

1

 

0

 

1

 

25

 

Pam Bileck

 

1984

 

0

 

1

 

0

 

1

 

15

 

Simone Biles

 

2016

 

4

 

0

 

1

 

5

 

19

 

Amanda Borden

 

1996

 

1

 

0

 

0

 

1

 

19

 

Wendy Bruce

 

1992

 

0

 

0

 

1

 

1

 

19

 

Colleen Casey

1976

 

0

 

0

 

0

 

0

 

16

 

Kimberly Chace

1972, 1976

 

0

 

0

 

0

 

0

 

20

 

Amy Chow

 

1996, 2000

 

1

 

1

 

1

 

3

 

22

 

Wendy Cluff

 

1968

 

0

 

0

 

0

 

0

 

17

 

Kathy Corrigan

1964

 

0

 

0

 

0

 

0

 

19

 

Dorothy Dalton

 

1948, 1952

 

0

 

0

 

1

 

1

 

30

 

Jamie Dantzscher

 

2000

 

0

 

0

 

1

 

1

 

18

 

Dominique Dawes

 

1992, 1996, 2000

 

1

 

0

 

3

 

4

 

23

 

Gabby Douglas

 

2012, 2016

 

3

 

0

 

0

 

3

 

20

 

Michelle Dusserre

 

1984

 

0

 

1

 

0

 

1

 

15

 

Meta Elste-Neumann

 

1948, 1952

 

0

 

0

 

1

 

1

 

28

 

Carrie Englert

 

1976

 

0

 

0

 

0

 

0

 

18

 

Doris Fuchs

 

1956, 1960

 

0

 

0

 

0

 

0

 

22

 

Kelly Garrison

 

1988

 

0

 

0

 

0

 

0

 

21

 

Kathy Gleason

1968

 

0

 

0

 

0

 

0

 

19

 

Muriel Grossfeld

 

1956, 1960, 1964

 

0

 

0

 

0

 

0

 

23

 

Ruth Grulkowski

 

1952

 

0

 

0

 

0

 

0

 

21

 

Annia Hatch

 

2004

 

0

 

2

 

0

 

2

 

26

 

Laurie Hernandez

 

2016

 

1

 

1

 

0

 

2

 

16

 

Marie Hoesly

 

1952

 

0

 

0

 

0

 

0

 

35

 

Kathy Howard

 

1976

 

0

 

0

 

0

 

0

 

18

 

Judy Howe

 

1956

 

0

 

0

 

0

 

0

 

21

 

Terin Humphrey

 

2004

 

0

 

2

 

0

 

2

 

17

 

Brandy Johnson

 

1988

 

0

 

0

 

0

 

0

 

15

 

Kathy Johnson

 

1984

 

0

 

1

 

1

 

2

 

24

 

Shawn Johnson

 

2008

 

1

 

3

 

0

 

4

 

16

 

Doris Kirkman

1952

 

0

 

0

 

0

 

0

 

22

 

Jacquelyn Klein

 

1956

 

0

 

0

 

0

 

0

 

19

 

Madison Kocian

 

2016

 

1

 

1

 

0

 

2

 

19

 

Courtney Kupets

 

2004

 

0

 

1

 

1

 

2

 

18

 

Nastia Liukin

 

2008

 

1

 

3

 

1

 

5

 

18

 

Kristen Maloney

 

2000

 

0

 

0

 

1

 

1

 

19

 

Melissa Marlowe

 

1988

 

0

 

0

 

0

 

0

 

16

 

McKayla Maroney

 

2012

 

1

 

1

 

0

 

2

 

16

 

Betty-Jean Maycock

 

1960

 

0

 

0

 

0

 

0

 

17

 

Dorothy McClements

 

1964

 

0

 

0

 

0

 

0

 

19

 

Courtney McCool

 

2004

 

0

 

1

 

0

 

1

 

16

 

Julianne McNamara

 

1984

 

1

 

2

 

0

 

3

 

18

 

Chellsie Memmel

 

2008

 

0

 

1

 

0

 

1

 

20

 

Linda Metheny

 

1964, 1968, 1972

 

0

 

0

 

0

 

0

 

25

 

Shannon Miller

 

1992, 1996

 

2

 

2

 

3

 

7

 

19

 

Phoebe Mills

 

1988

 

0

 

0

 

1

 

1

 

15

 

Dominique Moceanu

 

1996

 

1

 

0

 

0

 

1

 

14

 

Theresa Montefusco

1960

 

0

 

0

 

0

 

0

 

19

 

Joan Moore

1972

 

0

 

0

 

0

 

0

 

18

 

Colleen Mulvihill

 

1968

 

0

 

0

 

0

 

0

 

16

 

Betty Okino

 

1992

 

0

 

0

 

1

 

1

 

17

 

Carly Patterson

 

2004

 

1

 

2

 

0

 

3

 

16

 

Samantha Peszek

 

2008

 

0

 

1

 

0

 

1

 

16

 

Jaycie Phelps

 

1996

 

1

 

0

 

0

 

1

 

16

 

Roxanne Pierce

1972

 

0

 

0

 

0

 

0

 

17

 

Joyce Racek

 

1956

 

0

 

0

 

0

 

0

 

18

 

Aly Raisman

 

2012, 2016

 

3

 

2

 

1

 

6

 

22

 

Elise Ray

 

2000

 

0

 

0

 

1

 

1

 

18

 

Mary Lou Retton

 

1984

 

1

 

2

 

2

 

5

 

16

 

Sharon Richardson

[11]

 

1960

 

0

 

0

 

0

 

0

 

17

 

Cathy Rigby

 

1968, 1972

 

0

 

0

 

0

 

0

 

19

 

Kyla Ross

 

2012

 

1

 

0

 

0

 

1

 

15

 

Sandra Ruddick

 

1956

 

0

 

0

 

0

 

0

 

24

 

Alicia Sacramone

 

2008

 

0

 

1

 

0

 

1

 

20

 

Clara Schroth

 

1948, 1952

 

0

 

0

 

1

 

1

 

21

 

Tasha Schwikert

 

2000

 

0

 

0

 

1

 

1

 

15

 

Bridget Sloan

 

2008

 

0

 

1

 

0

 

1

 

16

 

Gail Sontgerath

1960

 

0

 

0

 

0

 

0

 

16

 

Janie Speaks

1964

 

0

 

0

 

0

 

0

 

16

 

Hope Spivey

 

1988

 

0

 

0

 

0

 

0

 

17

 

Chelle Stack

 

1988

 

0

 

0

 

0

 

0

 

15

 

Kerri Strug

 

1992, 1996

 

1

 

0

 

1

 

2

 

18

 

Tracee Talavera

 

1984

 

0

 

1

 

0

 

1

 

17

 

Joyce Tanac

1968

 

0

 

0

 

0

 

0

 

18

 

Nancy Thies

1972

 

0

 

0

 

0

 

0

 

15

 

Ruth Topalian

1952

 

0

 

0

 

0

 

0

 

25

 

Marie Walther

 

1964

 

0

 

0

 

0

 

0

 

19

 

Jordyn Wieber

 

2012

 

1

 

0

 

0

 

1

 

17

 

Debra Willcox

1976

 

0

 

0

 

0

 

0

 

16

 

Leslie Wolfsberger

1976

 

0

 

0

 

0

 

0

 

17

 

Kim Zmeskal

 

1992

 

0

 

0

 

1

 

1

 

16