Top 5 Greatest films – Academy Award Winner
1. The Shawshank Redemption – 1994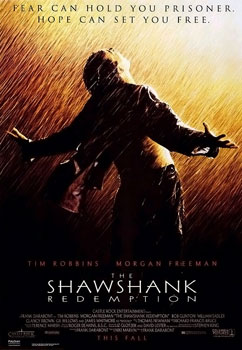 This film is based on Stephan King's novel "Ritta Hayworth and Shawshank Redemption". The cast constitutes Tim Robbins as Andy and Morgan Freeman as Red.
The story rotates around Andy spending two decades in fictional Shawshank prison, with his inmate friend Red. Andy is accused of the murder of his wife and her lover and he is awarded two life sentences in state prison run by Warden Samuel Norton, where his friendship develops with Red. Andy uses Red's connections outside the prison to get a rock hammer, posters of leading actresses and contraband for the fellow inmates. Andy is a banker and helps the guard Captain Hadley and others in saving on taxes legally. He gains favors in exchange and starts a prison library with inmate Brooks. He used his goodwill with guards and soon expands this library.
The Warden Norton develops a scheme to replace skilled labor with prison labor for public works. He undercuts cost and manipulates kickbacks. Andy again helps him to launder the money under a false identity. A new inmate Tommy breaks news to Andy that Elmo Blatch had actually committed the murders for which Andy was charged. In order to prevent Andy's release and to protect his illegal stakes, Norton puts Andy in solitary confinement. He also had Tommy killed as an "escapee".
Sometimes later Andy tells Red about his desire to live in Mexican coastal town Zihuatanejo. Andy also tells him that when he is freed, he should visit a specific place in Buxton for a gift that Andy will leave there for him.
Next morning Andy's cell is found empty. Norton discovers a tunnel behind the poster of Welsh that Andy dug in ten years. Andy escapes with his few belongings. He cashes Norton's money using his false identity. He also sends all evidence to a newspaper. The news leaves no choice for Norton but to commit suicide while Hadley is arrested.
Soon Red gets a parole after forty years confinement and joins his old job. Then he remembers to visit Buxton Town and retrieves a cache of money. Violating his parole, he joins Andy in Mexico. They live happily thereafter. The Shawshank Redemption is one of the Greatest films to see.
---
2. The Godfather – 1972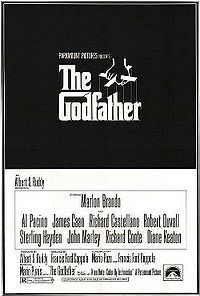 This film was released in 1972 is based on 1969 novel "The Godfather" by Mario Puzo. Marlon Brando leads the cast. The story reflects the underworld crime activities of Italian and American Corleone families and their struggle for dominance. It specifically features the rise, fall and again gaining supremacy by Don Vito Corleone family in a period from 1945-1955. Won Academy Awards besides being selected for USA National Film Registry one of them and declared second greatest films after "Citizen Kane". Its part 2 was released in 1974 while part 3 in 1990.
Don Vito Corleone, the head of Corleone mafia family, sends his counselor, Tom Hagen, to manage a movie role for his godson, singer Johnny Fontane, to revitalize his career. Jack Woltz, studio head in California, refuses to cast him at first but caves in when he finds his prized $600'000 race horse's head in his bed.
Don Vito puts down the financially lucrative proposal of Virgil Sollozzo to protect rival Tattaglia family's heroin business, to save his political contacts from messing with drugs. His enforcer Luca Brasi was executed while probing Sollozzo's business and Don himself survives a life attempt. Tom Hagen is also abducted to pressurize Don's eldest son Sonny for the same deal. Don wished his youngest son Michael to stay aloof from the family business but he averts a second attempt on his father in the hospital and is beaten by corrupt Captain McCklusky. Sonny revenges this by having Bruno Tattaglia killed.
Sollozzo offers Michael to settle disputes but he prefers and kills him and McCklusky. Then escapes to Sicily and marries a local girl. Fredo, a third son, takes refuge in Las Vegas with casino operators. Now Corleones are at full war with other five families. The police also activate to clamp down mafia activity.
The adverse developments take a toll. Sonny is killed in an ambush. Michael escapes a car bomb that kills his wife. Don Vito reconsiders and draws peace by withdrawing opposition to Tattaglia's heroin business and meanwhile gets convinced about their contacts with powerful Don Brazini. With peace restored Michael returns and marries his girlfriend Kay. His father now feels confident and hands him the control of the entire family business. Michael promises to legitimize the business in five years.
Michael plans to move a business to Nevada. Hagen is replaced and given other responsibilities. To buy time he allows his rival families to encroach his market but consolidates his family members that will stay back in New York. Michael wishes to buy Las Vegas casino shares from Moe Greene, who refuses and Fredo defends him. Meanwhile, Don Vito dies. He had warned Michael of the changing attitude of Tessio, tilting towards Brazini.
On the burial day, Tessio arranges a meeting (actually a murder plan) of Michael with the dominant Don Brazini fixed for the same day of the christening of Connie and Carlo's son with Michael being his godfather. On christening day, in a major sweep, Corleone's commandoes kill all Don Heads of other New York families including Moe Greene. Michael confronts Carlo who confesses to assisting in Sonny's killing and is vanquished along with Tessio.
The discrete planning restored the dominance of the Don Vito family.  All opposing forces were cut to size and longtime peace ensured. In the last scene, the office door shuts as Kay sees Michael get all the respect from all mafia families just as his father Don Vito Corleone did.
---
3. No Country for Old Men – 2007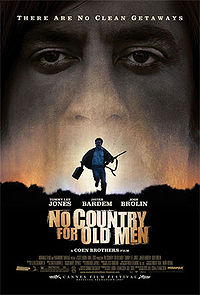 This crime thriller is based on Cormac McCarthy's novel and directed by Joel and Ethan Coen. The film secured a cluster of awards—three British Academy of Film awards, two Golden Globs, and four Academy Awards. one the Greatest films.
The western style film describes how fate and circumstances interplay. A man gets a fortune by chance and spends his life securing it, first for himself and then for his family. The Sheriff, Ed Tom Bell ponders over the increased violence in his region and recalls how his father and he survived to become sheriffs.
Llewelyn Moss, while hunting, comes across some dead bodies, a wounded Mexican and two million dollars. He hides the booty under his trailer home and returns with water for the wounded. He is spotted and chased into the river. He retrieves the cash and sends his wife Carla to her mother's home for safety. He hides the money in the vent of a motel.
The hit-man, Anton Chigurh is a criminal and is hired to recover the money satchel. He traces it through concealed radio transponders. Chigurh attacks and kills the Mexican team set to ambush Moss. Moss had rented the adjacent room instead, runs along with the money before Chigurh could grab it. Moss is again tracked in a hotel of the border town.  A gunfight climaxes in street leaving both wounded badly. Moss crosses the border, collapses and wakes up in a Mexican hospital. There Carson Wells, another hired operative, negotiates money for Moss's life. Chigurh tends his wounds and traces Wells and kills him. Moss now becomes defiant. Moss contacts his wife in El Paso to pass on the money. All the hunters converge in El Paso but Carla and bell reach after Moss dies in a shootout.
Carla returns from mother's funeral to find Chigurh waiting. He tries to negotiate her life for money over a coin toss, but she refuses to toss. Having no option left, disheartened Chigurh leaves and breaks his arm in a car accident. He quickly leaves the scene to avoid police.
Later Bell describes his two dreams to his wife. The first dream is about his losing some money his father gave him. In the second he was riding through a snowy mountain pass when his father passed him, carrying fire in a horn, going on to make a fire in the dark cold night. Then he woke up.
---
4. A Beautiful Mind – 2001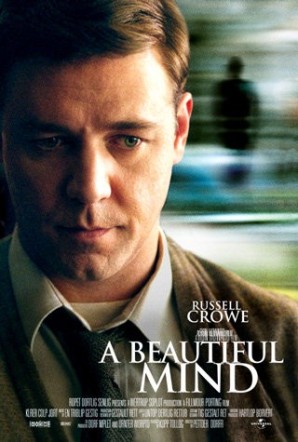 A Beautiful Mind is an American film based on the life of John Forbes Nash, Jr., who is also a winner of Noble prize in Economics. The film was produced in 2001 and was directed by Ron Howard. A book by the same name written in 1998 by Silvia Nasar, was proclaimed a best seller. The book was also nominated for Pulitzer Prize and became the main source of inspiration for the Greatest Films.
The film proved very successful and received appreciation from all quarters of the industry. This well-acclaimed film amassed business worth $300 million worldwide. A Beautiful Mind proceeded to win four Academy Awards, including the Best Picture, Best Director, Best Adapted Screenplay and the Best   Supporting Actress. However, the film did not escape the attention of the critics. They objected that some aspects of Nash's life were not portrayed in true circumstances. The hallucinations were actually not visual but auditory. There is also some confusion over the administration of the drugs.
The story relates to the early years of Nash's life at Princeton University. He had a gifted mind and was concentrating on his 'original idea' that would revolutionize the mathematical circles.
John Nash has received the prestigious Carnegie Prize for mathematics before he joins the Princeton University as a graduate student. He had expected a single room but was now to share one with a literature student Charles Herman. They soon become friends. Nash was too much given to studies and could not adjust with people and particularly the women. He was quite uncomfortable with other math students namely Martin Hansen, Sol, Ainsley, and Bender.
Martin Hansen, in an encounter, challenges Nash to play the game Go if not scared. Nash plays all the moves correctly but still looses. Hansen mocks him gentlemen,' The Great John Nash'. This quote sticks in Nash's mind and objects knocks over the board and falls. He recovers walks to the camera with pant fly open.
Nash skips his classes. The headmaster restricts him from work until he finishes his thesis, prompting him to define his original idea in the paper. He needed inspiration badly to restore his confidence. A woman at the bar helps him to come out of the dilemma to produce his best in the concept of 'governing dynamics', which is a theory in mathematical economics.
Later he joins the renowned Massachusetts Institute of Technology (MIT) with his friends Sol and Bender. Five years later an interesting problem in Calculus brings him close to his student Alicia Larde. They fall in love and marry. Nash pays a visit to Princeton and meets his roommate Charles and his young niece Marcee. He also receives a call from the Department of Defense, Pentagon, to solve a complex encryption of an enemy telecommunication. Nash decodes the riddle mentally and surprises all the code breakers. Here he encounters the mysterious William Parcher of Defense Department, who assigns him to observe critically magazines and newspapers to find clues for Soviet plots and wanted a written report to be dropped in the specified mailbox.
Nash soon starts to behave erratically after being harassed by the Russian Agents. After a guest lecture at Harvard University, Nash felt being watched by hostile persons and flees to avoid Soviets who intend to extract information from him. Hr gorily digs out of his palm an implanted listening device by DoD. His wife Alicia seeks emergency help from the psychiatric hospital. She also visits the mailbox where Nash delivered the 'top secret' documents and retrieves them unopened. Nash now realizes that he is hallucinating. He further observes that he sees Charles niece as still a little girl.
Nash takes insulin shock therapy sessions but the drugs bring negative side-effects affecting his emotional and intellectual capacity. He skips his medication and psychosis returns. Nash is bathing his infant son and suddenly leaves him absently. Alicia saves the child. Nash tells her seeing Parcher who wants him to kill her. Instantly Nash hits at Parcher's gun and knocks Alicia and son down. Frightened she seeks psychiatric help again. Alicia and Nash try to live with the abnormal condition between his antipsychotic paralysis and his delusions.
Nash approaches his rival friend Martin Hansen who allows him to teach again at Princeton. He shoves aside his hallucinations and concentrates on his work. Nash is soon honored by his fellow professors for his achievement in mathematics and succeeds to win Nobel Memorial Prize in Economics for his revolutionary work on 'game theory'. He again sees Charles, Marcee, and Parcher at the auditorium door. He leaves with Alicia ignoring them.
---
5. The Usual Suspects – 1995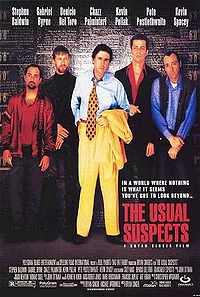 This crime film is written by Christopher McQuarrie and directed by Bryen Singer. The story is about police investigating a fire on a ship at Los Angles port in San Pedro Bay. The distorted evidence narrated by captives lead to nowhere. The film budget was $6 million and was released in stages, after favorable reviews. It won two Academy Awards, and become one of the Greatest films.
The scene opens with a ship deck in San Pedro, California. "Keyser Soze" speaks to an injured Keaton, for a while before shooting him and sets the ship ablaze. FBI agent Jack Bear and US customs agent Dave Kujan commence investigations on two survivors. The hospitalized Hungarian tells that Keyser Soze, a Turkish criminal mastermind was in the harbor killing many men. He describes and police sketch artist draws Soze's face.
The second survivor, "Verbal Kint", testifies on almost total immunity and records his statement with District Attorney, who allows him to post bail on a minor weapons charge. Sergeant Jeffery Rabin is surprised by Verbal's connections as the Governor also inquired of him. While release formalities are underway, Kujan requests to question Verbal who narrates his story.
Verbal ( with cerebral palsy) was one of the five criminals caught in New York. Dean Keaton ( a corrupt police officer), Michael McManus (a crack shot), Fred Fenster ( Fred McManus partner) and Todd Hockney (a hijacker).
During the holdup, McManus convinces all to rob the corrupt NYPD police officers that escort smugglers. After successful proceedings, they sell the loot to McManus friend, Redfoot. Redfoot reveals another job of stealing heroin from a Jewel dealer and introduces Kobayashi who worked for Keyser Soze. He somehow compels them to attack a ship at San Pedro harbor instead. He tells them the ship carried $91 million worth cocaine to Soze rivals. The assignment was to destroy the drugs or wait for the buyers and split the money among themselves.
Verbal continued to state that Keyser Soze was a Turkish criminal harassed by Hungarians. Keyser killed his family to avoid complications and later murders all the opponents in one sequence and vanishes. He stated that Kobayashi killed Fenter in a runaway attempt. He also warned all the thieves that Soze henchman and Edie will kill their loved ones if they do not finish the job.
The buyers of cocaine, Hungarian mobsters are on the deck as well as the sellers, Argentine mobsters. Keaton cautions Verbal to hide and if plans go amiss, deliver the money to one 'Edie' with his regrets. Shooting starts and Hockney is killed. Keaton and McManus discover no cocaine on the boat. Hungarians are now killed along with a well guarded Argentine passenger by an unknown person. McManus is killed by a knife and as Keaton tries to leave he is shot by Keyser Soze after a brief talk, (the opening scene). Kujan's harsh questioning forces Verbal to admit that everything was planned by Keaton.
Kujan and Baer conclude that hijacking was not for cocaine but to eliminate the Argentine passenger and all others that could recognize Soze. Keaton was Keyser Soze who has faked his death, deliberately leaving Verbal as the witness.
Meanwhile, Verbal's bail is posted. He picks his personal effects from property officer and leaves quickly dropping his feigned cerebral palsy. Mr. Kobayashi immediately drives him away.
While relaxing in Rabin's office Kujan recalls the names in Verbal's story and unintentionally locates them on the various objects in the room, including Kobayashi logo on the coffee mug. He rushes after Verbal and passes by a fax machine receiving police artist's sketch of Keyser Soze face that resembles Verbal kint. Verbal has bluffed them very intelligently. He runs out of the police station to find him – nowhere, except his cerebral palsy. Then he remembers his last words "and like that — he's gone!
Hope you enjoy my list of Greatest films please do sure your thoughts. also, check out 10 Books you should read before you die!