Scariest Thrill Rides
The history of enjoying rides above the ground by humans dates back beyond the stone ages. Man copied the monkeys and the guerrillas. As they hung from branches and swung tree to tree chasing companions. The invention of trains is an idea taken from this. And the introduction of rail- tracks in the joy-land parks laid the bases of modern roller coaster scariest thrill rides. These hundreds of feet high above track humps and miles of fast turns. And twists have become the main attractions. And most dangerous thrill rides in all amusement parks today. The thrill ride's popularity is bestowed to the precision design. Moreover, the design ensures the safety and security of the rider. And smooth functioning of the coasters is also the main thing. However, the stability of the superstructures facilitates faster speeds, steep falls and intricate twists for maximum thrilling experiences.
Insanity: Stratosphere Hotel and Casino, Las Vegas
Behold Yourself: The scary thrill is not limited to roller coasters only. Insanity offers the scariest of all swing thrill rides at the rooftop.
The centrifuge swing extends to over 60 feet. Moreover, this is beyond the side edge of the sleek hotel tower. The spin speed is over 40mph. That happens when the seats-arms open outwards to 70-degree angle.
This helps to provide the ultimate scariest experience of the city view. And the road 900 feet below.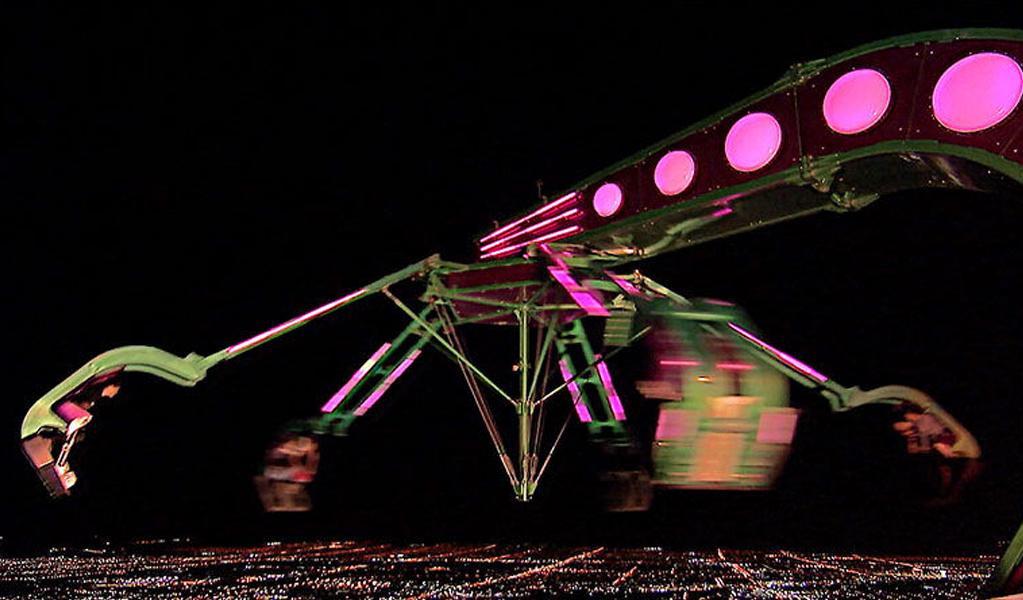 Fahrenheit: Hershey Park, Hershey, Pennsylvania
Behold Yourself: This lift coaster comprises a unique vertical loop.
That goes up 121 feet before plunging steeply down. And that results in a stomach-turning 97-degree negative drop. This is the steepest in the USA. Therefore, the descending track simply vanishes from sight. It gives a suspended surge thrill and of a freefall.
The riders continue to test their tolerance. As they pass a 107-foot inverted loop, a spine twisting inverted corkscrew roll, cobra and S-roll. Moreover, high-speed stomach-floating banked curves carry all to the end of the thrills. That takes about 85 seconds only.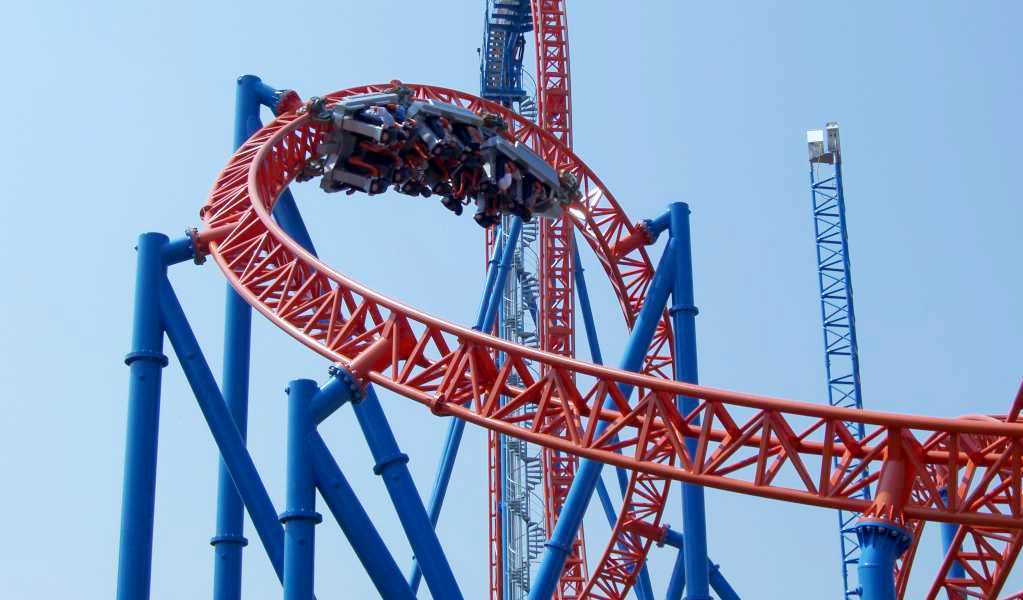 X2: Los Angeles, CA, USA
Behold Yourself: This roller coaster was commissioned in 2002 as a new four-dimensional thrill ride or 4-D. After massive refurbishing in 2007, it became more thrilling by induction of $10million jiggering equipment.
The new audio-visual effects, immerse tunnels, trains that extended seats off-track to sides. That enabled riders to rotate themselves independently head over heels, forward and backward—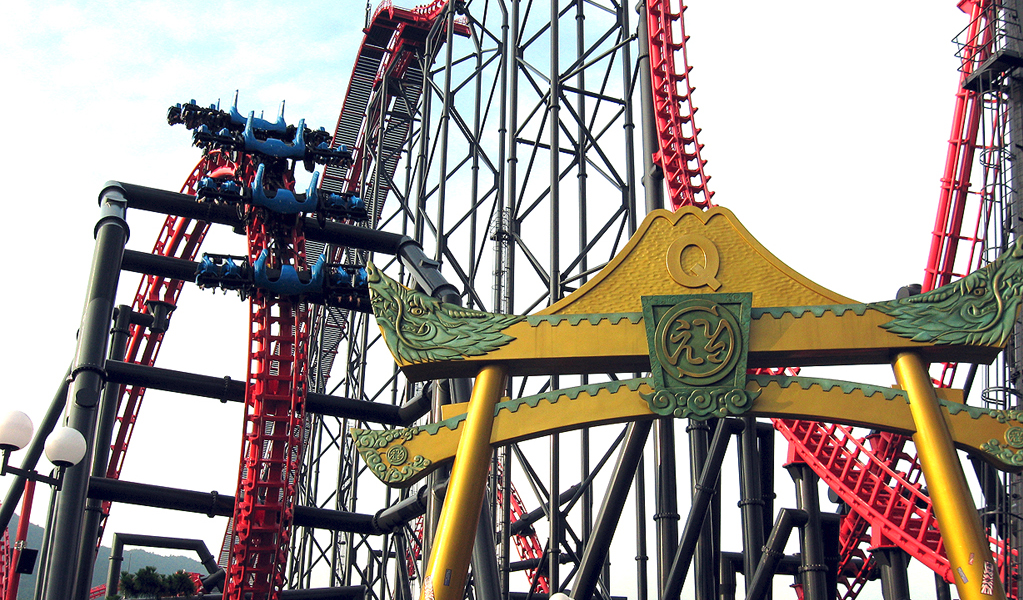 The Riddler's Revenge Thrill Rides
Behold Yourself: A very extraordinary fast roller coaster provides extreme effects.
But this time all activity happens. While you are standing and racing at 65mph. Looping, turning and twisting head-over-heels six times on one mile inverted steel track for about 3 minutes. A real thrilling extravaganza comprising 150 foot, 360 degree vertical and oblique loops.
Moreover, two over-the-top diving loops and 150-foot long barrel roll.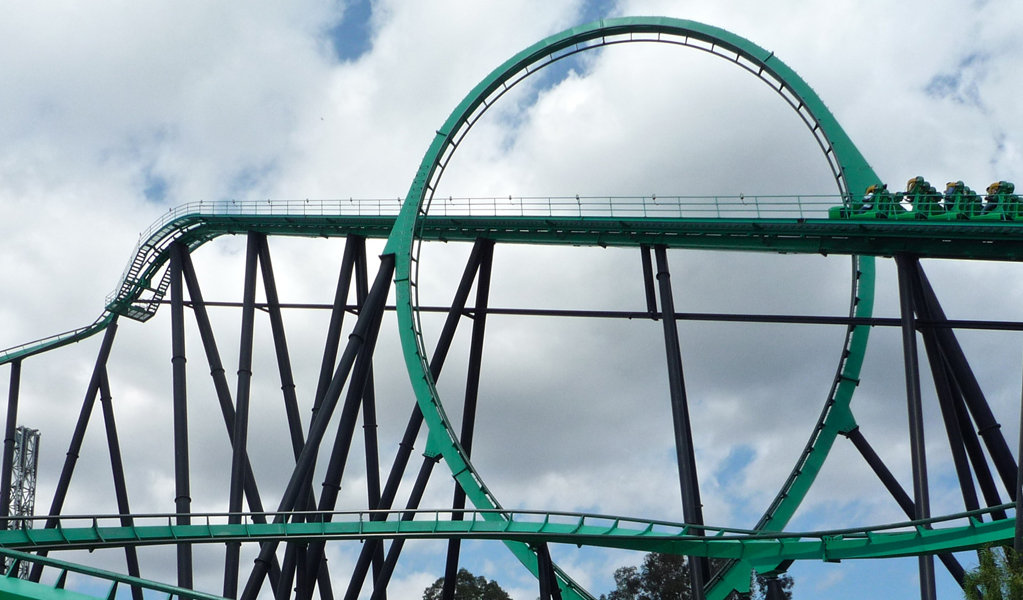 Superman Ride Of Steel: Agawam, Massachusetts
Behold Yourself: A roller coaster that wins Amusement Today's Golden Ticket Award (Oscar of amusement park industry) from among three of its kind.
Its fast speed of 77mph. A 221-foot drop into a tunnel and three camel-backs. Moreover, this includes a fantastic 10-second weightlessness experience are superb enjoyment thrill rides.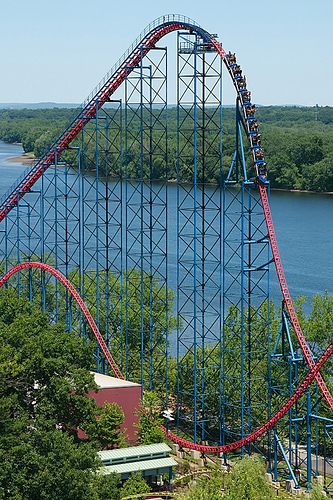 Superman The Escape
Behold Yourself: The escape journey starts in Superman's Fortress of Solitude.
It passes through a special effect tunnel. And it accelerates to 100mph. In just seven seconds to take you up to a 415-foot tower track. The thrilling surprise is the train's freefall straight down.
By giving a good 6.5 seconds weightlessness experience. This dual-track roller coaster spreads over 900 feet of the theme park.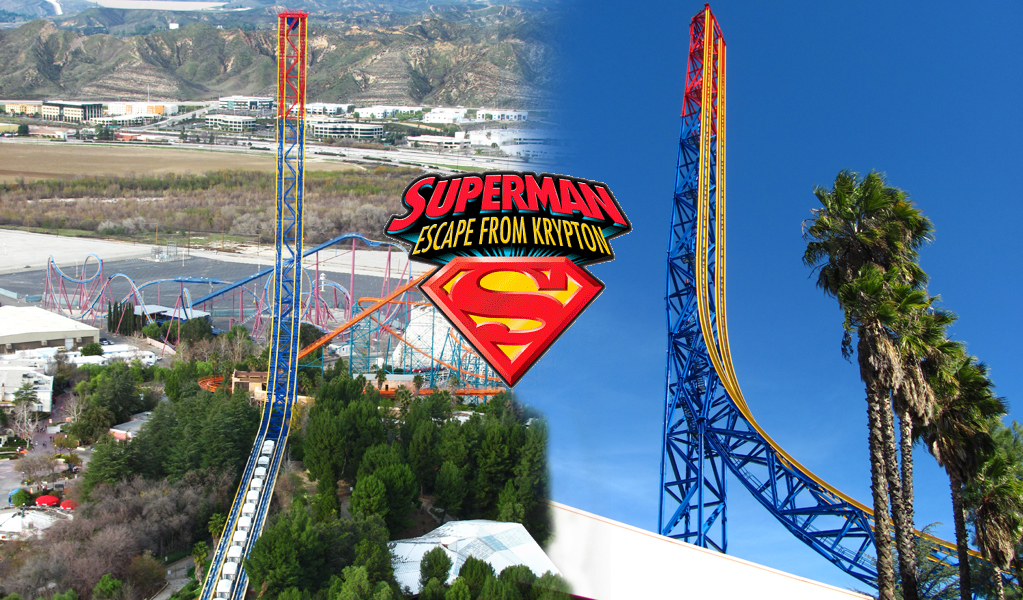 Twisted Colossus Thrill Rides
Behold Yourself: The dual-track coaster offers a massive thrill quantum.
As it spans over 1600 feet from end to end and spreading over 10 acres. This resembles two corkscrew spin drops of over 100 feet each and a climactic triple jump, besides 14 climbs and drops at a speed of 62mph.
The maximum elevation is about 135 feet.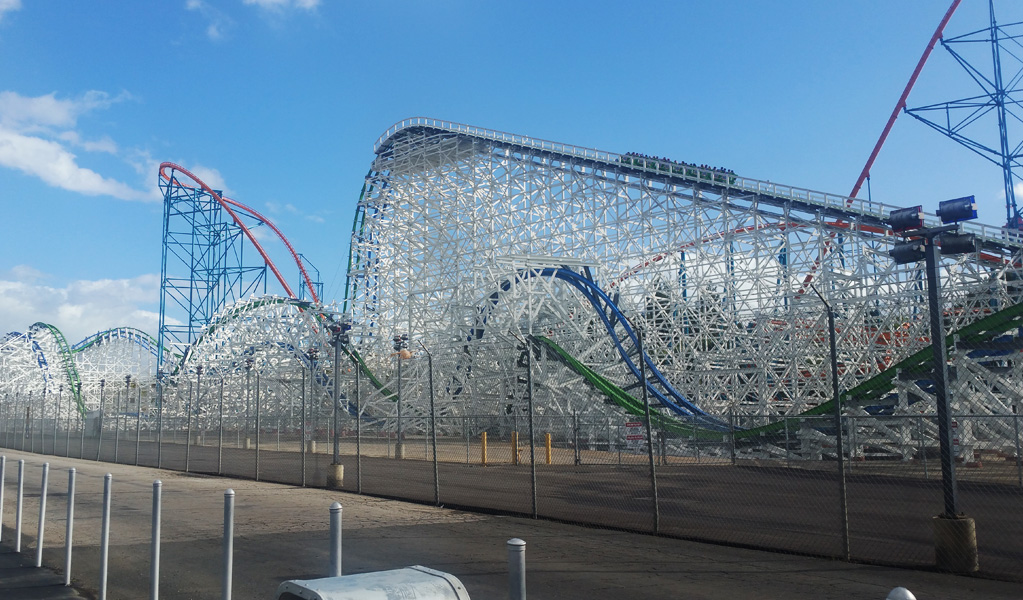 Six Flags Great Adventure, Jackson, New Jersey
Behold Yourself: The giant coaster towers a record 456 feet above ground. The hydraulic launch thrusts the roller coaster 'Kingda Ka' to the top at 128mph in just 3.5 seconds. And returns too at almost the same speed to maximize the stomach-turning thrills. The ride ends in a 270 feet spiral track.
This ride helps to exhaust the rider's joyfully, experiencing both the positive and negative G force thrill rides.
A safari park is an added attraction for those who are less bold. The drive through wild-park holds all variety of animals. About 1200 lions, rhinos, giraffes, kangaroos etc. roam about and are easily spotted. The more ferocious types are secured behind bars.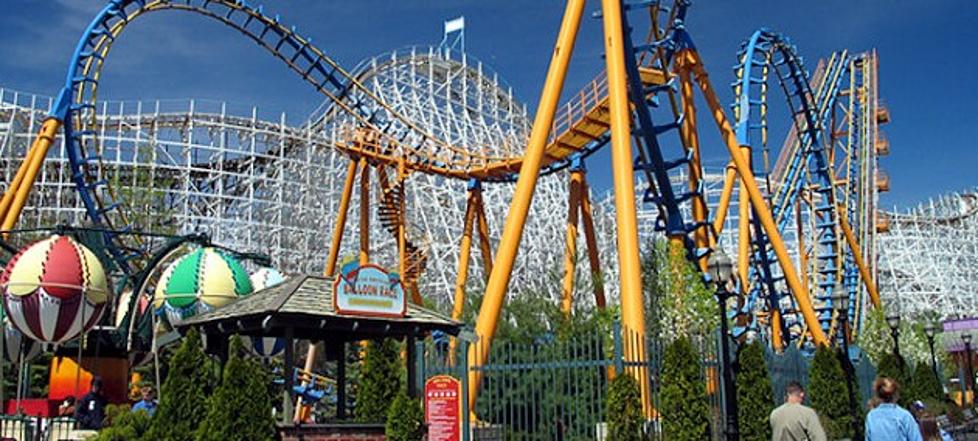 Dreamworld, Gold Coast, Australia
Behold Yourself: The Gold Coast holds the fastest and tallest thrill entertainment.
The dual-track coaster climbs a heart-stopping 377 feet and descends at 100mph (4th fastest). A zero-gravity drop extends further by about 500 feet.
The park holds alternate attraction for the less enterprising. The Australian Big Brother House maintains caged wild life shows. And the Tiger Island Dream world holds big-cat habitat.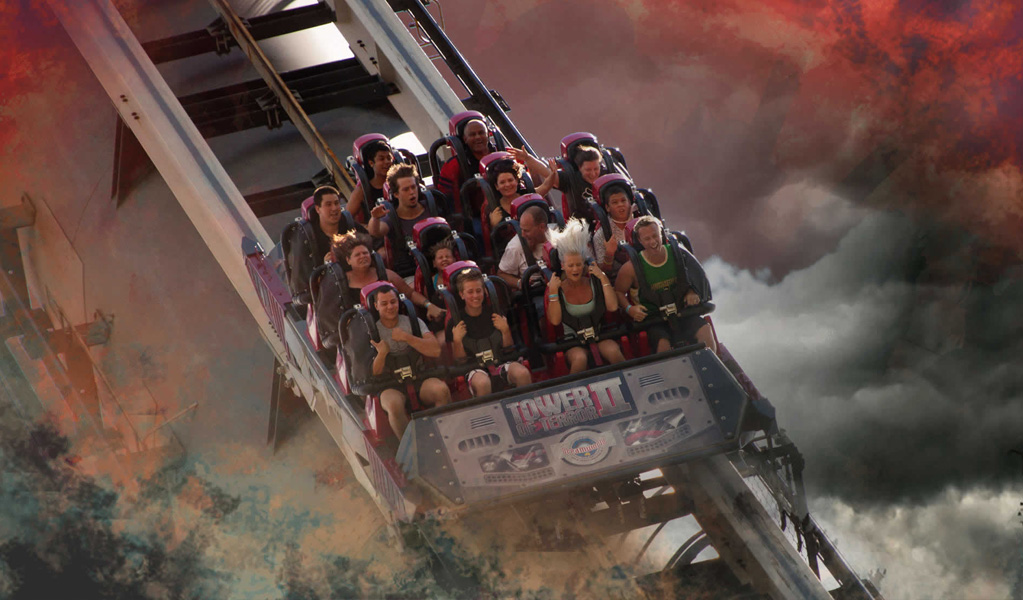 Expedition Ge Force, Holiday Park, Habloch, Rhineland, Germany
Behold Yourself: One of the top class coasters in the world.
That are most satisfying and provide long duration and well spread out ride. The harrowing journey attains a height of 200 feet and exceeds 74mph.
though less thrilling but makes the stomach float repeatedly.
Those looking for a still milder thrill can opt for the Light House Tower that is a circular swing. But remember this too is taller than expected———-300 feet above ground.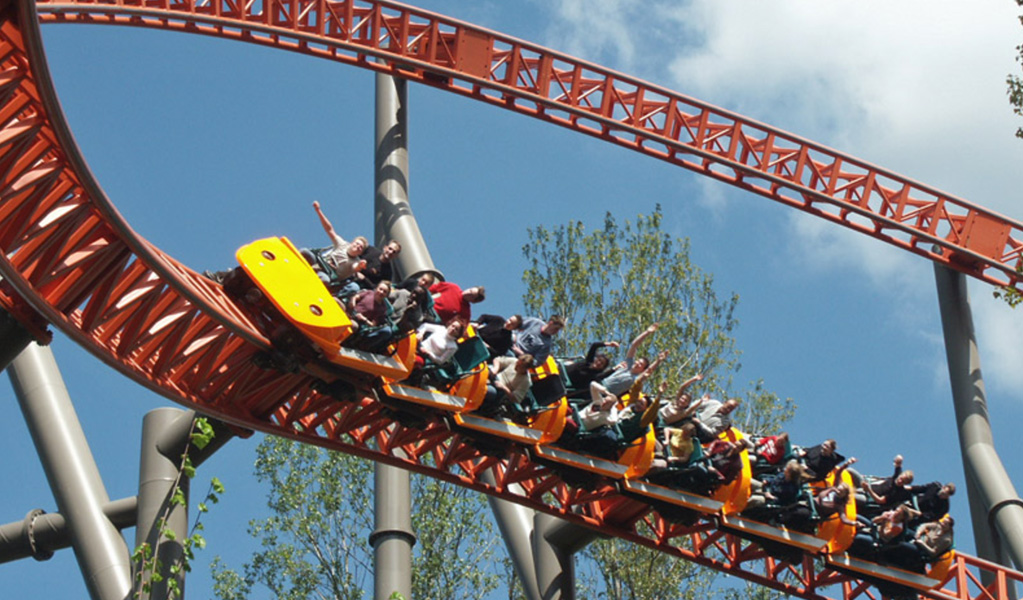 Cedar Point Amusement Park, Sandusky, Ohio
Behold Yourself: This park is termed as roller coaster home and houses 17 different thrill rides giving a vast choice. The latest addition ($ 21 million) is the milder best.
It runs at 70mph giving eight airtime filled hills including countless twists and turns. The 2.5 minute full of joy thrill rides holds an unusual surprise for the riders.
The Millennium Force, another super coaster Wicked Twister, lifts to 310 feet and drops 300 feet at 80 degrees.