Syed Sadequain Ahmed Naqvi was a world-renowned Pakistani Art legend. He was best known for his independent real creative art and novice trends in Islamic Calligraphy. His original superb themes and huge murals dwarf many and some are still regarded as matchless in the world. His international recognition was due to the introduction of new initiatives and trends in art and particularly poetic calligraphy which was almost nonexistent then.

Syed Sadequain Ahmed Naqvi The Ultimate Artist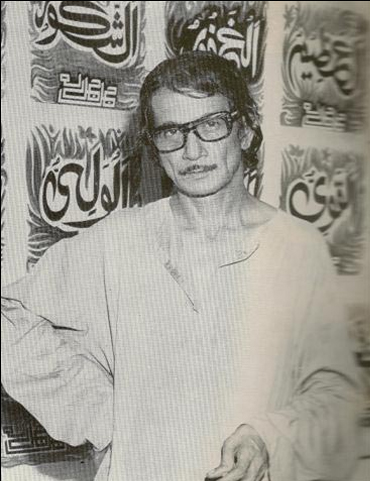 was born in 1930 in Amroha and he died on 10th February in 1987 at the age of 57 years in Karachi, Pakistan.
He was a self-made, self-taught painter, completely untraditional and above all, shows no signs of being inspired by any other master of art who lived before him or at his time.
Sadequain received well-deserved decorations.
1960 – Government of Pakistan — " Tamgha-e-Imtiaz"
1961 – Government of France — "Biennale de Paris"
1962 – President of Pakistan — "President's Medal of Honor"
1975 – Government of Australia — "Cultural Award"
1980 – Government of Pakistan — "Sitara-e-Imtiaz"
Sadequain was a master genius of his own self-inspired school of thought and different from other great artists like Michael Angelo and Leonardo de Vinci. This fact was proved later by the performance presented by him in his early life. Like many other masters he too was completely obscure, until he was noticed, hand –picked and appreciated by the notable lover of art Mr. Hussain Shaheed Suhrawardy. It is natural that a true genius sees the limelight once and then the "limelight" itself focuses on him and seldom misses him till the last day. He had stepped into the open world to breathe and expose his talents independently – and this he did with utmost honesty without being distracted by worldly glamour.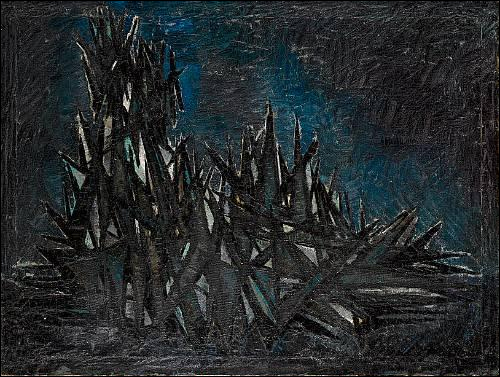 Sadequain projected his abilities and hidden talents by his masterly performance in his mid twenties. This comparative quicker recognition laid the foundation and encouraged him to present his true inner feelings in his artworks. Soon he created his own independent place in the world that remained still unmatched, in certain aspects, during his lifetime and even after. He was only 30 years when he received his first award in 1960 and 32 years when the French Government decorated him.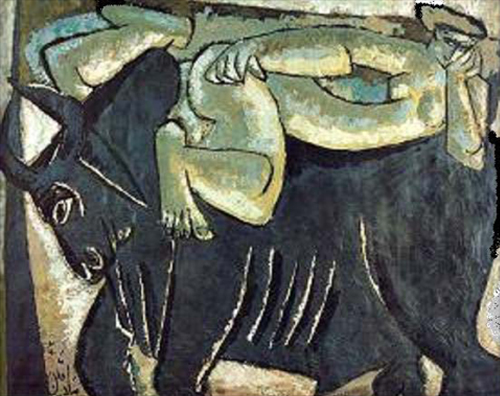 Sadequain was one of the most hard-working artists that the world has seen. His non-stop untiring career was very unusual for all his critics too. Wealth had least attraction for him and avoided to paint for the rich. He preferred to gift away thousands of his art productions instead of selling. Numerous works were stolen and he least bothered about them.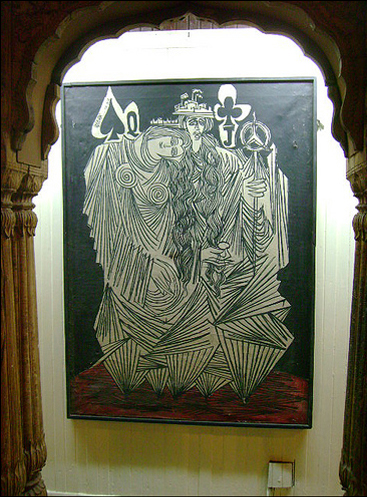 He believed in realism and lycricism. He was miles away from imaginary fairytale, flower and fona themes and stuck to basic worldly realities till his last day. The Novice style of his presentation of Quranic and Poetic verses created an everlasting impact on Pakistani Art. The non-existant calligraphy has changed into a culture and this new introduction is still flourishing beyond bounds and spreading inspiration worldwide, even after a quarter century beyond his death. Now his style and his paintings are also being copied extensively in Pakistan. Infact this piracy is promoting his school of thought, unnoticed.

Sadequain once saw a tough cactus tree growing and flourishing in a desert. He was spiritually impressed by the difficult lifestyle in extreme tough surroundings of this self-growing plant. This impression is often reflected in Sadequain's tough and rugged human figures that seem unnatural, but actually he intended to expose the rigid uneven patterns of the life spent by the deprived. His works and productions are discernable and can easily be singled out. His unique independent style, objective concepts and presentation modes cannot be stolen by just putting on new names – but can only be copied along with his signatures.
Murals
The most difficult and impressive works of Sadequain were the long spans of walls and ceilings painted under different themes of social nature. Surprisingly most of these were donated free of cost, although these could have fetched millions. Some of these are ranked longest and largest in the world. His murals mostly carried closely knitted images and fine details filling every inch available, which in itself is a unique quality aspect. He painted to his satisfaction and did extreme justice to the subject in production – but in his own inspirational style.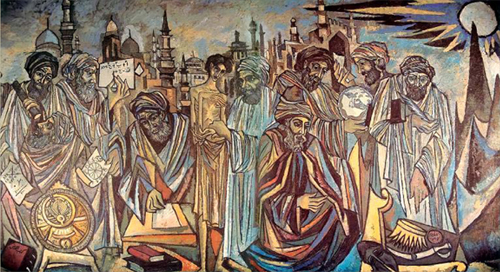 The following are a few of his memorable works and exhibitions;
1954 – Solo Exhibition in Quetta, Pakistan
1955 – Mural at Jinnah Hospital, Solo Exhibition at Frere Hall and at residence of Mr. Suhrawady.
1961 – Mural at State Bank of Pakistan, (62 x 10ft) titled as "Treasures of Time". This mural illustrates human scientific development from Socrates to Einstein and Muhammed Iqbal. He was invited to France to illustrate French Nobel Prize Winning writer Albert Camus.
1963 – Several Exhibitions in USA
1963 – Illustrated "Le Etranger" in France
1967 – Mural at Mangla Dam Power House (200 x 30ft) titled as "Saga of Labor" This mural lime lights the importance of the working class and its contributions in a society. Completed in 3.5 months only.
1968 – Mural at Punjab University Library, titled as "Quest of Knowledge"
1969 – Calligraphic redention of "Sura-e-Rehman"
1973 – Murals at Lahore Museum entrance Hall and others (100 x 35ft) titled as "Evolution of Mankind"
1974 – Exhibitions in Middle East and Eastern Europe.
1976 – TV. Series "Mojiza-e-fun" on Sadequain Art.
1977 – Illustrated Mirza Ghalib (Indian Poet)
1979 – Mural in Abu Dhabi power house (70 x 12ft)
1981 – Murals painted at Aligarh (70 x 12ft), Banaras (70 x 12ft), Hyderabad and Geological Institute of Delhi, India (70 x 25ft)
1985 – Illustrated Faiz Ahmed Faiz (Pakistani Poet)
1986 – Mural at Frere Hall titled as "Arz-o-Samawat" (heaven and earth)
The above fantastic monumental murals in vast spans of art were specific and special feature that has no parallel yet in Pakistan. He completed about 35 hefty murals in his lifetime. However some of them have gone missing with no trace.
These historical works are now time fading and show signs and scars. The institutions responsible are not doing much to save these treasures, which want to see another "Sadequain" to restore them back to their original position.
Sadequain very successfully illustrated world renowned poets. He was invited to France to illustrate Nobel Prize winner Albert Camus. He being inspired, also adequately painted other poets like Mirza Ghalib, Faiz and Muhammed Iqbal ("Aftaab-e-Taaja"9' x 6'). He also himself expressed his feelings verbally in somber notes and published "Quartets" and "Rubaiyats" that are considered of high class and appreciated. His verbal reflections also described the basic realities of this tough life as did his artwork.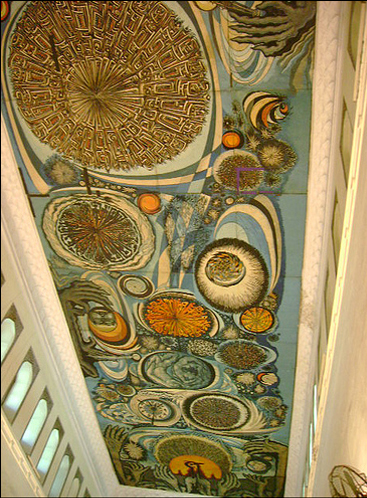 Sadequain was a true genius. This quality is visible in all his art productions and calligraphic masterpieces. He did not follow any traditions and rather initiated his specific school of thought. His own style legacy will continue to inspire future artists and calligraphers of modern times. His this vivid transformation of words, verses and feeling of the others to the canvas in detail, will remain his domain unmatched for decades to come.
The ultimate mastermind developed unique ideas to project his observations. He painted Crow series that depicted the worthy and timid wealth worshipers losing self-respect to achieve their selfish ends. The Cobwebs series of paintings showed prevailing social mindset where cobweb render society speechless and inactive by malpractices of the powerful. Similarly Christ Series projected crime being committed under the nose of the law enforcers. Such realistic and bold projections could only have been made by a true at heart Sadequain.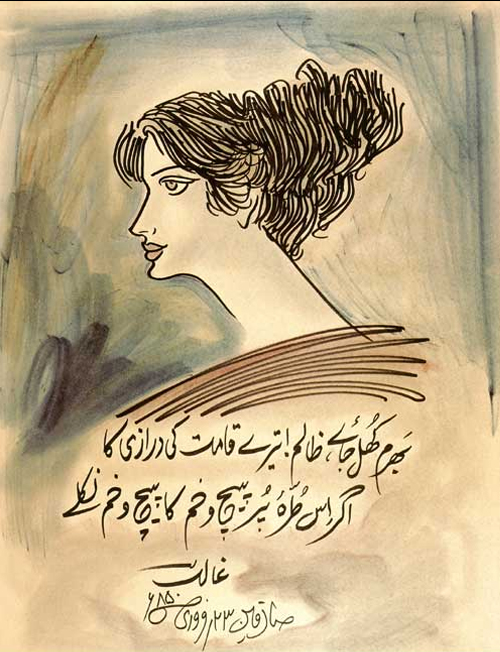 Sadequain loved to paint his heart out. His masterpiece redention of "Sura-e-Rehman", a Quranic chapter, was auctioned in London for $108'000. This new art version inspired many painters worldwide. He could have amassed millions from his uncountable paintings and even scribbings. But he stuck to his nature and preferred a continued striving life. Otherwise, the world would have lost a true genius and missed uncountable masterpieces of art. Nature is never unjust and rewards people according to their mindset. There is no doubt about the fact that world progresses by the selfless hard work of a few geniuses who sacrifice their leisure and pleasures to benefit the selfish mankind, who seldom find time to pay homage to these actual Ultimate Heroes.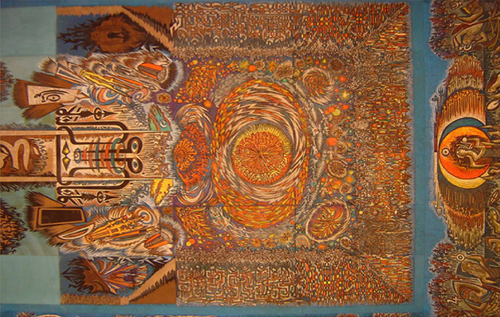 The Electronic media ran a TV documentary series "Mojiza-e-Fun". This highlighted extensively the different aspects of the mastermind Sadequain and his masterpieces that were exhibited worldwide. A book "The holy sinner" in (2003) comprised of 700 pages and displayed over 400 paintings and his works of art. This huge unprecedented tribute to one artist is unique in South Asia.
The Pakistan Post office issued a 10 stamp sheet let commemorating Sadequain and 9 other artists.
The Pakistan Newspapers often carry special features on him.
The French Le Monde appreciates his talents comparing him to famous Picasso.
The New York times describes his difficult artistic trends as "Upside Down Artist", Sadequain and calls him Pakistan's Pride.
UAE News appreciates his tremendous success and comments that crowds are attracted to all his exhibitions.
The ultimate Pakistani Art Legend 'Sadequain' breathed his last on 10th February, 1987, leaving his last mural "Arzo-Samawat" (Heaven and Earth) at Frere Hall Karachi, incomplete.
http://www.sadequainfoundation.com/paintings/