The world of gaming has come a very long way. Once upon a time, the days competitive gaming meant taking trips to the arcade to compete for that top slot of Pac-Man and Duck Hunt. That's when putting your initials in that number one spot really meant something! Today, the world of gaming is quickly becoming a force to be reckoned with.
For major sports, you have MLB, NBA, NFL, etc… Well, now there is the MLG (Major League Gaming)… a league of its own. The MLG circuit has actually built multiple arenas across the globe to host professional gaming events. They even have scouts out searching for the best gamers.
Gaming is More Than Just Playing Games
According to a study by the Entertainment Software Association, 155 million people play video games and 42% of Americans play video games an average of at least 3 hours or more on a regular basis.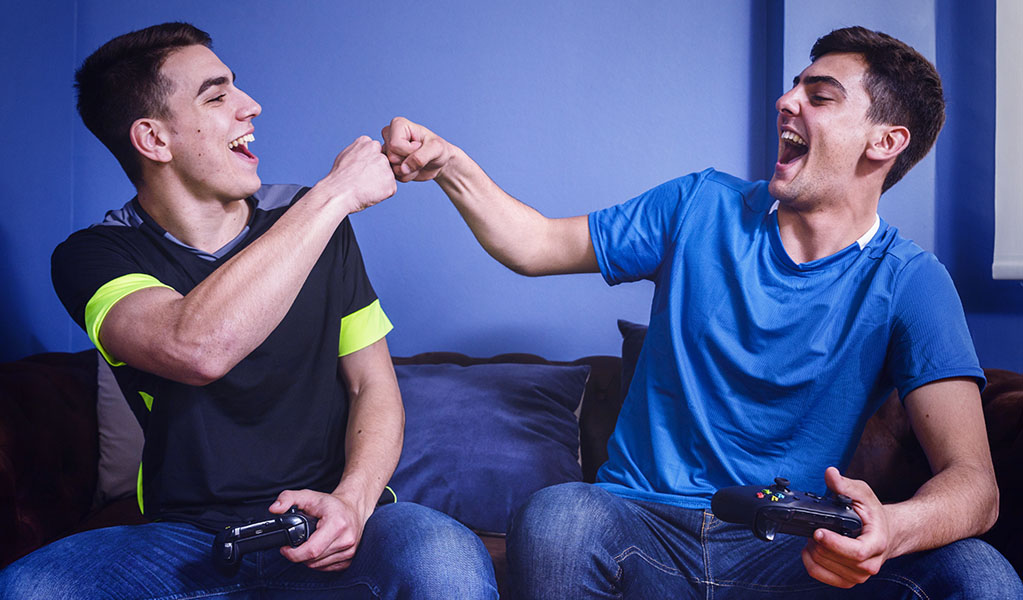 To become a pro gamer, and make a career out of it, what exactly does it take? Dedication. As with any career goal, you have to put in the work necessary in order to be successful. Pro gamer Ryan "Big Apple Pie" Gresty stated in an interview that professional gaming takes a lot of your time up, but it's all worth it when you're in a one vs one situation and you know which play to make.
Let the Gaming Begin: How to Become a Pro Gamer
As you know, becoming a pro gamer (for a living) isn't all fun and games… literally! It, of course, takes time and determination, but what people don't realize is that it also takes skill. As with any other trade, you have to practice and work on improving your craft.
Whether you feel like console gaming is the best or if your feel PC gaming is best, you have to pick one and stick with it in order to be a successful pro gamer. Here's what you need to do to step up to the challenge.
Pick the Game Best for YOU
This is where you're going to need to find your niche in games and hone in on it. You, of course, want to pick out a popular game that lots of people are playing, but once you find it, practice like your career depended on it… which it ultimately will if you want to become a pro gamer!

You also want to make sure while you're practicing that you build up your reputation by becoming skilled as a single player as well as a team player.
Speaking of Practice…
Practicing is essentially what will make you good at gaming. Practicing isn't just playing the game… practicing also includes:
Watching videos of other people playing your game of choice.
Studying the best moves and tactics.
Learning how to lose
Studying the characters
Talking to other gamers
Professional athletes work hard and practice to improve their craft. As a professional gamer, you need to have that same mindset. Business Insider did a story on Golden State Warrior's Stephen Curry stating that he might be the best shooter in the NBA and it's all due to his hard work and intense preparation to excel in his craft. Now, who says you can't have that type of work ethic? It will certainly pay off at the end.
Change the Game with the Right Equipment
If you have the goal of making it in the world of gaming and being successful at it, you absolutely MUST have the proper equipment. The key to picking out proper equipment is making sure it performs well and suits your way of life.
A customizable desktop is perfect for making sure you have the most up-to-date software, while a gaming notebook will be perfect for meeting up with teammates. Another big must-have in the gaming industry is a gaming mouse. Gaming mice allow for precision aiming plus they have amazing battery life.
Join the Gaming Community
Gaming is about being a skilled player individually, but it's also about being a good team member. Before you make the ultimate decision to go pro, explore the rules and what it's like to be part of the gaming community.
Teamwork Makes the Dream Work
After playing for so long, you will have established a reputation as a heavy competitor. Once you've reached that status, you'll want to start looking for a team… if you're really good, teams will come looking for you!
Compete in Tournaments/ Get Sponsored
Once you start getting good, you'll want to start entering tournaments, either as a single player or with a team. You'll want to test your skills as much as you can in local tournaments as well as online tournaments. Sponsors will be great for helping you get the equipment you need and just for overall competing needs.