If we sit down to list all the creative, productive and valuable things we can do on weekends, that will not only be advantageous for our careers but also gratifying for ourselves and turn us into worthwhile human beings, there won't be any end. But we can just be stuck with gymnastics movies.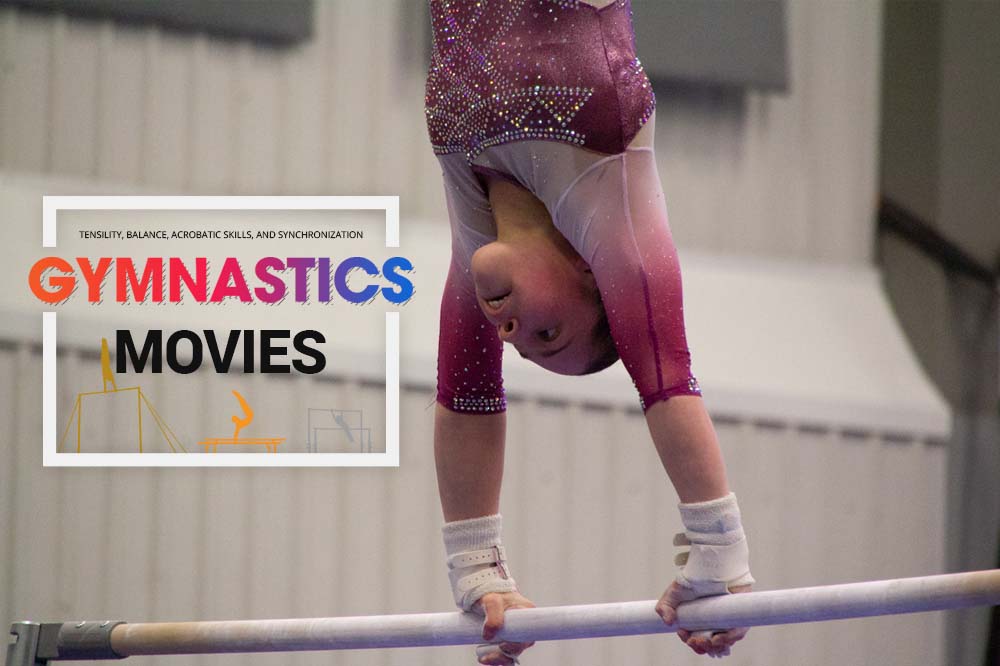 So, like any indolent student – let's not do it.
Instead, let's start a Movie Marathon! Because what's a better way to spend your weekend than watching back to back movies and eating junk food as you procrastinate on your assignment till the last moment while fending off nagging voice from your conscience? Huh?
Some of The Top-Rated Gymnastics Films Ever Made
That will inspire you and motivate you to reach your full potential.
ABC After School Special (The Gymnast)
Summary: The story follows a 16-year-old girl who's determined to become a world-class gymnast. But that's easier said than done. On the way, she has to deal with a lot of things, struggle with unwavering obstacles and give up even more things, like food.
What we Think: A sneak peek into the daily life of an aspiring gymnast.
Year: 1980
Rating: 9.3
Lead: Male & Female
Genre: Adventure, Comedy, Sport
White Palms
Summary: The story of a 30-year-old gymnast Miklos, suffering from deep psychological scars as a result of his brutal training during childhood. He moves to Canada to start fresh as a coach but finds himself repeating the same cycle and inflicting the same agony on his pupils. Enters a young and troubled kid, with the potential to become world champion, who might be Miklos only chance at redemption.
What we Think: A beautiful and heart touching story of redemption.
Year: 2006
Rating: 7.5
Lead: Male
Genre: Drama, Sport
Nadia
Summary: Biopic of Nadia Comaneci, who receive 7 perfect 10's in the Montreal Olympics 1976, took to the uneven bars on Sunday 18 July. and became the first and youngest gymnast to achieve that feat. A realistic uptake on how much effort goes into gymnastics.
What we Think: An inspiring tale that is perfect for up and coming gymnasts.
Year: 1984
Rating: 7.4
Lead: Female
Genre: Drama, Sport, Biography
Jump Ashin
Summary: The story of a Taiwanese boy who's only ever loved gymnastics and trained for it his whole life. However, his mother fails to see his devotion and takes him off the school gymnastics team, where he was training for the national team. Dejected upon having his dream snatched from him, Ashin falls in with the wrong crowd, encountering drugs and fights. After hitting rock bottom, the boy realizes the importance of his dream and decides to give it another chance.
What we Think: Pretty well-executed and finely paced. Plus the main actor is cute!
Year: 2011
Rating: 7.1
Lead: Male
G>nre: Drama, Sport
Kukolka
Summary: The story of a young Russian gymnast forced to quit her sport due to an injury. She returns to the life of an ordinary teenager but the world that raised her was anything but ordinary. The movie takes an intense, dark and horrifying turn that is sure to keep you on the edge of your seat.
What we Think: It is as disturbing as it is unforgettable. The movie shows the dark side of sports and how it affects young minds.
Year: 1988
Rating: 7.1
Lead: Female
Genre: Romance, Sport
The Gabby Douglas Story
Summary: Biopic of Gabby Douglas, who became the first black gymnast in Olympic history to achieve the All-around champion title. She was also the first American to win the gold medal in both individuals as well as a team competition. This gymnastics movie shows how many obstacles she had to overcome to gain that achievement.
What we Think: Thankfully, a person of color in the gymnastics world at last.
Year: 2014
Rating: 7.1
Lead: Female
Genre: Drama, Sport, Biography
Fall Out
Summary: Biography of Ariana Berlin, an American gymnast who suffered crushing inquiries in a car accident. As a result, she was forced to quit competitive gymnastics. However, she didn't give up and started gymnastics again after her injuries healed. She learned the sport from zero through dancing before making her way to the top and participating in the competitive gymnastics.
What We Think: The story teaches us about how we should never accept defeat even in the face of extreme adversity.
Year: 2015
Rating: 6.5
Lead: Female
Genre: Drama, Sport, Biography
The Gymnast
Summary: A romantic story about a talented gymnast who was forced to quit competing after a fatal injury and a mysterious dancer who fights society's ideas of gender and sexual identity. Both find solace in each other as they prepare their act to audition in the Los Vegas Show.
What we Think: Cinematically beautiful with an alluring story.
Year: 2006
Rating: 6.4
Lead: Female
Genre: Drama, Sport, Romance
Stick It
Summary: The movie follows Haley, a 17-year-old gymnast who was previously a world champion but went into self-imposed retirement when she realized the unfairness of judging rules. Because of behavioral issues and brush ups with law, however, she finds her at an elite gymnastics academy and forced to participate in competitive gymnastics once again. With her rebellious nature, she starts a revolution in the gymnastics world.
What we Think: A truly inspiring story that also shows gymnastics is not as fair and beautiful as it looks.
Year: 2006
Rating: 6.4
Lead: Female
Genre: Drama, Sport, Comedy
Perfect Body
Summary: The story of a talented 15-year-old gymnast who dreams of becoming a part of the Olympics team. However, she develops eating disorders under the strict training of her coach. The movie follows her as she struggles with her eating disorder in hopes of having a perfect body.
What we Think: A disturbingly realistic outlook that reveals the truth behind the perfect and beautiful bodies of gymnasts.
Year: 1997
Rating: 6.3
Lead: Female
Genre: Drama, Sport, Family
The Bronze
Summary: Former Olympic medalist is living off of her celebrity status in her hometown, even though she's broke and poor. Forced to take action upon hearing that a young and talented gymnast might be taking over her position. On the request of her former and now head coach, she agrees to train the new gymnast. But all is not as fair as it seems. With behind the scenes scheming, romance and relationship drama, you'll be rolling on the floor laughing.
What we Think: A movie made for gags. Just focus on laughing.
Year: 2015
Rating: 6
Lead: Female
Genre: Drama, Sport, Comedy
An American Girl: McKenna Shoots for the Stars
Summary: One of the family drama gymnastics movies, based on the American Girl series books written by Mary Casanova, is the sixth movie of the series. It follows the life of an adolescent girl as he struggles to achieve her dream of becoming an Olympic gymnast. However, her parents oppose her decision and want her to focus on her studies instead. The movie shows the conflict as the young girl tries to maintain a balance between dream and reality.
What we Think: A perfect movie for young adults who want to follow their dream but are afraid of not achieving it.
Year: 2012
Rating: 6
Lead: Female
Genre: Drama, Sport, Adventure
Raising the Bar
Summary: The story of a 16-year-old gymnast who was previously a part of an elite gymnastics program. However, she quitted because of mysterious reasons. After moving to Australia to get away from gymnastics, she is yet again forced to become part of this world in order to help a friend. The movie follows her as she makes amends for past mistakes and her reasons for quitting are revealed.
What we Think: A family movie heavy on the drama category but overall fun.
Year: 2016
Rating: 5.7
Lead: Female
Genre: Family, Sport
Flying
Summary: A teen movie about a teen gymnast champion whose life takes a turn for the worse, when she receives injuries in a car accident that also kills her father. This gymnastics movie story follows our female lead as she tries to overcome odds, find love and achieve her dream.
What we Think: A perfect movie for teenagers. Who can resist a Teen Keanu Reeves?
Year: 1986
Rating: 5.4
Lead: Male
Genre: Romance, Drama, Sport
A 2nd Chance
Summary: A typical story of the rivalry between two adolescent girls. Both are trying to land a position on the national gymnastics team. While one is a plain Jane, the other is Miss perfect. The movie follows these girls as they face obstacles in life and grow up.
What we Think: A perfect film for young adults to watch and enjoy with their families.
Year: 2011
Rating: 4.9
Lead: Female
Genre: Drama, Sport, Family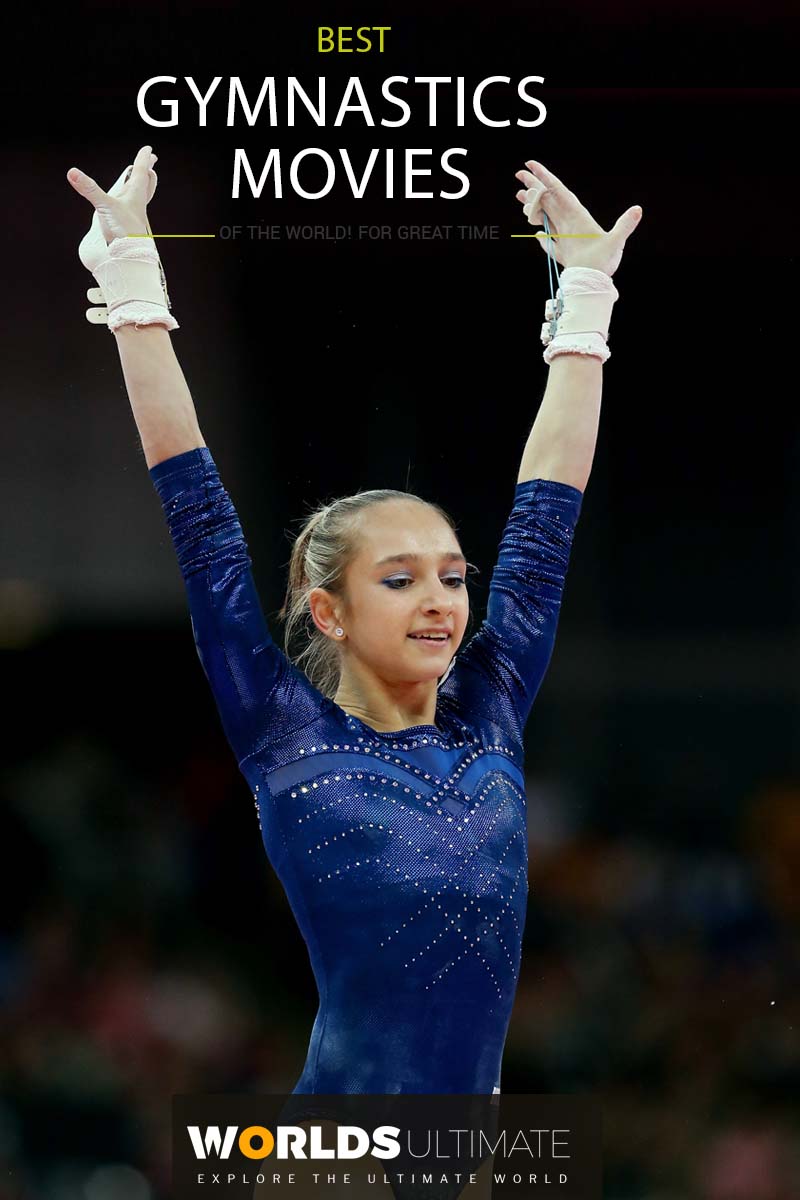 Closing Notes
Sports are unique in this way because they physically manifest a person's spirit, efforts, and struggle. Things that are otherwise abstract and taken for granted because of it. People doing sports not only train their bodies but also discipline their minds as well. There are many things you can learn from watching sports and gymnastics movies and more if you actually do them. But let's not think about that right now. Without further ado, watch on!