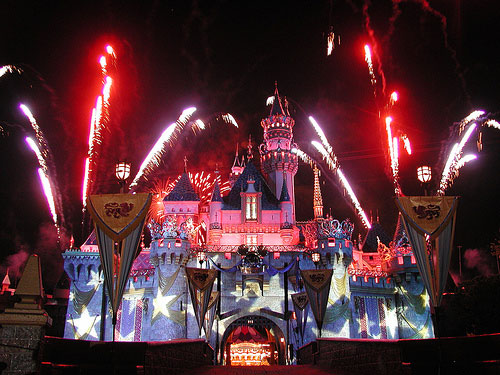 Disneyland Park
Disneyland has developed into a key Resort of USA. All locals and foreigners desire to visit this fantastic creation that instantly recalls youth days in the visitors – although for a few hours. In 1959 Soviat Premier Nikita Khrushev, during his state visit, desired but could not go there for security reasons. This dejected Walt Disney also, who wished to show him his World's largest fleet of sub-marines. Walt Disney and his team is creating, adding continually and updating attractions and enjoyment facilities to create an impression of First Visit on each repeat visit.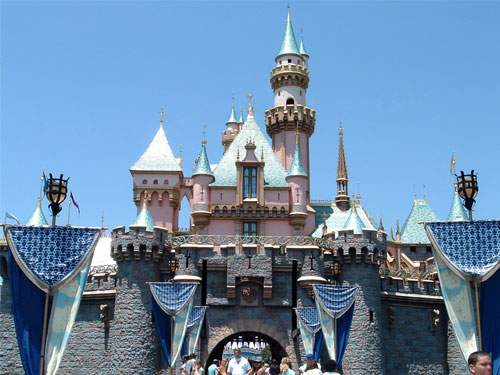 Disneyland – History
Walt Disney visited Griffith Park with his daughters Diane and Sharon. A floating idea generated that adults should also have fun with children in recreational parks. This concept gained impetus when his father developed grounds for the World's Columbian exposition in 1893 in Chicago. Hence, the birth of Disneyland took place. He conceived a land filled with stages, pools, play grounds, rides, slides, stucco buildings, all designed to represent historical shapes and landscapes, recalling child-hood, fairy land stories and images. This entire wonderland encircled by narrow gauge rail track with old time engines and bogies.  However, all this imagination could take physical shape much later in 1950's.
Walt Disney originally planned an 8 acre "Mickey Mouse Park" on Riverside Drive. He explored existing parks everywhere for new ideas. He was soon convinced that he needed a much bigger area for his imagined park. His consultants encouraged him, so he soon acquired a 160 acre (0.65 square km.) land of orange grove and walnut trees in Anaheim, Orange County, near Los Angeles. The next target was to manage huge funds needed to build structures representing minutely the 19th Century period buildings, themed figures with corresponding surroundings, attractions, rides etc. He probed and decided to use the then popular ABC TV for ads. In return the network agreed to finance the projected park.
Disneyland Inc. was formed for five years with partners Walt Disney Productions, Walt Disney, Western Publishing, and ABC. By 1960 Walt Disney Productions purchased back all the shares from its partners.
The construction of the park began on 18th July 1954 with estimated cost of US$ 17 million and was completed in 1 year. The approach was available from US Interstate Route Five. This road was expanded by two lanes to accommodate the expected increase in traffic load to Disneyland.
Opening Day – 18th July 1955
"International Press Preview" event was organized on 17th July 1955 for media / press and guests by invitation only and for dedication. ABC live broadcasted with extensive coverage of the Park complex.
This grand opening preview somehow got mixed up and messed up into a bizarre event, and was later termed as "Black Sunday" by the executives and celebrated as such for many years.
The problems started with the plumber's strike on a hot day (101oF or 38oC) which left the park drinking fountains dry. Pepsi had sponsored this opening event, so it was blamed for intentional soda sale promotional technique. The ladies high heels sank in the freshly laid asphalt causing movement problems. The park was over crowded through counterfeit tickets resulting in food and supplies shortage. A gas leak forced closure of many sections of the Park. People flew their children over others heads to reach rides. The resultant media publicity was very adverse.
Walt Disney re-invited the press later to show them the true Disneyland along with a party in the hotel.
On 18th July crowds inflow started at 2 am. Walt Disney pre-reserved ticket # 1 for himself. The next two to enter were children Christine Vess Watkins (5 years) and Michael Schwartner (7 years), who were awarded historical lifetime passes.
1990: Park becomes a Resort
The Disneyland begins to expand. The adjoining areas are acquired. Separate hotels are built on each component park. The present structures are rebuilt or redesigned adding theme sections. The recreational fun areas are brought up to date. A six storey parking lot is constructed to house over ten thousand vehicles of "Mickey and Friends", the then largest in USA.
The management teams are reorganized, but they proved profit oriented and ignored maintenance for a decade. The criticism from public resulted in major managerial changes with maintenance being speeded up.
2003: Matt Ouimet was promoted as team leader of Disneyland Resort while Greg Emmer as Senior Vice President, operations. Both had enough experience at leadership posts within Disneyland network. They welcomed customer comments and restored maintenance procedures ensuring the initially devised safety standards. They inspected every site physically and often rode fun attractions for satisfaction.
2005: 50th Anniversary of Disneyland Resort
The eighteen month celebrations on 50th Anniversary started on 5-5-05 and were the longest ever held in all the Disney Theme parks throughout the World. Classic attractions were restored like Space Mountain, Jungle Cruise and Walt Disney's Enchanted Tiki Room. These celebrations ended on 30th September 2006, and were replaced by Disney Parks "a Year of Million Dreams" celebrations that lasted even longer ending on 31st December 2008 (27 months).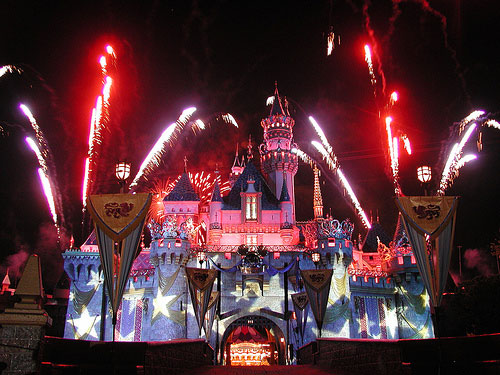 Park Layout
The eighty five acre park has four projections that extend from the Central Plaza. The guests get completely absorbed in amusements as they enter each section which are isolated for intersection sound interference. The different five theme lands are connected by passages.
Main Street, USA – is a 20th Century Mid West Town
Adventure Land – Jungle themed adventures.
Frontier Land – Showing Western Frontier
Fantasy Land – Converting Fancy into reality
Tomorrow Land – Future Lifestyle Explored
Additions at later years
New Orleans Square (1966) – 19th Century New Orleans
Bear Country – Themed like mountain forests of south. Later renamed Critter Country
Mickey's Toon Town (1993) – Theme on Film "Who framed Roger Rabbit"
Disneyland Theme Lands
1. Main Street, USA:
Walt Disney reflected his boyhood town memories of Marceline, Missouri, a 20th Century Mid-West Town. The designers and architects reproduced the main street appeal. This is also the first view to the guests on entry.
At the center of the Fantasy Land or the Magic Kingdom, stands Sleeping Beauty Castle, flanged by Adventure Land, Frontier Land and Tomorrow Land. The entrance is by a Draw Bridge. The Main Street USA recalls old culture showing Victorian period train station, Town square, City Hall, Theatre etc. The visitors ride vehicles on the Main Street that include Horse-Drawn street car, Double Decker bus, automobile and fire engine. These are replicas of the 1903 cars.
2. Adventure Land
This represents a tropical place in far off jungles of Asia and Africa. The attractions offers jungle cruise "Temple of Forbidden Eye" (Indiana Jones Adventure), Tarzan / Swiss family Robinson's Tree houses (A Walt Disney Film) and Enchanted Tiki Room employing Audio – Animatronics by sound and Robotics synchronization. Disneyland band replays the old Town Band on the Main Street.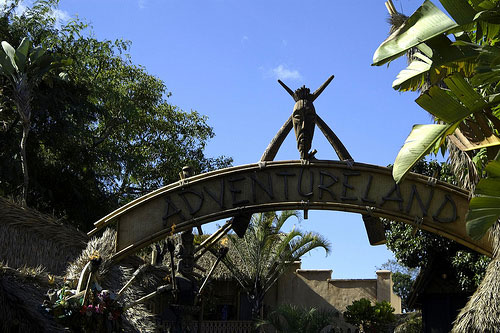 3. New Orleans Square
Opened in July 1966. It projects 19th Century New Orleans. Its popularity revolves around most appreciated "Pirates of the Caribbean" and "Haunted Mansion" The Blue, Bayou Restaurant is the only place in Disneyland that has a private members "Club 33" that serves alcoholic drinks.
4. Frontier Land
This theme land describes American Frontiers during the discovery days reflecting life and culture of the time. The Animatronics play Native American Band, Big Thunder Mountain Railroad, Mark Twain River Boat, Frontier Shooting Exposition and Sailing Ship Columbia. "Pirates Lair at Tom Sawyer Island" (2007) and Golden Horse Shoe Saloon that stages old west shows. "Billy Hill and Hillbillys" spread joy daily.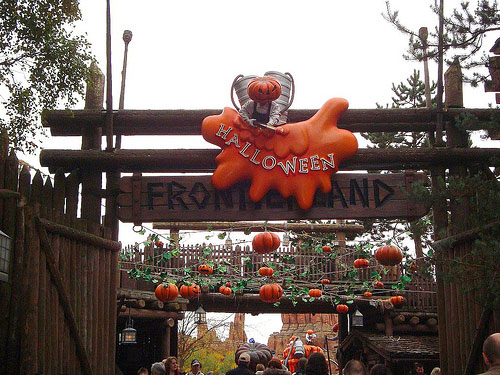 5. Critter Country
Originally Bear Country (1972) where Indian Villagers perform their dances etc. The attractions include Uncle Remus "Splash Mountain", animated segments of 1946 awards winning Disney's film "Song of the South". Winnie the Pooh adventure of dark ride now replaces Country Bear Jamboree that featured a singing bear.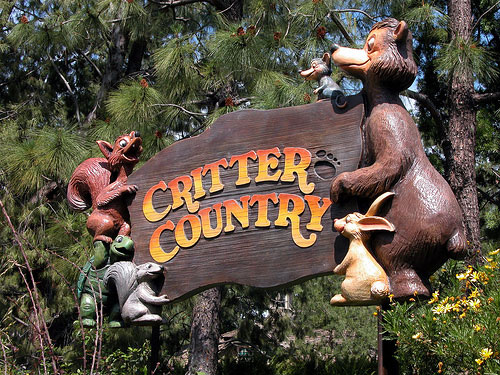 6. Fantasy Land
Childhood dreams are simulated to come true like flying with Peter Pan over moonlit London or jumping in Alice's Wonderland. These classic stories become lively and involve everyone. Some attractions are the King Arthur's Carousel, some dark rides and joyrides.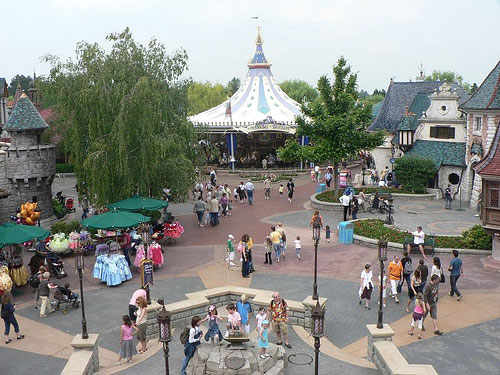 7. Mickey's Toon Town
The Walt Disney Studios 1988 release "Who framed Roger Rabbit", inspired the theme Mickey's Toon Town (opened 1993). His most popular cartoon character of 1930's features "Gadgets go Coaster" and Roger Rabbit's Car Toon Spin. Mickey Mouse and Minnie Mouse are in their homes here.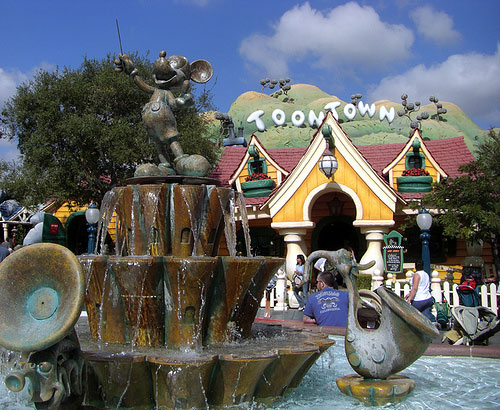 8. Tomorrow Land
In 1955, Walt Disney himself described Tomorrow Land to benefit the children for generations to come. Our scientists are opening the doors to Space Age. The attractions will offer opportunity to see the blue prints of our future – Rocket to the Moon, Astro-jets and Autopia.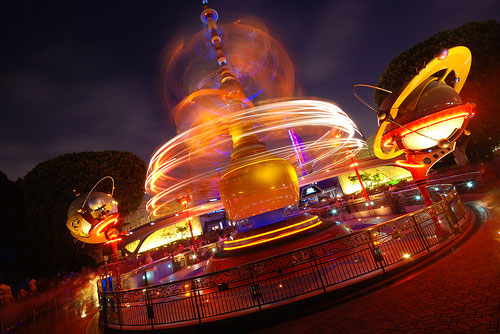 Theatrical Terminology
Disneyland is a World different and distant. The theatrical approach excites fantasy and drama symptoms in the thousands of visitors referred to as guests while employs are called cast members. The various terms make them feel the difference. Audience (crowd), Costume (uniform), Role (job), Script (rules / codes), Autograph (Signature on Receipt), Stage Managers (Supervisors), Office (Production Office), to mention a few.
Backstage
The area includes the storage, commodity handling, repair shops, building material and so on. This also contains employ residences, scrap yards, garbage store, resorts animal stables, and maintenance / paint shops. This is a "No Go" area for guests.
Disneyland Railway
Ever since Disney conceived the idea of a park, it included rail track encircling it. He engaged designer Bob Gurr who designed the track and engines in 1954. The initial engine fleet of 5 drove three trains on the three foot narrow gauge track. These ran around the park's outer perimeter and crisscrossed the various theme areas touching over a dozen old style stations. The Main Street USA is also the starting and final stop being nearest the Main Park's entrance. The Grand Circle Tour extends to the Grand Canyons.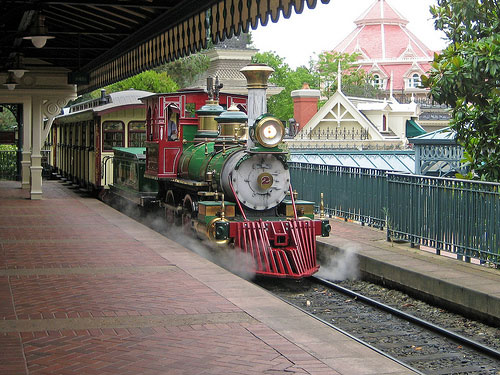 The Disneyland's main attraction, the Monorail Mark II was operational in 1959 in Tomorrow Land. It runs a track length of four kilometers. These light weight Mono trains ware out quickly. The most recent fifth Mark VII Generation train is in use installed in 2008, being especially created for Disneyland. Since 2001 new stations have been added.
Disneyland Helipad
Los Angeles Airways provided helicopter passenger service between Los Angeles Airport and Disneyland. This service was suspended in 1968 after two fatal crashes.
Fireworks
Elaborate fireworks shows are a part of daily displays since 1958. These elaborate fireworks employ latest techniques and equipment to provide adequate and un-boring entertainment. These also include recent Pyrotechnics System that reduces low level smoke and is environmental friendly.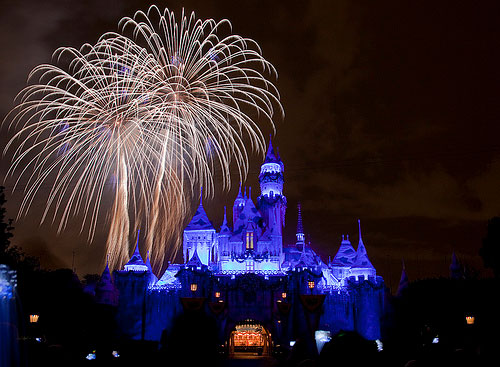 Golden Horse Shoe Revue
This Saloon offers live stage shows that stars old theme performances and comedy shows. It also stages musical programmes and humorous joke skits.
Parades
These had been a constant feature at Disneyland at day and night time since 2005, 50th Anniversary. The parades display classic stories like the Lion King, Little Mermaid, Alice in Wonderland and Pinocchio. During Christmas Disney presents a Christmas fantasy parade.
Tomorrow land Terrace
This is a two storey stage with one rising from below, producing special effects. In 1960 the musical performers used it and now Club Buzz stages a Buzz Light Year theme. Stage training and other programmes are also held for children on more modern topics.
Attendance
Every year the number of visitors rose steadily from 1 million in 1955 to 9 million in 1969. Thereafter the crowd varied between 10 million to 12 million a year. Now the number is static around 14 million a year.
Tickets
In the beginning, the park visitors paid a nominal entrance fee besides separate tickets for each entertainment facility. In 1982, Disney introduced 1 admission ticket for availing access to all attractions. This reduced checking/ticketing staff and procedures. The ticket value was $10.75 (1981) increasing to $69 in 2008.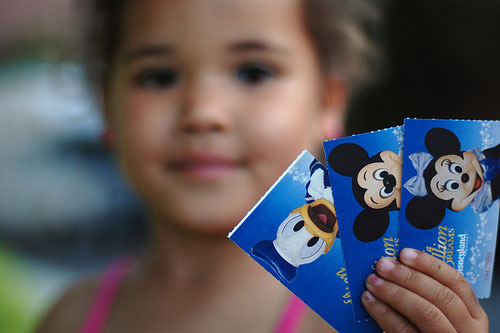 Fantasmic
This popular nighttime show started in 1992. The stage is Tom Sawyer Island and River of America, facing sections of Frontier Land and New Orleans Square, from where people view the show. Mickey Mouse with other characters and Disney's classic spirit perform to defeat evils that turn his dreams into nightmares. Synchronized lighting, floating barges, fountains, lasers and fireworks all are combined to create special effects on a 30 foot tall water screen upon which animated scenes are projected including a 45 foot fire breathing dragon.
Besides the attractions Disneyland provides live amusements all over the park. Disney characters greet children and pose for photos with them. Special characters are limited to theme lands. Mickey and Minnie mouse are found in their homes. They also climb Matter-Horn attraction daily.
Disney security personal perform military style flag (American) lowering ceremony daily at 4:30 pm.