Vatnajökull National Park in Northeast Iceland consists of breath-taking views at Dettifoss waterfall and is known to be the second most powerful waterfall in Europe. Dettifoss is situated on the Jökulsá á Fjöllum river, which flows from the Vatnajökull glacier and gather water from a large area in Northeast Iceland. The dregs-rich runoff colours the water a greyish white.
How was Dettifoss Formed?
The name 'Dettifoss' is translated as 'The Collapsing Waterfall!'
The mighty glacier river Jökulsá á Fjöllum fed the Dettifoss, which comes from the biggest ice cap in Europe, Vatnajökull glacier. The melted water flows off the glacier and travels through Jökulsá until it eventually reaches the Dettifoss waterfall. Jökulsá á fjöllum flows out to the Greenland Sea and is the second-largest river in Iceland.
Location of at Dettifoss waterfall
| | |
| --- | --- |
| Location | Northeast Iceland |
| Coordinates | 65°48′52.8″N16°23′04.1″W |
| Total height | 44 m (144 ft) |
| Average flow rate | 193 m³/s (6,816 cu ft/s) |
| Watercourse | Jökulsá á Fjöllum |
Flow rate
The falls are 100 metres (330 ft) wide and have a drop of 44 metres (144 ft) down to the Jökulsárgljúfur valley. In Iceland, it is the massive waterfall in terms of volume discharge, with an average water flow of 193 m³/s.
Roads that lead you to the phenomenal destination
Road 864-east bank (easy road)
This road passes from road 85 past Dettifoss on the east side towards road 1. This is a gravel road and driving speed relies on road conditions each time. Road 864 is closed during the wintertime due to snow or wet conditions and does not open until early summer (end of May).
Road 862-west bank (easy walking paths)
On the west side of river Jökulsá, Gravel road 862 is situated. The road is passable for normal vehicles. Up until 2011 this road was categorised as a mountain road (F-road) but is now served as a gravel road whose conditions in Iceland changes, so travellers are asked to be aware of road conditions.
Road 862 is closed during wintertime, due to snow or wet conditions (muddy road) and does not open until late May or early June. From Dettifoss onwards south to road 1, on the west river bank, there is a new, paved road which is passable for all vehicles. This road is not opened in January until the beginning of April.
What to do near Dettifoss?
When you visit Iceland to capture the perplexing shot of Dettifoss waterfall, here are some activities listed below you can do in Iceland: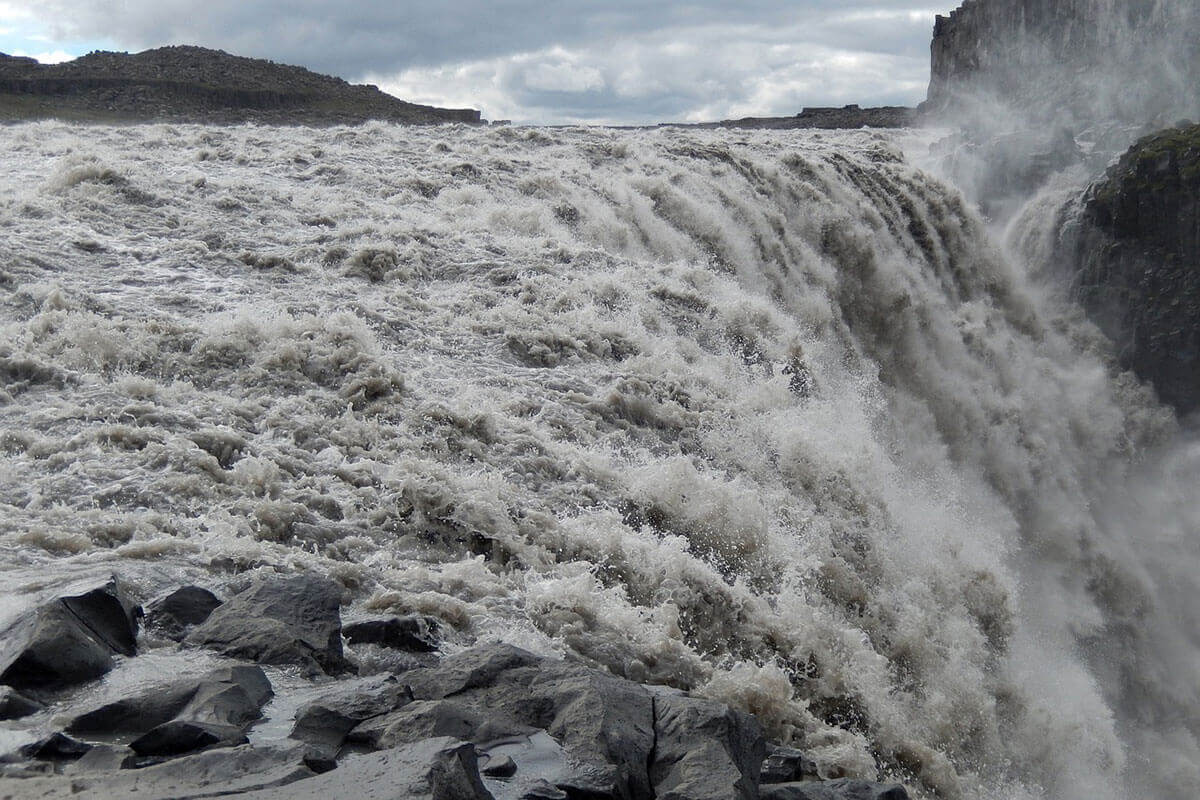 Go on a whale watching tour
Do horseback riding
Have a night out in Reykjavík
Visit lake Mývatn in North Iceland
Relax in the Blue Lagoon spa
Visit the West Fjords
Enjoy Jökulsárlón Glacier Lagoon
Have a dip in the natural hot pool
A 34km hiking trail goes along the Dettifoss to the canyon at Asbyrgi. It is a well-forested horse-shoe shaped canyon in Oxarfjordur.
The Capital of the North or Akureyri is the largest settlement in North Iceland with the largest town outside of Greater Reykjavík. A population of over 10,000 people live here.
Upstream, only a quick 1 km hike away you will find Selfoss Waterfall.
Jökulsárgljúfur canyon makes up a small part of Vatnajökull National Park and is at the North of Dettifoss.
Best time to visit Dettifoss
When you visit Dettifoss, spend up to 2 hours there.
During the summer the fall is at it's savage, with an average water flow of 400 m3/s and is more accessible in the way that during winter the fall cannot be accessed without the aid of crampons because of the risk of slipping. During the winter, icicles hang from the rocks and snow blankets the hills, but you can only see this for a few hours before the sun completely sets, and the waterfall is not visible at night.
Due to the closed gravel 'Road 864,' there is a new, paved road which allows all vehicles to pass from Dettifoss, South to Road 1, from the Westside river bank but this road is out of service from January until the beginning of April.
Overnight stays at Dettifoss
Vast nature of Northern Iceland is scattered. Within the close proximity to Dettifoss, there are no hotels or rest houses and the nearest town is almost 30 km away.
Within this radius there are a few options for guesthouses:
Bjarnastaðir Guesthouse
Grímsstaðir Guesthouse
Nordic Natura
Fosshotel Mývatn
There are a few campsites near to Dettifoss:
Camping Hljóðaklettar
Grimsstadir
Lifsmotun camping
Camping Myvatn
What to wear at Dettifoss?
It is necessary to keep good waterproof shoes and a jacket and have something to save your camera from the haze.
Don't bring a warm jacket in summer otherwise, you will feel too warm. Layers are essentials and it is better to have several layers with a lighter jacket in Summer.
Layers: This is the essential surviving rule in Iceland The weather changes constantly and you can never know how the temperature will feel, when the wind will pick up or when it will rain? So keep layers accessible and change with the weather by adding or removing.
Thermal underclothes, gloves, hats and scarf even in Summer. When the wind starts blowing you will be much more comfortable if you are wearing all that. It does not take so much space in the luggage. And it will be especially appreciated when waiting outside at night to see the northern lights!
Rainproof over pants are your new best friends. Wearing over pants is not comfortable but you will be able to sit anywhere to take pictures without damaging your clothes or getting socked.
To travel to Iceland, waterproof hiking boots are best. This way you don't have to worry about potential slippery paths.
In winter, the path to the waterfalls and other points of Interest can be snowy and icy. You should always carry ice Grips with you to add on your boots and feel stable and safe anywhere.
As you already know about the weather there, make sure you have something to protect your camera.