The ruler of Dubai, Sh. Muhammed bin Rashid al Makdoum, wanted Dubai to be known for something very special and unique.
Besides his intention to diversify from trade-based economy to a service and tourism-oriented. Burj Khalifa has returned the title to the Middle East once again, for having the tallest building.
This was snatched by Lincoln Cathedral, England. And it is done in 1311 from the Great Pyramid of Giza (Middle East). Moreover, it remained the highest man-made structure for four millennium years.
Design of Burj Khalifa:
Burj Khalifa is designed by M/s Skidmore Owings and Merrill. Moreover, Andrian Smith being the main architect until 2006.
This company also designed Willis Tower in Chicago, World Trade Centre in New York, besides numeral high rises. This design is similar to planned tower Illinois, a mile-high skyscraper. And the original intention of the promoters of Burj Khalifa was a residential tower with 73 floors.
Therefore, Andrian Smith proposed major changes in height. The proposal was to make the top crown section to look more elegant. And steel frame superstructure (antenna) at the top is designed so as to vary its height as desired to maintain the tallest rating.
The idea of Design:
The Burj design resembles the flower Hymenocallis.
The three-lobed elements wrap around the tower core, rising in spiral form. And the cross-section area is reduced in periodic setbacks, narrowing the tower as it rises.
The Y-shape structure design offers a wide aerial view of the Persian Gulf from all sides. Therefore, the exterior of the building is covered by stainless steel panels, glazed for maximum reflection of light and heat to withstand.
And it also reduces extreme summer temperatures to comfortable levels. However, top floors will stay 6oC (11oF) cooler than the base floors-by height differential. The structural design limits the tower sway by wind pressures to a maximum of 1.2m (4ft) at the highest point.
Besides this construction contractor is Samsung Engineering and Construction. They also built PETRONAS Twin Towers and Taipei 101. The structure uses reinforced concrete.
The tower base is supported by 192 concrete piles dug in 50m (164ft) deep. And the huge height needed concrete pumping by very special pumps. Most of the concrete is mixed with ice. That was poured at night to prolong the setting time for uniform cool curing. It is done to avoid as well as any cracking possibility, under the massive weight of the structure.
Buildings:
The seven hundred private apartments have been laid out on floors 45 through 108. These were sold completely within the same day of the offer. The Armani Hotel occupies a lower 37 floors.
The remaining floors and spiral towers will house thousands of office suites and mini homes. A swimming pool is located on the 78th floor. While 123rd is a lobby and the 124th floor will contain an indoor/outdoor observation/security deck.
Moreover, the top spire will hold communication types of equipment. An estimated 38000 persons can be housed at one time. Double-deck super-fast elevators are being installed. Furthermore, the project includes 7-acre Parkland, Dubai Mall and a 30-acre man-made Dubai Lake.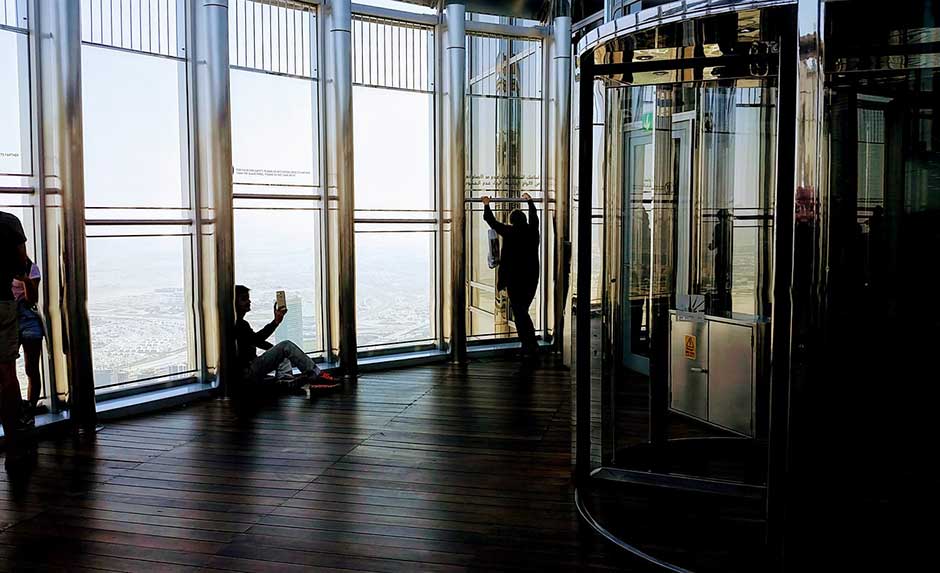 Dubai Fountain:
A very costly (DH 800 Million) fountain has been installed on the outside of Burj Dubai. This is 900 ft long and shoots water jets 500 ft upwards. Over 600 lights through 50 color projectors illuminate it. They are also accompanied by world-class and traditional music.
Check illustration
Height Increases History:
The original plan was a 73 story residential building. The upper limit was revised many times (secretly) probably to push through height ratings. These changes also created a sort of history. As it rose above the recorded towers one by one. In February 2007, it crossed the Willis Tower too.
Therefore, Continuing progress over other middle-order ones. It also topped the highest Warsaw Radio Mast in Poland, Standing at 628.8m (1815ft.), on first September 2008. Burj Dubai achieved its ultimate height, finishing at 818m (2684ft.) on 17th January 2009. And the inauguration is expected in December 2009.
The National Geographic and other TV Channels have also shown documentaries on the Big, Bigger and Biggest series. Detailing the typical engineering challenges faced by the builders during construction. Such as compelling design changes and altering completion schedule twice.
Technical Statistics on the World's Tallest Sky Scrapper and (Part of Downtown Burj Dubai Project).
Important Facts:
Building height: 818m (2684 ft.) – (A half mile or 0.8 Km)
Top Antenna or Spire: 200 m (700 ft.)
Floors and Area: 162 usable floors, each 334'000m2 (3'595'100 sq. ft.)
Architect: Skidmore, Owings, and Merrill (Adrian Smith till 2006)
Developer: EMAAR Properties, South Korea.
Completion: Expected 2nd December 2009 (Extended Twice) Construction also started 21st September 2004
Occupancy: Offices, Hotels, and Residences.
Previous Highest building: Taipei (101 Floors) 509.2 m (1671 ft.) and Willis Tower (Sears Tower) 527.3m (including antenna)
Price Project: Burj Khalifa over US& 4 Billion while total Downtown Burj Dubai US& 20 Billion.
Office's Price: Over US$ 43'000 per m2 (2009)
Price Residence: Over US$ 38'000 per m2 (2009)
Record Comparisons:
Burj Dubai Previous Tallest
Tallest with 160 Floors                                                                      World Trade Centre 110 Floors
Free Standing Structure 818m                                           KVLY TV Host 628.8m (Tallest)
Tallest Free Standing Structure 818m                                          CN Tower 553.3m
World's Fastest Elevators at speeds of 60 km/h or 16.7m / second. Moreover, it is the first World's tallest building to include residential homes.
Burj Khalifa or Dubai Tower, The World's Tallest Sky Scrapper