Product: Bugatti Veyron EB 16.4 – a mid-engine tourer
Price: US$ 1'500'000
Top Speed: 400 kilometers per hours
Manufacturer: Bugatti Automobiles SAS, Molsheim, France
Editions: Veyron, Veyron 16.4, Pur Sang, Hermes, Sang Noir, Targa, Vincero Bleu Centenaire and Grand Sport (Convertible).
Production of Bugatti Veyron:
This special Veyron concept car is produced at the main plant in Chateau St. Jean, Alsace, France. So far about 200 units are produced out of a planned total of 300 cars, which include all models.
Since introduction in the market, it is recognized worldwide as a technological feat, comparing it to the Concorde Supersonic civilian airliner.
The development of Veyron started in 1999 and the Volkswagen Group, Ferdinand Piech, announced to produce it at Geneva Motor Show 2000. Moreover, it was stated to be the fastest car having a speed of 407 km/hr. with the most powerful engine producing 736 kilowatts (987 bhp). And generating 1250 Newton meters (922ft.lbs) of torque and said to be the most expensive car ever made.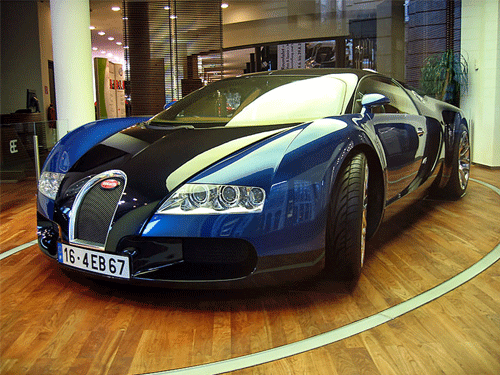 The development continued in 2001. The official car name confirmed as "Bugatti Veyron 16.4" and nick-named the production plant as "Atelier" (Artists Workroom). Therefore the new Chairman Bernd Pischetsrieder carried out major revisions and design modifications, engaging former Volkswagen Group Engineer, Wolfgang Schreiber.
PERFECT TECHNOLOGY WITH A UNIQUE DESIGN:
The guiding principle of the genius car designer Ettore Bugatti, who came from a family of artists. And he was to always encase perfect technology in an aesthetically appealing exterior. This commitment lives on today. He gave the Veyron 16.4 Super Sport an utterly unique appearance. And at the same time, every single exterior modification serves to improve performance.
The Super Sport's flat, the elongated form is immediately recognizable. Instead of bonnet scoops, the 16-cylinder engine is ventilated by two NACA ducts in the roof.
Cutting Edges:
The 16.4 combines Company's all DNA to raise this high-speed car. This high speed is possible to maintain with the help of maintaining the car's balance and torque.  
2 tons weight of the car is balanced by minimizing air flow below the car. The center line and horseshoe-shaped radiator grill was the old design and which cause disbalancing of air flow. All these flaws of old models were removed by cutting edges very carefully.
Price of Bugatti Veyron:
The basic cost of Veyron is €1'100'000 net (UK £900'000 or US$ 1'500'000). As well as, the customer can request extra facilities, custom modifications, and gadgets improvements. The cost of these additions can equal to that of a Rolls Royce Phantom. It is one of the most expensive cars.
Performance:
Veyron turbocharged W16 Engine has 16 cylinders in 2 banks of eight. Moreover, they are also equivalent of two narrow-angle V8 engines mated in "W" configuration. The valves total 64 (4 per cylinder), driven by 4 overhead camshafts. The engine's four turbochargers displace 7993 cubic centimeters (488 cu in.)
The top speed was testified in 2005 and 2006 at Volkswagen Group's private test track. And also list 408 km/hr. (253.5 mph) or one-third the speed of sound at sea level. At top speed, the fuel runs out in 12 minutes while tires wear out totally in 15 minutes.
The car's normal speed is around 300 km/hr. at fast speed, the car is very stable. As soon it crosses 200 km/hr., special hydraulics lower the car frame from 12.5 cms (5 inches) to 9 cms (3.5 inches) or 6.5 cms (2.6 inches) at top speed. While deploying the spoiler and the wing to help provide downward force for firmer road grip.
Fuel:
Veyron consumes more fuel than any other car. In casual driving, it uses 40 liters per 100 km and at low speeds 25 liters per 100 km. And at top speed, it simply gulps 115 liters per 100 km. and empties the tank in just 12 minutes.
Brakes:
Bugatti Veyron, as claimed, will come to a standstill from 400km/hr. in less than 10 sec. Moreover, it employs special Silicon Carbide carbon fiber reinforced composite discs to resist brake fade, instead of conventional cast iron discs. At speeds over 200 km/hr. As well as, the rear wing locks at 55-degree angle, providing airbrake deceleration of 0.68 G (4.9 m/s2). It also has an anti-lock braking system (ABS) installed on the handbrake, in case of brake failure.