Are you ready to discover the ultimate guide to unforgettable surprise wedding reception ideas? Picture this: a magical celebration filled with excitement and delight as the couple and their guests are swept off their feet by unexpected twists and turns. In this article, we will unveil a treasure trove of creative suggestions to make your surprise wedding reception an unforgettable experience. From secret location reveals to surprising entertainment acts, get ready to embark on a journey where the element of surprise reigns supreme. Let's dive into the world of surprise wedding receptions and create memories that will last a lifetime.
You might be newly engaged or have been waiting until the global pandemic was under control to exchange wows with your loved one. Either way, if you want to get married in 2023 or 2024, you're likely keen to make the nuptials as fun, exciting, and memorable as possible.
While you want to enjoy it yourself, it would be excellent to concentrate on keeping your guests entertained and happy, and surprising them is one way to do this.
Here are some surprise wedding reception ideas that you might find helpful: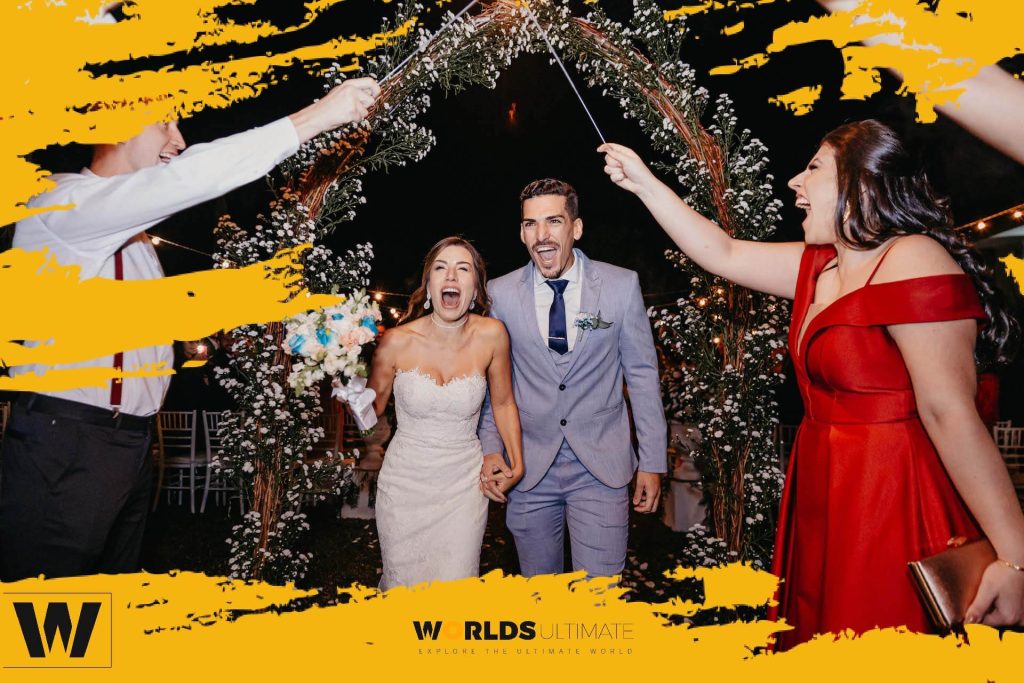 Make the Wedding Itself a Big Surprise
Why not make the wedding itself the big, unexpected element for your guests? Invite your attendees to an event that you label as something other than you and your partner tying the knot, such as a birthday party, New Year's Eve celebration, housewarming, engagement party, etc., and then pull a bait-and-switch move.
At some point, after everyone has arrived at the event, hand out wedding programs and let people in on the secret that it's your wedding day. It's harder to surprise people than this!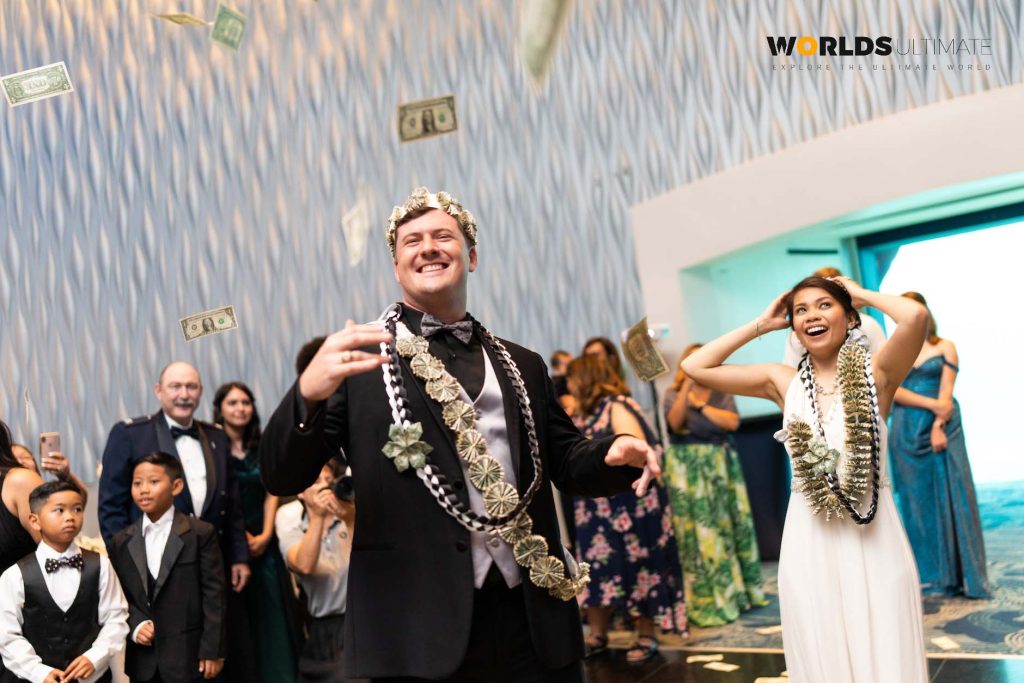 Pick an Unusual Venue that You Keep Secret Until the Day
Alternatively, you can pick out one or two key elements from your special day and make them surprising. For instance, choose an unusual venue that people wouldn't have been to before, or at least not for weddings. Think about places important to you and your future spouse or meaningful for some other reason, such as bringing back fond childhood memories, tying into your bucket list items, giving you the vibe you're after, etc.
For example, you might wed in a barn where you first attended a dance together or on the rooftop of the office building where you first met, or you could choose a scenic garden where you first told each other you loved one another or the backyard of the home one of you grew up in. You might want to exchange vows in a museum, gallery, amusement park, antique store, vineyard, etc., or on a train, boat, trolley car, etc.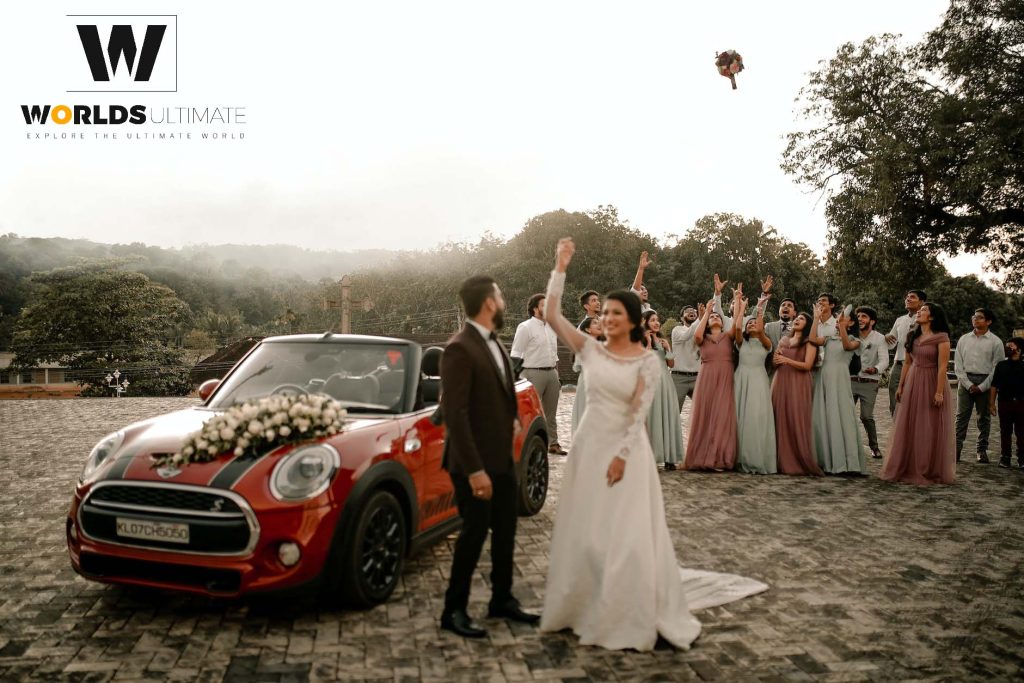 Be as creative as you like and look for alternative venue options. An extra benefit of doing this is that you might save a lot of money, or you could be able to choose your preferred wedding date when other, more traditional venues are already well and indeed booked out. Keep the venue secret until the wedding day for more "wow" effect, too, and get your guests to meet at a location and bus them to the wedding venue or otherwise provide the big reveal.
Plan Some Exciting "Entertainment Surprise" Wedding Reception Ideas
If you want to stick with your dream wedding venue that's not out of the box but still lovely, you could surprise wedding attendees by planning some exciting entertainment for the ceremony or reception. For example, hire a famous singer or band to perform, get a fantastic comedian to present, or set up a flash mob for your event. Other ideas include planning a beautifully choreographed first dance, singing a custom song, or hiring an artist to do a live wedding painting or caricature at the reception.
You might plan for a circus performer or magician to be on hand to entertain your guests, bring in some dance instructors to give everyone a quick dance lesson, or encourage attendees to have fun mixing their cocktails and have a competition for who can create the best signature drink for the newlyweds.
There's no limit on what you could select here, so consider your interests, the vibe you want to create, your budget, and other factors.
Create a Fireworks Display
Lastly, why not consider creating an epic fireworks show to wow and surprise your guests at your wedding? This isn't something that many people see at such events all the time, so it can delight both the young and the old. You could arrange to have the fireworks start when you cut your cake, finish your first dance, or leave the event at the night's end.
If it's an option, you can arrange a display with the wedding venue or buy fireworks yourself and have a staff member, friend, or someone from your family handle the lighting and safety elements on the night.
Any of these ideas, and others, can help you elevate your wedding to something even more memorable, not just for you and your new spouse but for everyone who gathers to watch you exchange vows and start your new life together.
Here is a Full list of Unique and Creative Wedding Reception Ideas
Outdoor garden party
Rustic barn reception
Beachside celebration
Elegant ballroom affair
Intimate backyard gathering
Brunch reception
Cocktail party-style reception
Destination wedding weekend
Black-tie gala
Winery or vineyard celebration
Fairy tale-inspired reception
Industrial chic loft party
Romantic candlelit dinner
Masquerade ball theme
Bohemian outdoor celebration
Winter wonderland reception
Vintage-inspired celebration
Hawaiian luau reception
Food truck festival-style reception
Enchanted forest celebration
Casino night-themed reception
1920s Gatsby-style party
Carnival or circus-themed reception
Nautical beach party
Retro diner-inspired reception
Harry Potter-inspired wedding reception
Medieval castle celebration
Glamorous Hollywood-inspired reception
Moroccan-inspired celebration
Jazz Age celebration
Remember, when planning a surprise wedding reception, you must communicate with your wedding planner, vendors, and close family and friends who can help you keep the surprise under wraps and ensure everything goes smoothly.