Different perspectives on New York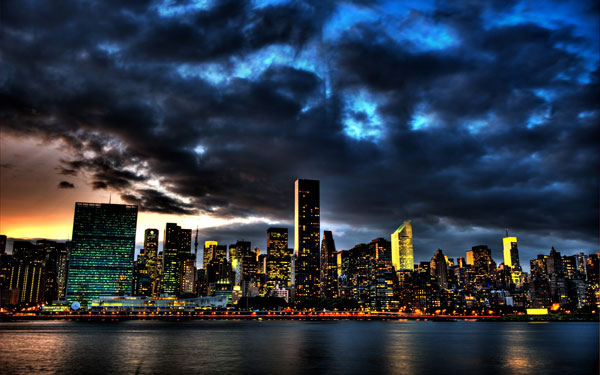 It's one of the best-known skylines in the world, the set of countless films and never far from the minds of aspiring travellers everywhere.
Most people could name the highlights they'd like to see in New York City: the Statue of Liberty, the Empire State Building and Central Park.
The list could go on. But what if you could take a fresh look at these iconic landmarks and explore the city by tram, bicycle or even kayak?
While no trip to New York would be complete without a ride in a quintessential yellow cab, taking the bus, subway or tram is a nifty way of getting inside the city consciousness. More scenic routes like the Roosevelt Island Tram are worth a journey in themselves. From Manhattan's 59th Street over the East River, the tram's been running since the turn of the 20th century and gives a grand view of Midtown East from above.
New York now has a bike share system similar to London's, so there's no excuse not to escape the traffic and cycle a trail or two. Coast through Prospect Park and on to Rockaway beach, or take the waterfront beneath Brooklyn Bridge on two wheels and it may feel like a different world entirely. There are also guided excursions which offer options from exploring Chinatown to twilight tours of the harbour area.
Still one of the best ways to get acquainted with NYC, the Staten Island ferry is a free and frequent service from Manhattan's South Ferry Terminal. An incredible panorama spreads out behind you as you head for Liberty Island and even Staten Island itself is a pleasant, green spot to spend a few hours observing – rather than fighting your way through – the heady urban landscape.
Those looking for more tailored tours or a full circuit of Manhattan might want to opt for Circle Line Sightseeing Cruises as an alternative. Or if independent travel's more your thing, kayaks are available to rent from Pier 40 on Houston Street, perfect if you want to paddle the Hudson at your own pace.
Of course, the fast-paced and frenetic inner city experience is part of what makes New York tick and shouldn't be missed out entirely. But from wandering the broad sidewalks on foot to seeing the sights from a helicopter, there are many opportunities for orientation here, as well as gaining a new and unfamiliar perspective on this most familiar of cityscapes.