Brownies an Ultimate Dessert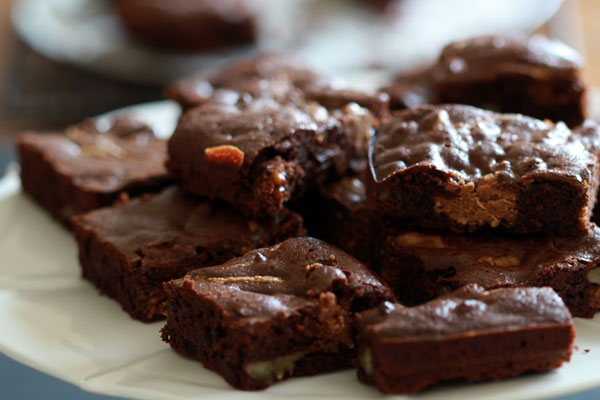 When it comes to all time favorite desserts globally, these days brownies are rocking worldwide. whether its an important celebration or a casual treat undoubtedly you can find them easily. these are many reasons of their dominant status in bakeries and restaurants is they are easy to all chocolatey, with addition of nuts and now a days the serving style of hot fudge brownie with Vanilla ice cream and fresh fruit is such a yummy treat.
Interesting fact: Vanilla makes up almost 1/3 of the World's ice cream sales!

Because of their dense texture and dark color they got the name Brownie. it is said that they were created first in U.S. in some early 1900s and just considered as small cakes. Fortunately, this grocery dessert gained the attention of Chefs, bakers and normal people by the 20th century and splendid versions started coming. As you can see from dark chocolate brownie to cheesecake infused brownie. Some are baked in just a mug in a microwave by kids, Yes they are extremely easy to bake. In almost all the grocery stores one can easily find brownie mixes with hundreds of recipes. You can bake cookies, cakes and of course classic brownies by doing some changes in these ready-made brownie mixes.
In U.S. Brownies are the most loved dessert. They are popular in all age groups. Thus they have their own day, December 8 is the National Brownie Day. Now you might get an idea how lucky this little easy to make lunchtime snack is. Any my love for baking and presenting brownies is endless too!
My Favorite Brownies Recipe

Classic Walnut brownie
5 eggs
2 cups sugar granulated
1 tea spoon salt
1/2 cup cocoa powder (1 prefer dark one)
1 cup vegetable Oil (Canola simply rocks!)
1 tea spoon baking powder
1 tea spoon pure Vanilla extract
1 cup semi sweet chocolate chip (Hershey's)
Chopped Walnuts 1/2 cup
Plan of action!
Pre-heat your oven at 350o for 10 – 15 minutes
Prepare your baking tin 12 x 10 inches.
Grease it generously with butter
Sprinkle all the choco chips.
Beat all the ingredients in a large bowl and pour in the baking tin.
Bake for 20 minutes, take it out and Sprinkle walnuts and re-bake for another 10 minutes or check it till the tooth pick comes out smooth.
and your rocking brownies is ready to rock! Enjoy